Crowley Assists Power Restoration in Vieques to Aid Puerto Rico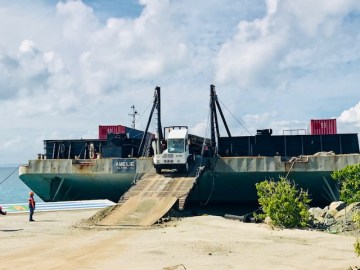 (SAN JUAN, Puerto Rico; January 23, 2018) — Crowley Maritime Corporation's liner and logistics teams recently provided full supply chain management services for the first of several expected shipments of special cargo to help restore power in Vieques, an island located about eight miles from Puerto Rico, in the aftermath of Hurricane Maria.
Crowley's groups provided ocean transport, trucking, delivery coordination, port services and freight forwarding of breakbulk supplies and utility-related equipment from San Juan to the island.
Crowley's Puerto Rico-based logistics group managed the delivery of power poles, cables, platforms and utility reconstruction equipment and vehicles. The cargo was received at Crowley's San Juan warehouse and the logistics team coordinated its loading onto a barge. Upon arrival in Vieques earlier this month, Crowley discharged the cargo at Mosquito Pier under the U.S. government's restoration mission.
To successfully complete the project, Crowley's ship management group chartered a flat-deck barge named Amelie specifically to match Vieques port's requirements for docking and discharging supplies and equipment. Partnering with Vieques officials, Crowley's Puerto Rico services team organized terminal services, including providing stevedoring personnel and preparing the pier location to receive the vessel for cargo offloading.
"This project demonstrated our ability to provide a total supply chain solution, including breakbulk and specialized cargo transport and delivery," said Ayesha Diaz, general manager, Crowley Logistics in Puerto Rico. "Puerto Rico is home for many of us at Crowley, and it is humbling and gratifying for us to be able to help with the island's recovery from the storm."
Working with private sector partners and the Federal Emergency Management Agency (FEMA), Crowley has transported more than 24,300 commercial container loads and more than 6,600 government container loads for relief and recovery since hurricanes impacted Puerto Rico in September. Crowley's logistics team is assisting FEMA with services such as long-distance and local trucking, deconsolidation and cross-docking at facilities on the U.S. mainland and in Puerto Rico.
Crowley delivers the first of several expected shipments of special cargo to help restore power in Vieques, an island located about eight miles from Puerto Rico, in the aftermath of Hurricane Maria. Crowley, which has 300 employees in Puerto Rico, has served the island since 1954, longer than any U.S. Jones Act carrier in the trade.
Jacksonville-based Crowley Holdings Inc., a holding company of the 126-year-old Crowley Maritime Corporation, is a privately held family and employee-owned company that provides marine solutions, energy and logistics services in domestic and international markets. Six operating lines of business provide logistics and supply chain management, including liner container shipping; government services; contract marine towing and transportation; ship assist and tanker escort; offshore engineering and upstream project support; deep sea petroleum and chemical transportation; liquefied natural gas (LNG) transportation, distribution, engineering and consulting services; Alaska fuel sales and distribution; vessel management; vessel construction and naval architecture through its Jensen Maritime subsidiary, and salvage and emergency response through its 50 percent ownership in Ardent Global. Additional information about Crowley, its subsidiaries and business units may be found at www.crowley.com.
# # #