Crowley Aids Girl's Dream of New Library in Grenada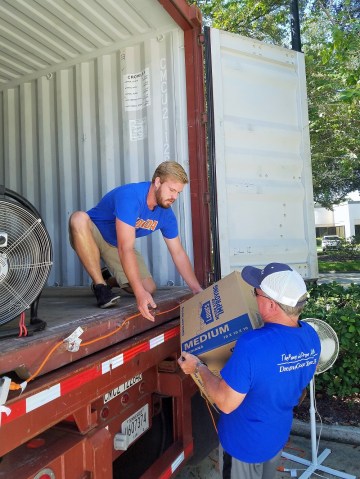 Crowley Maritime Corp. has helped the Jacksonville-based non-profit Dreams Come True and fulfilled the dream of a girl who wanted to create a library in her community in Grenada.
Zinzee Noel of St. George, Grenada, was diagnosed with arthrogryposis – a congenital joint condition that causes curving of the joints. She traveled to Jacksonville this year for treatment at Wolfson Children's Hospital, and during her time there was offered the opportunity to participate in Dreams Come True, an organization that helps children with life-threatening afflictions realize a dream while recovering and dealing with their illnesses. 
Zinzee's dream was to bring books to her island home and create a library there. Dreams Come True was happy to oblige, mobilizing a book drive that resulted in the donation of more than 15,000 books from Northeast Florida. With books in hand, the charity needed to find a way to get them to Grenada – enter Crowley.
As a leading Caribbean shipping and logistics company, Crowley offered to transport, free of charge, one of its 20-foot long cargo shipping containers filled with 306 boxes of donated books to help the organization make Zinzee's wish come true. Moreover, the company, through its employee-run Crowley Cares program, held its own book drive at its offices in Jacksonville to help fill the container. 
As the books were being loaded into the Crowley container in Jacksonville in mid-July in preparation for shipment, an appreciative and overwhelmed Ashley Smith, dream manager from Dreams Come True, smiled and said, "I don't think any of us expected this."
The books, which arrived in Grenada July 26, are being collated and formed into a library with the help of that nation's department of education. 
"This was a wonderful team effort in which Crowley and the Crowley Cares organization were able to help a local Jacksonville charity fulfill the wish of a very selfless girl," said Crowley's Guy Ratzlaff, manager of technology, who helped lead Crowley's support effort.   
About Crowley
Jacksonville-based Crowley Holdings Inc., a holding company of the 126-year-old Crowley Maritime Corporation, is a privately held family and employee-owned company that provides marine solutions, energy and logistics services in domestic and international markets. Crowley operates under four business units: Crowley LOGISTICS, a singular ocean liner and logistics supply chain division; Crowley SHIPPING, which encompasses ownership, operations and management of vessels, including tankers, container ships, tugboats and barges; Crowley FUELS, a fuel transportation, distribution and sales division that also provides liquefied natural gas (LNG) and related services; and Crowley SOLUTIONS, which focuses on government services, including vessel management for government agencies, as well as engineering, project management, naval architecture through its subsidiary Jensen Maritime, and marine salvage and emergency response through its 50 percent ownership in Ardent Global. Additional information about Crowley, its subsidiaries and business units may be found at www.crowley.com.