Crowley Again Recognized as One of 904 Magazine's Companies with Heart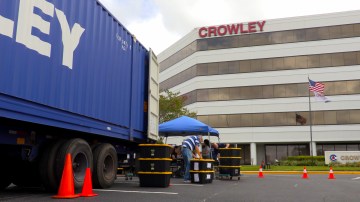 (JACKSONVILLE, Fla.; February 15, 2018) ­– Crowley Maritime Corp. has been honored once again as one of 904 Magazine's "Companies with Heart" in recognition of its employees' philanthropic contributions to the local community and hurricane victims in Puerto Rico and elsewhere in 2017. Later this month, Jacksonville Magazine, the publisher of 904 Magazine, will present the award to Crowley during an upcoming Companies with Heart luncheon. Each year, this event recognizes local organizations that demonstrate charitable outreach efforts in the community. 904 Magazine previously honored Crowley with this award in 2011, 2013, 2014, 2016 and 2017.
"With such a challenging hurricane season in 2017, this past year presented significant opportunity for our employees to work together and make a positive impact within the communities Crowley serves," said Crowley's David Holden, director, human resources. "Through our Crowley Cares program, the entire Crowley organization, including employees located in Jacksonville, came together to collect supplies and funds for those impacted by hurricanes in Puerto Rico, the Caribbean, Texas and South Florida. We are extremely proud of these efforts, which have helped these communities get back on their feet."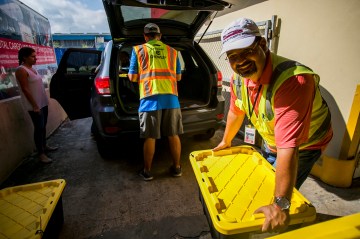 Following this year's Hurricanes Maria, Irma and Harvey, Crowley employees utilized the Crowley Cares program to donate more than $652,000 worth of supplies – including food, fuel, water, generators and more – for the areas hardest hit. Employees in Jacksonville and South Florida filled four shipping containers with 180,000 pounds of aid for Puerto Rico and St. Thomas. Additionally, the Crowley Cares Foundation matched $9,000 in employee donations, providing a total of $18,000 in financial support to non-profits offering relief.
Each year, Crowley employees give back to their local communities across the U.S. and throughout the Caribbean and Central America. These charitable efforts include mentoring students, fundraising, community beautification projects, and donations to charitable organizations.
"Our company takes pride in making a difference in the Jacksonville community," said Holden. "Our employees have served the local area through a variety of philanthropic organizations, including volunteering for the Safe Harbor Maritime Academy, Second Harvest Food Bank, Heart for Children, Northeast Florida Hospice and so many more. This spirit of giving back has made a tremendous impact in Northeast Florida and beyond."
Crowley and other award winners will be recognized at the magazine's Feb. 27 luncheon. Proceeds of the event will benefit the Junior League of Jacksonville, which has a mission of promoting volunteerism in the community. 
Jacksonville-based Crowley Holdings Inc., a holding company of the 126-year-old Crowley Maritime Corporation, is a privately held family and employee-owned company that provides marine solutions, energy and logistics services in domestic and international markets. Six operating lines of business provide logistics and supply chain management, including liner container shipping; government services; contract marine towing and transportation; ship assist and tanker escort; offshore engineering and upstream project support; deep sea petroleum and chemical transportation; liquefied natural gas (LNG) transportation, distribution, engineering and consulting services; Alaska fuel sales and distribution; vessel management; vessel construction and naval architecture through its Jensen Maritime subsidiary, and salvage and emergency response through its 50 percent ownership in Ardent Global. Additional information about Crowley, its subsidiaries and business units may be found at www.crowley.com.
#     #     #