106 Crowley Vessels Recognized for Environmental Safety by CSA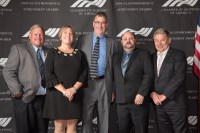 The Chamber of Shipping of America (CSA) has honored 106 Crowley-owned or -operated vessels with Certificates of Environmental Achievement. The awards recognize the company for operating vessels without any environmental incidents, displaying a commitment to respecting and protecting the environment on oceans and inland waterways.
The 106 vessels represent a combined sum of 1,068 years of service without experiencing an environmental incident, which includes reportable spills or port citations. Among them, 42 vessels have served at least 10 years without an incident. 
"The significant number of vessels with long tenures without an environmental incident is a credit to the dedicated men and women who serve as crews and shore-side personnel. At Crowley, we always put safety atop our core values, and that includes a commitment to being environmental stewards where we work," said Crowley Vice President Mike Golonka, government services, who was among recipients at the CSA awards ceremony Nov. 8. "We are grateful and appreciative of awards from CSA, and share their support for environmental protection.
"Safe and environmentally responsible operations is a culture fully embraced by the maritime industry as a whole and as evidenced by the performances of the award recipients," said Kathy Metcalf, president of CSA.
The awards are open to all owners and operators of vessels that operate on oceans or inland waterways.
Jacksonville-based Crowley Holdings Inc., a holding company of the 125-year-old Crowley Maritime Corporation, is a privately held family and employee-owned company. The company provides project solutions, energy and logistics services in domestic and international markets by means of six operating lines of business: Puerto Rico/Caribbean Liner Services, Latin America Liner Services, Logistics Services, Petroleum Services, Marine Services and Technical Services. Offered within these operating lines of business are: liner container shipping, logistics, contract towing and transportation; ship assist and escort; energy support; salvage and emergency response through its 50 percent ownership in Ardent Global; vessel management; vessel construction and naval architecture through its Jensen Maritime subsidiary; government services, and petroleum and chemical transportation, distribution and sales. Additional information about Crowley, its subsidiaries and business units may be found at www.crowley.com.
Crowley vessels honored by the CSA are below with their business unit, listed by name with continuous years without incident:
CROWLEY GOVERNMENT SERVICES
CAPE WASHINGTON        2      
SS CURTISS                   18    
SS WRIGHT                    12    
USNS EFFECTIVE            2      
USNS IMPECCABLE         2      
USNS INVINCIBLE          2      
USNS LOYAL                  2      
USNS VICTORIOUS         2 
CROWLEY GLOBAL SHIP MANAGEMENT
EMPIRE STATE                 7
EVERGREEN STATE          6
GOLDEN STATE               7
NATIONAL GLORY            9
OCEAN CHARGER            2
OCEAN CRESCENT          2
OCEAN FREEDOM           5
OCEAN GIANT                3
OCEAN GLOBE               2
OCEAN GRAND              2
PELICAN STATE              7
SUNSHINE STATE           7
TEXAS                           2
    
CROWLEY PETROLEUM SERVICES
ATB ACHIEVEMENT/650-8                   7    
ATB COASTAL RELIANCE/550-4           4    
ATB COMMITMENT/650-6                   3    
ATB COURAGE/650-5                         9    
ATB GULF RELIANCE/650-2                10    
ATB INNOVATION/650-9                    4    
ATB INTEGRITY/650-4                       9    
ATB LEGACY/750-1                           6    
ATB LEGEND/750-2                           5    
ATB LIBERTY/750-3                           4    
ATB OCEAN RELIANCE/550-3             9    
ATB PACIFIC RELIANCE/650-1            11    
ATB PRIDE/650-7                              4    
ATB RESOLVE/650-3                          9
ATB SEA RELIANCE/550-1                  15    
ATB SOUND RELIANCE/550-2             15    
ATB VISION/650-10                           3    
FLORIDA                                           4    
PENNSYLVANIA                                 5    
CROWLEY MARINE SERVICES    
ARCTIC HAWK                                   14    
MV ADMIRAL                                      5    
MV AKU                                             17    
MV AVIK                                            4    
MV BELAYA KUROPATKA                      2    
MV CHIEF                                          18    
MV GOLIAH                                       10    
MV GUARD                                        12    
MV GUARDIAN                                   17    
MV GUARDSMAN                                9    
MV GUIDE                                         18    
MV HUNTER                                       4    
MV KAVIK RIVER                                47    
MV KUPARUK RIVER                           47    
MV LEADER                                       6    
MV MASTER                                      19    
MV NACHIK                                       8    
MV NAVIGATOR                                 3    
MV OCEAN                                        3    
MV OCEAN SKY                                 4    
MV OCEAN SUN                                 4    
MV OCEAN WAVE                              5    
MV OCEAN WIND                              4    
MV PROTECTOR                                 6    
MV PT. THOMPSON                             20    
MV RAMPART                                     17    
MV RESPONSE                                   3    
MV SAG RIVER                                   42    
MV SCOUT                                         18    
MV SEA PRINCE                                 13    
MV SESOK                                         8     
MV SIKU                                            4    
MV TIOGA                                          19    
MV TOOLIK RIVER                               17    
MV VALOR                                           10    
MV VETERAN                                       17    
MV VIGILANT                                       17    
SEA VOYAGER                                      3    
STALWART                                           4    
TANERLIQ                                            18    
TUG ALERT                                          17    
TUG ATTENTIVE                                    4    
TUG AWARE                                          7    
TUG BULWARK                                      17    
TUG ENDURANCE                                   2    
TUG GUARDSMAN                                  9    
TUG NANUQ                                          18    
VALDEZ STAR                                        26    
 
CROWLEY PUERTO RICO SERVICES
MV DEFENDER                                       17
MV ENSIGN                                           17
MV EXPLORER                                       17
MV MONITOR                                         17
MV PATRIARCH                                      17
MV SENTINEL                                        4
MV SENTRY                                           17
TUG ADVENTURER                                 4
TUG RANGER                                         17
 
MARINE TRANSPORT MANAGEMENT
CHARLESTON EXPRESS                         19
HORIZON ENTERPRISE                          2
HORIZON PACIFIC                                2
HORIZON RELIANCE                             2
HORIZON SPIRIT                                  2
PHILADELPHIA EXPRESS                       19
ST LOUIS EXPRESS                              19
WASHINGTON EXPRESS                        5
YORKTOWN EXPRESS                            16