Supporting Employees' Career Development Builds Leaders – and Helps Crowley Grow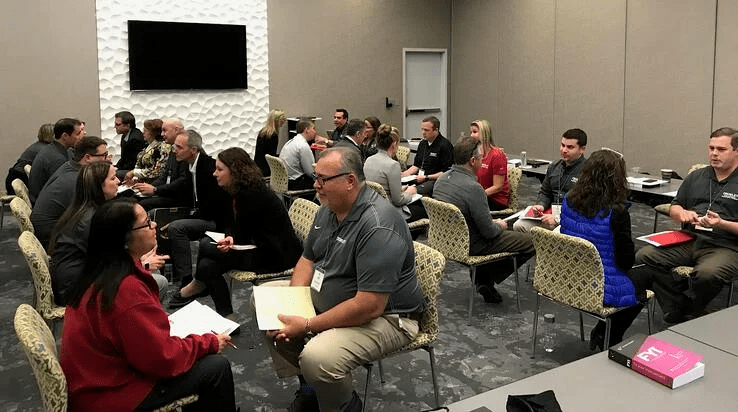 Recently, Crowley's Leadership Development Program (CLDP) earned a Silver Human Capital Management Award from Brandon Hall Group, a global firm that does research and analyzes businesses.

It's a great accolade for the company's talent acquisition and development teams in People Services.

It's an even bigger recognition of how Crowley Maritime Corp.'s culture helps people propel their careers in diverse industries including marine, energy and logistics sectors.

"Workers find that we invest in training and developing people through programs that enhance their personal and professional growth. We value our people and know the success of advancing their career translates into the success of Crowley," said Gloriana Garro, director, people development and learning at Crowley.

That was borne out by the award. As part of the award selection process for the category of "Best Unique or Innovative Leadership Development Program," company programs were evaluated by a panel of veteran, independent senior industry experts, Brandon Hall Group analysts and executives. Companies honored succeeded in showing innovation, functionality and benefits.
An Overview of Crowley's Leadership Development Program
What makes the leadership development program successful is its unique combination of learning experiences.
The 24 participants, representing a diverse and inclusive segment of the company, learn business acumen skills through the year.
Along with strengthening their business intelligence skills, participants strengthen their abilities to build relationships across business units and to interact with Crowley's senior leadership team.
Not only does the group learn together, each participant completes a six-week digital course that teaches business skills and the "soft skills" leaders need to succeed.

The learning experience focuses on the abilities they need to have strong relationships in a company to encourage high performance in others. Topics include self-awareness, communication, influencing outcomes and motivating others.

Importantly, these current and future leaders learn the value of empathy and teamwork in a business culture. When a new employee begins at Crowley, the company recognizes the importance of having leaders with strong personal and business skills to get them off to a good start. To continue success as a company, that commitment can't stop with current leadership. A bench of future leaders who can step up is important.

Crowley's Commitment to a Culture of Learning
Where does that commitment come from? Crowley prides itself on a culture of learning that supports employees from their first day. The company encourages employees to take part in learning experiences and other training each year. Employees can value feedback in a positive manner to improve.

It starts with each employee where the company's core values – Safety, High Performance and Integrity – are reinforced. The learning journey continues through development of competencies that lead to success. They include self-awareness, managing ambiguity, collaboration, nimble learning and action-orientation. At Crowley, a guiding principle is every employee can be a leader.

And the company's culture encourages leadership that goes beyond the bottom line.
Interested in joining our team of high performers? Visit our Careers page to see current opportunities.