Roads to Rivers, Air to Arctic, Oceans to Oil Exploration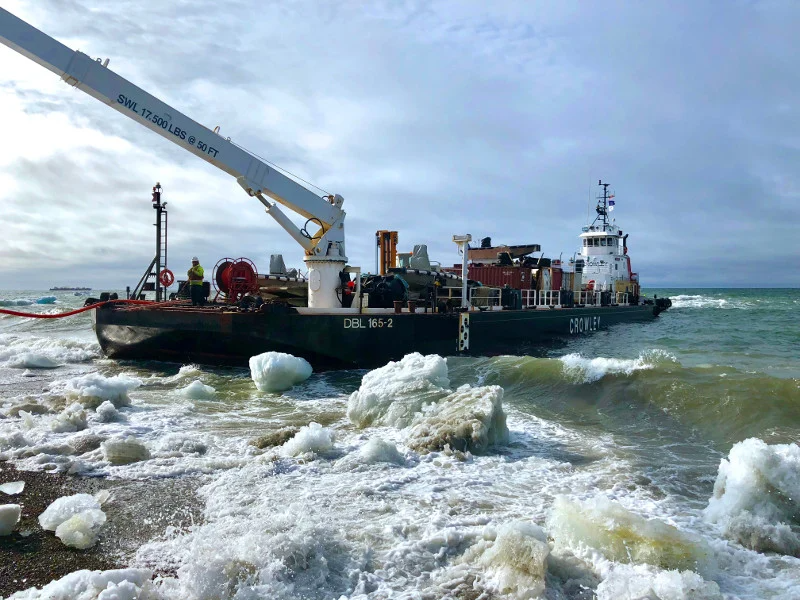 As Published in Alaska Business: Roads to Rivers, Air to Arctic, Oceans to Oil Exploration – Crowley's footprint expands across Alaska during 66+ years in the state
For more than 66 years, Crowley Fuels has distinguished itself as a leader in the Alaska fuel industry, providing the transportation, distribution, and sale of petroleum products to more than 280 communities across the state. The company's history in Alaska dates to 1953, when a Crowley company pioneered the use of barges to transport railcars between Ketchikan, Alaska, and Prince Rupert, British Columbia. Over the years, Crowley has continued to expand its portfolio of services far beyond petroleum and general cargo solutions.
Today, Crowley stores, sells, and delivers high-quality fuels with an emphasis on providing customers with the premier level of service and reliability, while adhering to the most stringent safety standards. The company is Alaska's largest wholesaler of quality fuel products, including aviation, marine, diesel and home-heating fuels, gasoline, propane, and packaged petroleum products. Backed by Crowley's widespread and diverse resources, the success of this regional operation is due in large part to the company's more than 20 terminals and facilities, which are strategically located throughout the state, employing more than 550 people who proudly call Alaska home.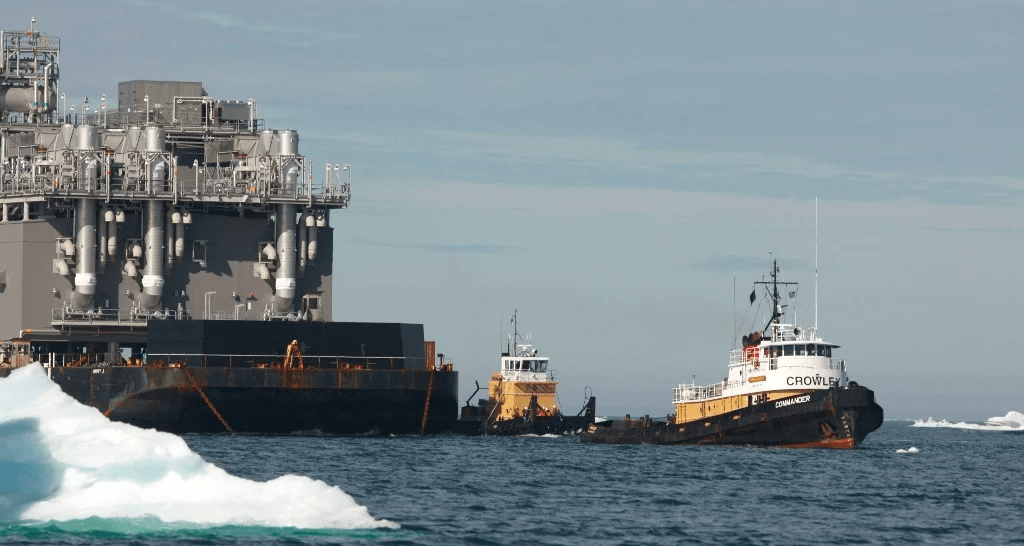 The Beginning of Crowley's Storied Commitment to the Last Frontier
Shortly after Crowley's successful entrance into the Alaska market, its footprint and reputation quickly grew. In 1956, the company began supplying the Distant Early Warning (DEW) Line radar installations for the US Air Force, marking the first penetration of the Arctic by commercial tug and barge service. This accomplishment was a prelude to the development of the North Slope and to the diverse cargo and sealift projects that Crowley would undertake across the Arctic in decades to come.
In 1958, Crowley became the first company to offer common carrier transportation of cargo in containers from the Lower 48 to Alaska utilizing traditional tug and barge service. This carriage expanded in 1963 as Crowley began the Alaska Hydro-Train in support of the Alaska Railroad.
In 1969, Crowley began avidly supporting the fishing industry through a lightering operation for the salmon canneries to deliver both fresh, then canned fish and supplies to and from major hubs, such as Dutch Harbor and Kodiak. This close relationship evolved over the decades to include active support of various Alaska fisheries, along with floating fuel services in Bristol Bay.
Supporting Exploration, Extraction, and Movement of Alaska's Black Gold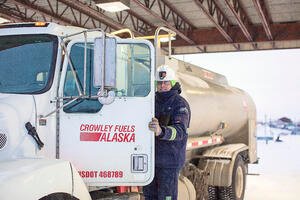 Crowley has been the go-to team for petroleum companies who have sought to set up exploration and extraction operations in Cook Inlet since oil was discovered beneath the inlet floor in the 1960s. When oil was discovered at Prudhoe Bay in 1968, Crowley was enlisted for regular summer sealifts to Prudhoe Bay. Since then, 343 barges have carried more than 1.3 million tons of cargo to the North Slope—including individual modules the size of 10-story buildings and weighing nearly 6,000 tons.
Once the Trans-Alaska Pipeline Authorization Act was signed into law in 1973, Crowley acquired Mukluk Freight Lines, an established Alaska trucking firm, to haul more of the 48-inch pipe for the 800-mile pipeline than any other carrier. Under a contract with Bechtel, Crowley also staged and loaded general cargo and building materials in Seattle, then carried them by barge to Valdez, before trucking it up the Richardson Highway to the construction sites.
Later, Crowley began providing escort and docking services in Prince William Sound for Alyeska using some of the most technologically advanced and powerful tugboats in the world. The operation involved Crowley tugs tethered to, or shadowing, laden tankers through Prince William Sound and Hinchinbrook Entrance to Seal Rocks. Crowley provided marine services in Prince William Sound for Alyeska from 1990 to 2018; prior to that, the company provided tanker docking services in Valdez beginning with the startup of the Trans-Alaska Pipeline in 1977.
Expanding Throughout the State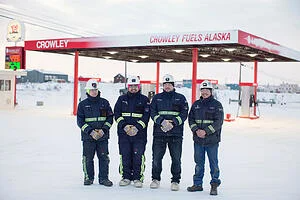 In 1985, Crowley purchased Chevron's Kotzebue and Nome fuel terminals to complement the marine fuel delivery operations already underway throughout Western Alaska for the DEW Line facilities. Over time, Crowley expanded direct delivery of bulk fuels and packaged petroleum products to more than 280 communities both over the road and by water and began expanding its petroleum storage (tank farm) offerings.
In the 2000s, Crowley acquired the assets of Yukon Fuel Company, Northland Vessel Leasing, the stock of Service Oil and Gas, Inc., Andres Oil, and Taku Oil Sales, Inc. to better meet the fuel needs of businesses and consumers throughout the various regions of the state—both inland and across the shores. The latter two acquisitions provided for Crowley's entry into Southeast Alaska.
Last year, the company completed the acquisition of three large crude tankers and began operating them under the name Crowley Alaska Tankers between Valdez and the Lower 48, making Crowley the only non-major oil company transporting crude oil from Prince William Sound.
Modernizing the River Fleet
To support the fuel and cargo needs of Alaska's remote river villages, Crowley employed the first double-hull tank barge in 2005 to carry cargo and refined petroleum products. Shortly thereafter, two new, 76-foot, 1,362-horsepower shallow draft tugs were purpose built to handle the unique requirements of barge transportation to Western Alaska. In 2011, these tugs were joined by two new, double-hulled, combination deck cargo and tank barges, also designed and equipped for shallow draft operations and beach landings. These innovative new vessels were the first double-hulled, environmentally friendly barges of their kind to operate in Western Alaska waters.
Fueling Pilots and Drivers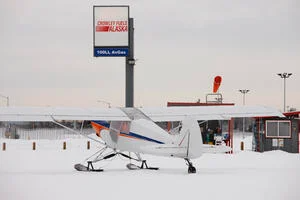 In 2011, Crowley purchased Chevron's Port of Anchorage fuel to store jet fuel for The Defense Logistics Agency. The company subsequently upgraded the terminal to improve environmental protection and enhance safety, and refurbished the tanks. The tank farm currently has capacity of approximately 1 million barrels. In 2012, Crowley purchased Chevron's aviation gasoline (AvGas) business in Alaska making the company the exclusive wholesale distributor of the product in the state. Crowley purchases AvGas from Chevron's Richmond California refinery and barges it to Anchorage, where it is sold to retail customers and through select Alaska distributors.
Crowley, acting as the sole wholesale representative for Shell Oil Products US in the state, also services 21 Shell-branded retail stations, three of which are owned and operated by Crowley.
Crowley Today
Throughout the company's history in Alaska, Crowley has helped Alaskans meet the unique environmental, logistical, and marine transportation challenges that come with satisfying the state's energy needs, while playing an important role in the state's business development, all while safeguarding the environment. Whether through its marine business, the supply of fuel to all corners of the state, or providing aviation fuel to Alaska's many pilots, people who know Crowley know that Crowley knows Alaska. With a deep commitment to exceeding expectations, Crowley is poised to continue growing and adapting for many years to come as it strives to retain its reputation as a preferred business partner in the state, a contributor to the economy, and a good neighbor to all those who call Alaska home.
To learn more about Crowley Fuels, visit CrowleyFuels.com.