Crowley's Central American Teams Celebrate Make a Difference Day
Make a Difference Day was created in 1992 to unite people with the common mission of improving the lives of others. It occurs on the fourth Saturday of October every year, but many people and organizations choose different days around this time of year to organize and participate in events that make a difference in the lives of others in their communities.
Our Crowley Cares Program, focused on aligning employee and corporate charitable outreach, was proud to support and sponsor Make a Difference Day(s) in every Central America country this year.
Read more about how our employees contributed to their respective communities below.
Guatemala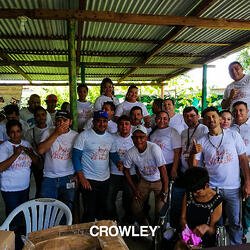 Crowley team members participated in the renovation of the San Francisco de Asis nursing home. The team helped repair the roof, renovate the bathrooms, install fans, and provided a computer, printer, washing machine, kitchen utensils and cleaning supplies. These contributions helped to improve the quality of life for the 24 elderly adults living in the home.
---
Honduras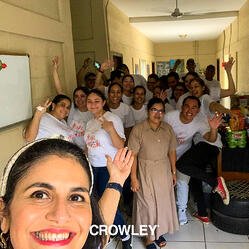 Amor y Vida and El Buen Samaritano are two local Honduran organizations that provide housing for people in need and with disabilities. Crowley employees cleaned the facilities to improve the residents' quality of life. This is an annual tradition for Crowley employees in Honduras, who are considered main supporters of the two organizations.
---
El Salvador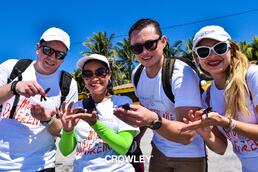 Conservation was the theme of the Make a Difference Day event for Crowley team members in El Salvador this year. About 100 Crowley volunteers helped clean up the Pimental beach and guided by workers from the San Luis Talpa Town Hall, released 100 sea turtles safely into the ocean.
In addition, employees at Crowley's El Salvador locations hosted a book drive to support the El Pimental School. Crowley employees donated nearly 2,000 books for the student library and paint to refresh the building.
---
Nicaragua
Crowley employees in Nicaragua worked with local foundations, San Francisco Protector and Hogar Remar, to take 70 underprivileged local children to the movies and provide them with tasty snacks and toys. For many of the kids it was their first in a movie theater.
---
Costa Rica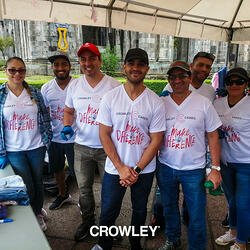 The Crowley team in Costa Rica partnered with Chepe se Baña, a local foundation that has transformed a bus into a mobile bathroom, to provide homeless people with showers, shaves, haircuts and clean clothes. Through the Crowley Cares program, employees were able to donate a hydraulic foot wash to the foundation and on the day of the event, Crowley volunteers helped by sorting donated clothes to show love and give hope to 150 local homeless people.
---
Panama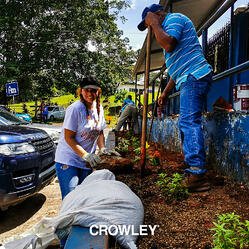 Employees in Panama joined other volunteers and students with Glasswing International to help improve Centro Escolar Sant Cruz, a local elementary school with 482 students. Crowley volunteers helped to paint classrooms and murals and cleaned up the gardens giving the children a nicer environment to study and play.