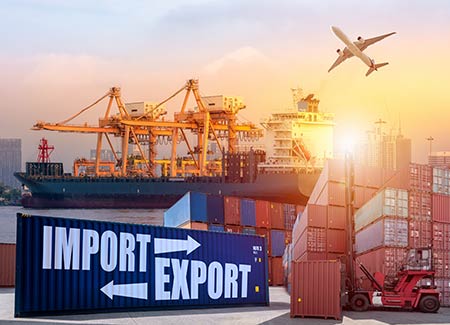 Cargo Insurance FAQ: Full Container Loads
The following FAQs are for general guidance only and apply to full container loads. They do not form part of, modify, enhance or diminish the terms and conditions of the policy. The insurance policy is underwritten by a leading marine insurance company with an "A" rating for AM Best and placed by a specialist cargo insurance agent.
Is Cargo Insurance cover available for all destinations?

Cargo insurance cover is available for Approved Merchandise moving under a official Bill of Lading. There is no coverage for shipments to any country which is subject to trade embargo or sanctions as administered by OFAC (Office of Foreign Asset Control).

What does "All Risk," mean and what does it cover?

All Risk" means the cargo is insured on an all risks basis against external physical loss or damage while in the ordinary course of transit. Major exclusions include, but not limited to; loss due to delay, inherent vice, improper packaging, rust, oxidation, discoloration and corrosion, ordinary wear and tear, and any pre-existing conditions, Non-Approved or restricted commodities may attract a deductible or special terms. Refrigerated (Reefer) cargo/Temperature Controlled cargo is subject to the 12-hour reefer breakdown/derangement clause.

How much does it cost?

We offer access to best value coverage at affordable rates. Coverage attaches by virtue of the Tariff rule and as indicated on the Bill of Lading with a line item charge. Contract customers can receive rates and terms tailored to their specific exposures.

Is there any insurance coverage that I don't have to pay for?

No, cargo insurance provided through the Bill of Lading applies only with an associated charge. Ocean carriers have a limited legal liability obligation to Shipper/Consignee customers in accordance with the Carriage of Goods by Sea Act (COGSA). To an extent, a carrier insures itself against this exposure, but the insurance is for the benefit of the carrier, not the cargo owner. The COGSA liability of the Ocean Carrier requires that the Ocean Carrier indemnifies the cargo owner for loss or damage caused to the cargo in restricted circumstances and then further limits that financial responsibility on a per package basis.

Are there any deductibles?

No, general approved commodities have a zero deductible. Non-Approved or restricted commodities may attract a deductible.

Is cover provided for sales lost due to delay?

No – Consequential damages such as losses due to delay are, as is customary, not recoverable under this policy

Does the cargo insurance cover provide cover for the equipment (chassis/container/genset) as well as the cargo?

No – Coverage is only provided for the product within the container, not the equipment used to transport the goods.
The only way to protect your cargo against hurricanes is to have cargo insurance coverage. If you don't currently have an experienced cargo insurance agent to guide you through the process, we invite you to contact Whitehall Insurance, before your next cargo move. If you have additional questions, please contact your sales representative or the Customer Care Department at 1-800-CROWLEY.
* All Risks is a term which describes a broad form of coverage. It does not cover every scenario. The policy comes with terms, conditions and exclusions. A copy of full policy terms and conditions is available upon request to linercargoinsurance@crowley.com.