Two Jensen Maritime Designs Named Among WorkBoat's 10 Significant Boats of 2017
(SEATTLE; Nov. 6, 2017) ­– Jensen Maritime Consultants, the Seattle-based naval architecture and marine engineering subsidiary of Crowley Maritime Corp., is proud to announce that two of its tugboat designs have been selected among WorkBoat's 10 Significant Boats of 2017. Jensen's design work, which yielded four constructed vessels – Earl W. Redd, Arkansas, Mardi Gras and South Carolina – will be recognized during an awards breakfast at the International WorkBoat Show on Thursday, Nov. 30, in New Orleans, an event that will culminate with the selection of the 2017 Boat of the Year.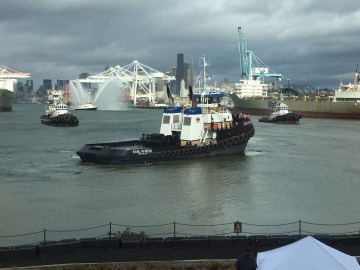 The first winning tugboat, Earl W. Redd, was designed for owner Harley Marine Services Inc. of Seattle, and built at Diversified Marine Inc.'s shipyard in Portland, Ore. Notably, it was the first tractor tugboat in America to enter service in compliance with the U.S. Environmental Protection Agency (EPA)'s Tier IV environmental standards by use of a selective catalytic reduction (SCR) system. The SCR system significantly reduces the amount of nitrous oxide (NOx), particulate matter and hydrocarbons released into the environment, and makes the 120-foot vessel one of the cleanest-running tugboats in terms of marine emissions. It is also equipped with a modern Rolls-Royce US 255-P30-FP Z-drive propulsion system and two Caterpillar 3516E diesel engines, for a rated 5,000 horsepower. Two 125 kilowatt-hour (kW) John Deere generator sets provide the tug's electrical power. Following its christening in March, the tugboat joined Harley's Olympic tug-and-barge operations along the U.S. West Coast, including in Alaska, Puget Sound and on the Columbia River.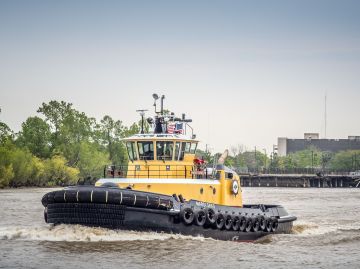 Jensen's second winning design provided the blueprints for tugboats Arkansas, Mardi Gras and South Carolina, which were built at Steiner Shipyard in Bayou La Batre, Ala., for owner Crescent Towing. The 92-foot vessels each feature two modern Rolls Royce 255 Z-drive propulsion systems and two, low-maintenance G.E. 250 diesel engines, for a rated 2,748 horsepower. Two 99 kilowatt-hour (kW) John Deere generator sets provide the tugs' electrical power.
The trio of tugs feature a unique staple position that offers improved steering by 30 percent and increased stability. Further, the tugs' high horsepower and deep-draft are ideally suited for safety, long-term serviceability and the ever-increasing size, tonnage and draft of the ships calling at the ports served by Crescent Towing, which include New Orleans, Mobile and Savannah. The workboats make up three of seven Jensen-designed tugs in the owner's 18-vessel fleet.
"Jensen is thrilled to be honored again this year with WorkBoat's Significant Boat awards," said Jensen's Bryan Nichols, director, business development. "These winning tugboat designs reflect Jensen's leadership in the industry in terms of environmental stewardship and design innovation. We are proud that the tugboats not only exceeded our clients' expectations, but are being used to set the standards in the field for 'green' technology and smart design features. We are proud to have developed them in-house and to be recognized by WorkBoat for our vision."
Workboat previously honored Jensen with Significant Boat Awards in 2016 for the design of San Francisco Fireboat 3, for the San Francisco Fire Department; in 2013 for the design of Crowley's 750 class articulated tug-barge (ATB) fleet and the Bob Franco tugboat, owned by Harley Marine; in 2012 for the design of Crowley's ocean class tugboats; in 2009 for the design of Crowley's Nachik and Sesok tugboats; and in 2008 for the design of the HandyOne class boat, owned by Great Lakes Towing, and for the design of barge TAGGATZ, owned by the U.S. Army Corps of Engineers.
About Jensen Maritime
Seattle-based Jensen Maritime Consultants Inc. is a naval architecture and marine engineering firm owned by Crowley Maritime Corporation. The company offers a diverse range of consulting, design and engineering services developed from more than 50 years of experience working around the world. Jensen is a recognized leader in the design of all types of vessels and has built a favorable reputation on a long history of successful designs and conversions with close attention to engineering basics. The company's services include detail and conceptual design and engineering, vessel modifications, lofting, regulatory and shipyard liaison as well as on-site consulting services and on-location assistance anywhere in the world. Additional information about Jensen can be found at jensenmaritime.com.
About Crowley Maritime
Jacksonville-based Crowley Holdings Inc., a holding company of the 125-year-old Crowley Maritime Corporation, is a privately held family and employee-owned company. The company provides marine solutions, energy and logistics services in domestic and international markets by means of six operating lines of business: Puerto Rico liner services, international liner services, logistics services, petroleum services, marine services and technical services. Offered within these operating lines of business are: liner container shipping, logistics, contract towing and transportation; ship assist and escort; energy support; salvage and emergency response through its 50 percent ownership in Ardent Global; vessel management; vessel construction and naval architecture through its Jensen Maritime subsidiary; government services, and petroleum and chemical transportation, distribution and sales. Additional information about Crowley, its subsidiaries and business units may be found at www.crowley.com.
#     #     #