Crowley Honors Veterans with Major Donation, Logistics Services to Wreaths Across America
Honoring the service of U.S. warfighters, Crowley Maritime Corp. has donated end-to-end logistics services and contributions totaling nearly $50,000 to Wreaths Across America so almost 13,000 wreaths can be laid in remembrance at the gravesites of U.S. veterans in Jacksonville, Fla., Puerto Rico and other locations.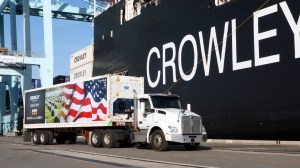 Crowley is transporting more than 6,500 wreaths to be placed on the headstones of service members buried at the Puerto Rico National Cemetery in Bayamon, southwest of San Juan, and nearly 1,000 wreaths to gravesites at the Jacksonville (Fla.) National Cemetery. Crowley also delivered 5,580 wreaths to a distribution facility in Virginia for transport to regional national cemeteries. All the wreaths will be laid throughout the U.S. on Dec. 14.
Crowley's assistance this year will result in a more than eight-fold increase in the number of wreaths being transported to gravesites in Puerto Rico – from 800 in 2018, to 6,500 in 2019.
In addition to providing $17,000 of in-kind logistics services, Crowley Solutions and the Crowley Cares Foundation jointly contributed $30,000 to Wreaths Across America to honor deceased members of the military buried in national cemeteries throughout the U.S. and abroad.
"We work very hard daily to support the needs of our U.S. warfighters, but we never want to forget the sacrifices of those who came before," said Shiju Zacharia, senior vice president and general manager of Crowley Solutions, a provider of supply chain, energy, technology and expeditionary logistics to government agencies. "During the holidays, this is one small way we can honor those who gave so much for our freedom."
"The fact that Crowley is taking wreaths to Puerto Rico is huge to us because of the cost of delivering to places like that," said Executive Director Karen Worcester of Wreaths Across America. "But beyond the cost, I will tell you what it means to the people waiting in Puerto Rico who have loved ones who served the country who are buried in Puerto Rico. It's so important that they are remembered and honored in the same way as everybody in the continental United States because they served, and they gave just like everybody else."
End-to-end Logistics Services
Crowley Solutions has managed the trucking of the wreaths from their assembly in Maine to Jacksonville. Upon arrival, wreaths were transferred at a Crowley Logistics distribution facility into temperature-controlled refrigerated containers, and then driven to the company's port terminal at the Jacksonville Port Authority (JAXPORT). Crowley will load the wreaths onto its LNG-powered Con/Ro ship, MV El Coquí, for the voyage to San Juan leaving today, Dec. 6.
During wreath-laying ceremonies Dec. 14, Crowley employees will help place the wreaths at gravesites in Jacksonville, Puerto Rico and elsewhere around the country in support of Wreaths Across America's mission, which is to: remember our fallen U.S. veterans; honor those who serve; and teach children the value of freedom.
"We are really pleased to be involved in this effort," said Parker Harrison, senior vice president and general counsel, who serves as executive sponsor of Crowley Cares. "As an employer with nearly 10 percent of its workforce made up of veterans, we are particularly grateful for our armed forces, both current and past, whose sacrifices have made our work and family life possible today. This wreath project represents a token of our appreciation."
About Crowley
Jacksonville-based Crowley Holdings Inc., a holding company of the 127-year-old Crowley Maritime Corporation, is a privately held family- and employee-owned company that provides marine solutions, energy and logistics services in domestic and international markets. Crowley operates under four business units: Crowley Logistics, a singular ocean liner and logistics supply chain division; Crowley Shipping, which encompasses ownership, operations and management of conventional and dual fuel (LNG) vessels, including tankers, container ships, multipurpose, tugboats and barges; engineering; project management; and naval architecture through its subsidiary Jensen Maritime; Crowley Fuels, a fuel transportation, distribution and sales division that also provides liquefied natural gas (LNG) and related services; and Crowley Solutions, which focuses on government services and program management, government ship management, expeditionary logistics and government-oriented freight transportation services, as well as marine salvage and emergency response through its 50 percent ownership in Ardent Global. Additional information about Crowley, its subsidiaries and business units may be found at www.crowley.com.
About Wreaths Across America
WAA began in 1992 in Harrington, Maine, when the Worcester Wreath Company sought to turn a surplus of 5,000 holiday wreaths into an opportunity to pay tribute to our country's veterans. With the help of then Maine Senator Olympia Snowe, the company's owner, Morrill Worcester, arranged for the surplus wreaths to be placed at Arlington National Cemetery as a tribute to our country's veterans. The tradition has continued on, and over the last 27 years, the event has grown in scope, touching the lives of thousands of veterans' families and volunteers. In 2018, Wreaths Across America and its national network of volunteers placed nearly 1.8 million veterans' wreaths at 1,640 locations in all 50 U.S. states, at sea, and abroad.
National Wreaths Across America Day is a free event and open to all people. For more information, visit www.wreathsacrossamerica.org.