About Us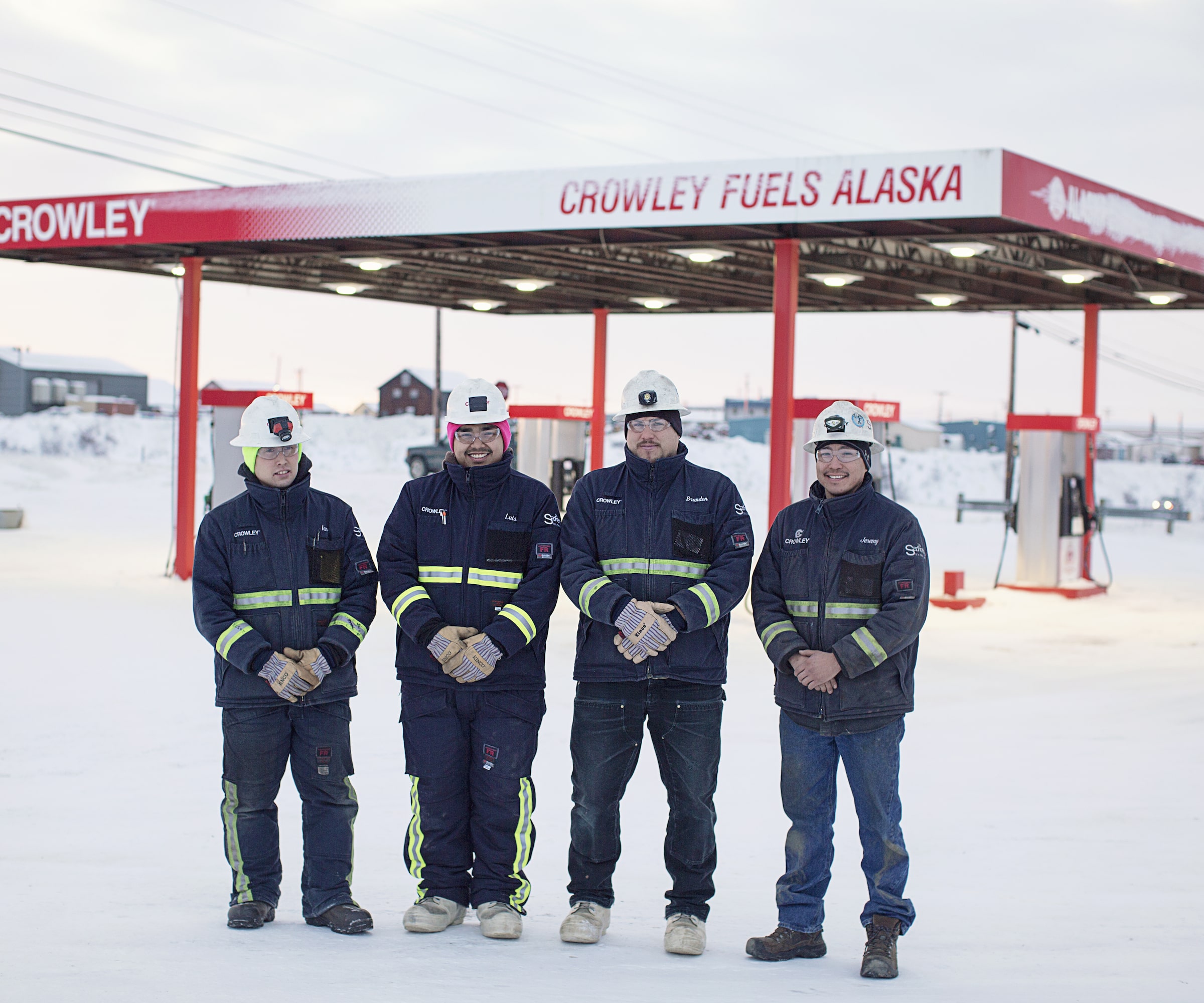 Crowley Fuels Alaska
Crowley Knows Alaska
As a company with roots stretching back before statehood, Crowley knows Alaska. We began serving the people and businesses of Alaska in 1953. Since then, we've built a reputation for consistently delivering high-quality fuels safely and reliably to meet the needs of consumers, businesses and government. We serve more than 160 communities throughout the state, and our customer-friendly fuel delivery service includes quality heating fuels, competitive pricing, and safe, reliable and timely delivery.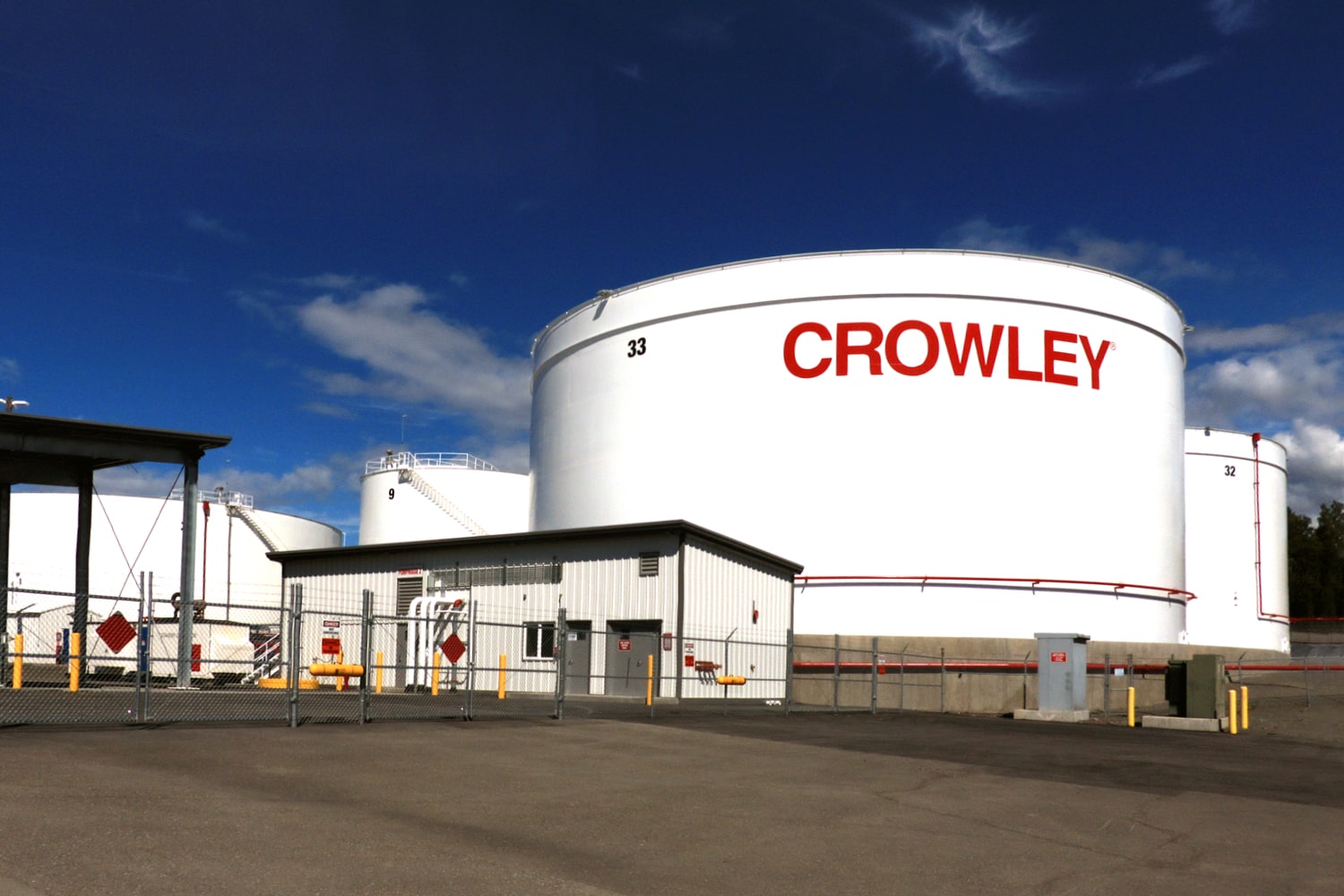 Crowley Fuels transports, stores, sells and delivers high-quality fuels, with an emphasis on service, reliability and safety. With 350 employees in Alaska, we are the state's largest wholesaler of quality fuel products, including diesel, heating fuel, propane, gasoline, aviation fuels, marine fuels and packaged petroleum products.
We have fuel storage capacity at terminals throughout the state, and we utilize our diverse distribution channels – on land, over water and occasionally through the air – to deliver the fuel Alaskans need to live, work and play in more than 160 communities from the North Slope to Southeast Alaska and points in between.
1953: Six years before Alaska became a state, a Crowley company pioneered the use of barges to transport railcars between Ketchikan and Prince Rupert.
1956: As Crowley's footprint grew, we began supplying the Distant Early Warning (DEW) line radar installations for the U.S. Air Force. This marked the first penetration of the Arctic by a commercial tug and barge service.
1958: Answering the call of Alaskans, Crowley became the first company to offer common carrier transportation of cargo in containers from the Lower 48 to Alaska utilizing traditional tug and barge service.
1963: The common carrier transport expanded as Crowley began the Alaska Hydro-Train. The Hydro-Train melded rail and barge transportation as Crowley loaded rail cars in Seattle and delivered them to Whittier for transport on to Anchorage and Fairbanks.
1968: Crowley conducted the first of many sealifts of oversized, overweight cargo in support of oil exploration at Prudhoe Bay. Since then, Crowley has moved individual modules as tall as 10-story buildings and weighing more than 6,000 tons.
1973: As the Trans-Alaska Pipeline Authorization Act was signed into law, Crowley acquired Mukluk Freight Lines and, through 1975, hauled more 48-inch pipe for the 800-mile pipeline than any other carrier. Crowley also contributed to pipeline construction through a contract with Bechtel.
1970s: Crowley was involved in other notable projects such as North-South runway at Ted Stevens Anchorage Airport, many miles of highways, and Duck Island, the first gravel drilling island in the Beaufort Sea for Exxon.
1985: Crowley purchased Chevron's Kotzebue and Nome fuel terminals to complement marine fuel delivery already underway.
1989 – 2018: Crowley provided tanker escort and docking services with best-available-technology tugboats in Prince William Sound for Alyeska in support of safe operations and environmental protection.
2003: Crowley constructed a Bethel tank farm to better serve residents in that community.
2005: Crowley acquired Northland Fuel (including Yukon Fuel, Yutana Barge Lines and Service Oil & Gas).
2009: Crowley implemented and administered the State of Alaska's Ocean Ranger Program, putting Coast Guard trained observers on cruise ships to monitor environmental operations and marine discharges.
2009: Crowley's 155,000-barrel articulated tug and barge (ATB) Sea Reliance/550-1, became the largest of its kind to ever transit Alaska waters.
2011: Crowley purchased the Port of Anchorage fuel terminal.
2014: Crowley acquired Taku and Anderes Oil, allowing us to begin serving the people of Southeast Alaska.
2018: Crowley makes the first-ever fuel delivery to Prudhoe Bay via marine assets.
2019: Crowley commits to the investment of a 55,000-barrel articulated tug and barge (ATB) for use in Southcentral and Western Alaska, with an in-service date of 2021.
2020: Crowley places a 100,000-barrel ATB in charter service, further supporting transportation efficiencies in Alaska.