Home Heating Fuel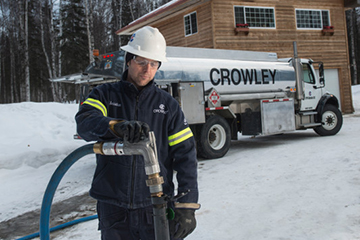 Crowley Fuels is your neighbor in Alaska. We are proud to transport and deliver home heating fuel to 280 communities throughout the state via our extensive terminal network. We maintain a fleet of tank trucks, tractor-trailer trucks, local delivery vehicles, and marine vessels. We're also a multi-brand petroleum distributor serving the entire overland road network in South Central and interior Alaska.
Heating fuel, diesel, gasoline and propane deliveries are made to these local areas using a network of fuel terminals that are also distribution centers for packaged petroleum products.
Count on us for home heating delivery all across the state of Alaska. Chances are good that we offer fuel oil deliveries near you. View all of the locations we serve or contact us via the form or phone number shown on this page.
Resources:
4 tips for inspecting and maintaining a home heating oil tank in Alaska
A Guide to Alaska Home Heating Oil Tanks: What you need to know before installing a tank?