Crowley Honored with More 2012 Environmental Achievement Awards than Any Other Maritime Company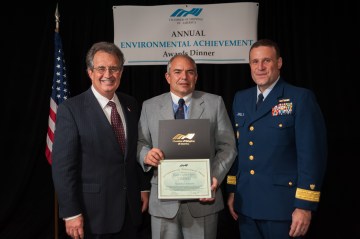 Picture caption, from left to right: Charles W. Parks, CSA vice chairman; John Tronti, managing director, Marine Transport Lines/ Crowley; and Coast Guard Rear Admiral Joseph A. Servidio, assistant commandant, Prevention Policy
(JACKSONVILLE, Fla., Dec. 4, 2012) ­– Crowley Maritime Corporation was recently honored by the Chamber of Shipping of America (CSA) with 96 environmental achievement awards for safe vessel operations during 2012 – more than any of the other 76 maritime companies recognized by CSA. The vessels owned and/or operated by Crowley businesses qualified for the awards by operating for at least two consecutive years without any recordable environmental incidents – a testament to Crowley's continued commitment to operational excellence with a focus on environmental protection. 
The CSA awards were presented last month at the Ronald Reagan International Trade Center in Washington D.C. to several Crowley companies, including Crowley Liner Services, Crowley Marine Services, Crowley Petroleum Services, Crowley Puerto Rico Services, Crowley Technical Management Services, Marine Transport Lines (MTL) and Marine Transport Management (MTM). The 96 vessels achieved a combined total of 970 years (based on each vessel operating two or more continuous years) of service without an environmental incident.
"Safeguarding people and the environment is at the core of Crowley's culture," said John Tronti, managing director for MTL/Crowley, who accepted the awards on behalf of the company, along with Julio Custode from the Crowley-managed M/V Cape Washington. "The awards are a great reflection of our crewmembers and employees, who make this possible, and are a further indication to our customers and industry associates that we take pride in operating responsibly."
"The Environmental Achievement Awards are a great opportunity for owners and operators to recognize the accomplishments of their mariners and shore-side staff," said the CSA in a statement. "While the public hears of instances when there are environmental problems, they should know that this industry has an excellent record of environmental accomplishment."
Each year, the awards are open to all owners and operators of vessels that operate on oceans or inland waterways. A complete list of the vessels and companies that received the 2012 Environmental Achievement Award is also posted on CSA's website.
Jacksonville-based Crowley Holdings Inc., a holding company of the 120-year-old Crowley Maritime Corporation, is a privately held family and employee-owned company. The company provides project solutions, transportation and logistics services in domestic and international markets by means of six operating lines of business: Puerto Rico/Caribbean Liner Services, Latin America Liner Services, Logistics Services, Petroleum Services, Marine Services and Technical Services. Offered within these operating lines of business are: liner container shipping, logistics, contract towing and transportation; ship assist and escort; energy support; salvage and emergency response through its TITAN Salvage subsidiary; vessel management; vessel construction and naval architecture through its Jensen Maritime subsidiary; government services, and petroleum and chemical transportation, distribution and sales. Additional information about Crowley, its subsidiaries and business units may be found on the Internet at www.crowley.com.
The following is a list of vessels owned or operated by Crowley, or one of its subsidiaries, that received environmental excellence awards this year from the CSA: 
Crowley Liner Services
MV DEFENDER
MV ENSIGN
MV EXPLORER
MV MONITOR
MV PATRIARCH
MV PILOT
MV PIONEER
MV SENTINEL
MV SENTRY
Crowley Marine Services
SATURN
ARCTIC HAWK
ENDURANCE
GOLIAH
GUARDIAN
KAVIK RIVER
KUPARUK RIVER
MASTER
MV CENTURION
MV CHIEF
MV GAUNTLET
MV GUARD
MV GUIDE
MV GURADIAN
MV HUNTER
MV MARINER
MV NAVIGATOR
MV PT BARROW
MV PT. THOMPSON
MV SEA BREEZE
MV SEA HORSE
MV SPARTAN
MV TIOGA
MV WARRIOR
PT OLIKTOK
SAG RIVER
SCOUT
SEA VOYAGER
STALWART
TANERLIQ
TUG ALERT
TUG ATTENTIVE
TUG AWARE
TUG BULWARK
TUG ENDURANCE
TUG INVADER
TUG NANUQ
VALOR
Crowley Petroleum Services
ATB SEA RELIANCE/550-1
ATB ACHIEVEMENT/650-8
ATB COASTAL RELIANCE/550-4
ATB COMMITMENT/650-6
ATB COURAGE/650-5
ATB GULF RELIANCE/650-2
ATB INNOVATION/650-9
ATB INTEGRITY/650-4
ATB OCEAN RELIANCE/550-3
ATB PACIFIC RELIANCE/650-1
ATB PRIDE/650-7
ATB RESOLVE/650-3
ATB SOUND RELIANCE/550-2
MV GUARDSMAN
MV SEA PRINCE
MV SIUOX
TUG SENCA
Crowley Puerto Rico Services
TUG ADVENTURER
Crowley Technical Management
SS CURTISS
CAPE INTREPID
CAPE TAYLOR
CAPE TEXAS
CAPE TRINITY
CAPE WRATH
COURAGE (ARC)
EMPIRE STATE
ENDURANCE (ARC)
GLOBAL 1200
GOLDEN STATE
HONOR (ARC)
INDEPENDENCE II (ARC)
INTEGRITY (ARC)
NATIONAL GLORY
OCEAN CHARGER
OCEAN TITAN
PELICAN STATE
RESOLVE (ARC)
SS WRIGHT
SUNSHINE STATE
Marine Transport Lines
CAPE EDMONT 
CAPE DECISION
CAPE DIAMOND
CAPE DOMINGO
CAPE DOUGLAS
CAPE DUCATO
Marine Transport Management
CHARLESTON EXPRESS
MV ST LOUIS EXPRESS
MV YORKTOWN EXPRESS
PHILADELPHIA EXPRESS
#   #   #
Shipping & Logistics Announcements
Jamaica – National Holidays (Emancipation & Independence Day)
To our Crowley partners, In observance of Emancipation Day and Independence Day, our offices in Jamaica will be closed on Monday, August 2 and Friday, August 6 respectively. We will hold normal business office hours throughout the rest of the week. If you have any questions, please contact your sales or customer service representative at 1-800-CROWLEY. Thank you for your continued support.
Read More
Shipping & Logistics Announcements
Inland Cost Monitoring – June 2021
To Our Crowley Logistics Partners, For June 2021, the CASS Index, which is used to monitor and evaluate U.S. Inland rates reflected an average of 148.40. As a result, tariff and contract motor and rail rates will not change on September 1, 2021. Please find additional details related to CASS Index in this downloadable pdf. […]
Read More