Standardized email signatures add professionalism and help maintain the brand of Crowley and its family of companies. These email signatures should be used by all employees as a standard course of business.
Choose a signature with a logo matching your appropriate business. To select, select a signature visiting this page below, then select and copy the appropriate base signature.
Copying Example Signature to Outlook
Step 1: Click this link.
Step 2: Find the example signature relevant to your specific business. Highlight, right-click, copy:

Step 3: in Microsoft Outlook, click the File tab, and then click Options:

Step 4: In the next screen, click Mail, ensure "Compose messages in this format" is set to HTML, and then click Signatures:
Step 5: In the next screen, click New, name your new signature, and click OK.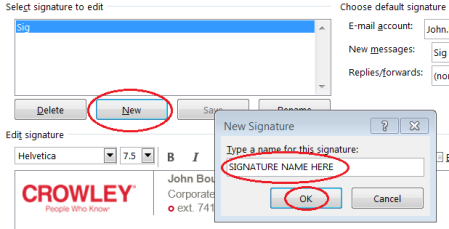 Step 6: Right-click and Paste the signature you copied into the box:

Changing Text and Links
Step 7: Revise the name, title, department and phone numbers to reflect your own information:

Step 8: Click the blue link text "Email", hit Ctrk + K, and replace the mailto:john.smith@crowley.com with your own email address after "mailto:":
Step 9: Repeat step 8 for the "Web" and "Social" blue link text. Ensure that they are linking to the proper location as it pertains to your relevant business:


Step 10: Ensure that the new signature is selected in the "New messages" dropdown. Ensure that "(none)" is selected for Replies/forwards if you do not need a signature for sending replies:

Step 11: Hit "OK", then hit "OK" again at the main Options page:

When you click "New Email", you should see your new signature automatically displayed now. If you have any questions, please contact corpcomm@crowley.com.