TITAN Salvage Appoints Capt. Rich Habib Vice President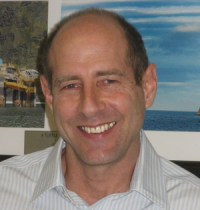 (POMPANO BEACH, Fla.; Feb. 9, 2011) – Capt. Rich Habib has been appointed vice president of TITAN Salvage with responsibility for the company's overall performance, including operations, administration, finance and commercial activities. He is domiciled at TITAN's headquarters in Pompano Beach, Fla., and reports to Todd Busch, Crowley Maritime Corporation's senior vice president and general manager of technical services. TITAN is a Crowley subsidiary.
"I am very pleased to welcome Rich back to TITAN," said Busch. "He began as one of our jack-up barge superintendents and then became a salvage master. Later he was TITAN's senior salvage master and director of salvage. Needless to say he brings a wealth of experience to his new position, which will serve our clients around the world very well."
Dan Schwall, who previously served as TITAN's vice president, has accepted a new position as a vice president of the business development, sales and marketing efforts of Crowley's new solutions group, which brings together a host of disciplines, including marine contract services, engineering, naval architecture, project management and logistics, to deliver customized solutions for customers.
Habib is a 1977 graduate of the U.S. Coast Guard Academy. He served in various posts including commanding officer of a patrol boat and rescue station. Exchanged to the U.S. Navy, he served a tour aboard a frigate. After leaving the Coast Guard in 1984, he worked in the oil field aboard supply boats and later specialized in the international tramp heavy lift trade aboard Dock Express and Van Ommeren vessels where he sailed as master and was a project manager.
He holds a BS degree in physical oceanography and an unlimited master's license. He is a regular member of the Council of American Master Mariners.
TITAN, a wholly owned Crowley subsidiary, is a worldwide marine salvage and wreck removal company based in Pompano Beach, Fla., that has performed over 350 salvage and wreck removal projects since 1980, including some of the most technically demanding projects ever undertaken. The company also has offices and equipment depots in Newhaven, UK, Singapore, and Australia. TITAN responds to vessel emergencies around the world and is able to mobilize a worldwide network of expert salvage professionals and specialized, portable equipment within hours of activation. TITAN is accessible 24 hours a day through the company's main dispatch telephone number, +1-954-545-4143. Additional information about TITAN may be found at www.titansalvage.com.
# # #