Crowley's New Shipping Service Offers Fast Delivery of Donated Goods from the U.S. to Cuba
Crowley Logistics, Inc., is now offering a new, fast and dependable U.S.-Cuba Express shipping service for approved donated goods from South Florida to Cuba that features at least three sailings per month, fast 16-hour transits and delivery at destination.
Individuals can ship non-commercial gift parcels that meet particular requirements, including prescribed product types, quantities and values. These gift parcels may include items such as housewares, hardware materials, childcare items, small appliances and hand tools. A new Crowley website available here provides details about approved items, quantities and values, along with other information to assist those wishing to ship to Cuba.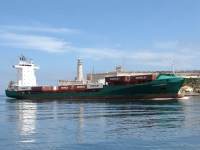 As the only U.S. ocean carrier with continuous service since 2001 to the Republic of Cuba, Crowley provides at least three regular sailings each month to the Port of Mariel featuring transit times of only 16 hours from Port Everglades, Fla. Crowley's full-service offerings provide customers with parcel pick-up, warehousing and consolidation services, and ocean transport. Upon reaching Mariel, Crowley's partners assist with Customs clearance and offer door delivery to destinations throughout Cuba.
"Crowley has long provided dependable ocean cargo transportation service to Cuba, and the new U.S.-Cuba Express service adds another shipping solution for individuals who want to send gift parcels quickly and conveniently to Cuba," said Jay Brickman, Crowley's vice president of Cuba and government services. "We realize that many people may not know how to ship their gifts, but our experienced team, drawing on years of expertise, is ready, willing and able to assist."
Crowley was the first U.S. carrier to obtain a license from the Office of Foreign Assets Control (OFAC) of the United States Department of the Treasury in Washington, D.C., to provide regularly scheduled common carrier services for licensed cargo from the United States to the Republic of Cuba. Crowley launched its Cuba service in December 2001, becoming the first U.S. carrier to re-enter Cuba in nearly 40 years, and has maintained a regularly scheduled service ever since. 
Jacksonville-based Crowley Holdings Inc., a holding company of the 125-year-old Crowley Maritime Corporation, is a privately held family and employee-owned company. The company provides project solutions, energy and logistics services in domestic and international markets by means of six operating lines of business: Puerto Rico/Caribbean Liner Services, Latin America Liner Services, Logistics Services, Petroleum Services, Marine Services and Technical Services. Offered within these operating lines of business are: liner container shipping, logistics, contract towing and transportation; ship assist and escort; energy support; salvage and emergency response through its 50 percent ownership in Ardent Global; vessel management; vessel construction and naval architecture through its Jensen Maritime subsidiary; government services, and petroleum and chemical transportation, distribution and sales. Additional information about Crowley, its subsidiaries and business units may be found at crowley.com.