Crowley Customers Realizing Benefits of New FEC Intermodal Container Transfer Facility in Port Everglades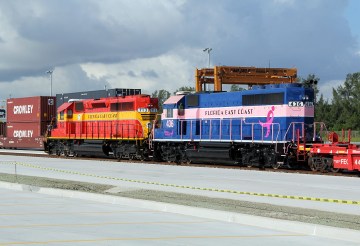 The opening of Florida East Coast Railway's (FEC) new, state-of-the-art intermodal container transfer facility (ICTF) adjacent to Crowley Maritime Corporation's Port Everglades, Fla., terminal is providing Crowley customers with more efficient cargo handling and faster deliveries now that containers no longer need to be trucked via interstate highways to and from an off-site rail terminal. Additionally, the strategic location of the 43-acre, near-dock station is allowing Crowley to handle bigger, heavier break bulk and out-of-gauge cargo more efficiently and cost effectively because of the shorter distance required for transit to the railhead.
"As one of the FEC's largest intermodal customers, the location of the new ICTF is a win-win, not only for Crowley, but also for our shipping and logistics customers who are now benefitting from faster and more efficient cargo handling," said Bob Weist, Crowley vice president. "The decision to open the facility in such close proximity to ours is illustrative of the importance of our partnership."
Crowley has been one of FEC's largest intermodal customers since the company established a terminal in south Florida. Working together, Crowley and FEC have been able to grow container traffic volume density in South Florida year after year by aligning Crowley's Port Everglades rail transportation needs with FEC's double-stack intermodal rail network which originates and terminates in Ft. Lauderdale.  This new rail facility provides yet another opportunity for Crowley to service its liner and logistics customers with varied intermodal transportation options, something the company is proactively offering.
"We have begun educating our customers on the strategic benefits of having the ICTF literally in our backyard in Port Everglades," said Weist. "Our break bulk and out-of-gauge customers are particularly enthusiastic about being able to have their cargo off the ship and on the rail in a fraction of the time. That's good for everyone."
By diverting an estimated 180,000 trucks from the roads by 2029, the ICTF is expected to reduce congestion on interstate highways and local roadways and reduce harmful air emissions. FEC plans to relocate its existing domestic intermodal service from Fort Lauderdale to the ICTF at Port Everglades, which is also expected to improve traffic flow near the area. The $73 million facility increases FEC's available intermodal capacity from 100,000 to 450,000 lifts a year, which is expected to result in more domestic containers moving north as loads instead of empties, increasing the efficiency of the intermodal network.
Jacksonville-based Crowley Holdings Inc., a holding company of the 122-year-old Crowley Maritime Corporation, is a privately held family and employee-owned company. The company provides project solutions, transportation and logistics services in domestic and international markets by means of six operating lines of business: Puerto Rico/Caribbean Liner Services, Latin America Liner Services, Logistics Services, Petroleum Services, Marine Services and Technical Services. Offered within these operating lines of business are: liner container shipping, logistics, contract towing and transportation; ship assist and escort; energy support; salvage and emergency response through its TITAN Salvage subsidiary; vessel management; vessel construction and naval architecture through its Jensen Maritime subsidiary; government services, and petroleum and chemical transportation, distribution and sales. Additional information about Crowley, its subsidiaries and business units may be found on the Internet at www.crowley.com.
Caption: Crowley containers aboard the FEC Train during the recent opening ceremony of the new intermodal container transfer facility adjacent to Crowley's Port Evergaldes terminal.