Crowley Continues Receipt of New Containers and Related Equipment as Part of $32.7 Million Fleet Optimization Investment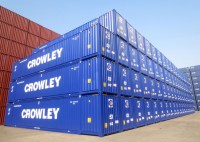 To better serve the diverse equipment needs of its ocean cargo and logistics customers, Crowley Maritime Corp. is continuing to receive and place into service $32.7 million worth of new cargo carrying equipment. The latest additions include 325, 20-foot chassis and 440 generator sets (gensets) all of which should be received by the end of April and 600, 53-foot (102-inch wide) dry containers along with 400, 53-foot chassis, which are expected by the end of May.
These arrivals follow 500, 45-foot (102-inch wide) dry containers and 400, 40-foot high cube refrigerated (reefer) containers which were received at the end of 2015.
"We transport many different types of cargo for many different types of customers, making it imperative that we have the right cargo available, at the right time, in the right location," said Steve Collar, Crowley senior vice president and general manager, international liner services. "The newly acquired equipment not only replenishes our current fleet, but expands our offering of reefers by 100 to meet the demands of both our customers and the overall market itself."
"This equipment acquisition will also support our continued growth strategy within the Puerto Rico market," said John Hourihan, senior vice president and general manager, Puerto Rico services. "The two new LNG-powered, Commitment Class ConRo (combination container and Roll/On-Roll/Off) ships that we currently have under construction are being built to maximize the carriage of 53-foot, 102-inch-wide containers like the new ones on order. They will have a cargo capacity of approximately 2,400 TEUs (20-foot-equivalent-units), in addition to a nearly 400-vehicle, enclosed Ro/Ro garage."
Since 2003, Crowley has invested over a quarter of a billion dollars in new cargo equipment for its liner services fleet.  Today, the company operates more than 52,000 pieces of owned and leased intermodal equipment, including more than 22,015 chassis; 21,297 dry containers; and more than 3,916 refrigerated containers, all of which come in a variety of sizes and are strategically located throughout the United States, Central America and the Caribbean.
Crowley Maritime Corporation, founded in 1892, is a privately held family and employee-owned company that provides marine solutions, energy and logistics services in domestic and international markets by means of six operating lines of business: Puerto Rico Liner Services, Caribbean and Latin America Liner Services, Logistics Services, Petroleum Services, Marine Services and Technical Services. Offered within these lines of business are: liner container shipping, logistics, contract towing and transportation; ship assist and escort; energy support; salvage and emergency response through its 50 percent ownership in Ardent Global; vessel management; vessel construction and naval architecture through its Jensen Maritime subsidiary; government services, and petroleum and chemical transportation, distribution and sales. Additional information about Crowley, its subsidiaries and business units may be found on the Internet at www.crowley.com.