Crowley Christens New Ocean Class, DP2 Tugboat, Ocean Sun, in Louisiana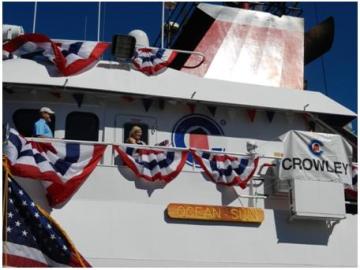 (LAKE CHARLES, La.; October 15, 2014) ­– As part of the company's industry-leading new vessel build program, Crowley Maritime Corp. christened the latest of its four tugboats in the ocean class series, Ocean Sun, today in Lake Charles. The ceremony served to formally welcome the fourth dynamic positioning 2 (DP2) tugboat to the company's expanded ocean towing fleet, which has been involved in most of the major offshore oil production installations in the U.S. Gulf of Mexico over the past 18 months.
Todd Busch, senior vice president and general manager of Crowley's solutions group, opened the ceremony to approximately 80 guests.  He was followed by a series of speakers including Tom Crowley, chairman and CEO; Craig Tornga, vice president, solutions, and Robert Socha, executive vice president, sales and marketing, Bollinger.
Following an introduction of the tug's crew members by Cal Hayden, vice president, marine operations for Crowley, and a blessing of the vessel by Deacon Patrick Lapoint, director of the Stella Maris Seafarers' Center at the Port of Lake Charles, Vessel Sponsor Coreen Busch, wife of Todd Busch, broke the ceremonial bottle of champagne across the hull of the boat.
ENI Petroleum, Heerema and Bechtel – all Crowley customers – had representatives in attendance, as did the area's port commission.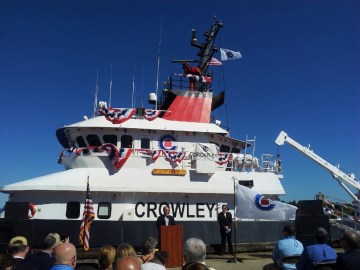 "Today we are pleased to formally welcome the latest of our four Jones Act ocean class tugboats to the fleet and culminate this multi-year build program," said Crowley. "These boats, along with their exceptional crews, have consistently met and exceeded the expectations of our energy customers doing business in the U.S. Gulf of Mexico.  We look forward to many years of service from these powerful and reliable cornerstone vessels."
The Ocean Sun, which features DP2 technology, is part of a feature-rich, four-vessel family of tugs ideally suited to work with Crowley's new 455 series high-deck strength barges, which measure 400 feet long by 105 feet wide (121.92 meters by 32 meters). Crowley's ocean class tugs are outfitted for long-range, high-capacity ocean towing, rig moves, platform and floating production, storage and offloading (FPSO) unit tows, emergency response and firefighting.
All four of the ocean class tugboats are designed to have a minimum bollard pull of 150 metric tons and a range of approximately 12,600 nautical miles at 15 knots free running. They are outfitted with twin-screw, controllable-pitch propellers in nozzles and high lift rudders for a combination of performance and fuel economy.
During the first-ever pairing of all four ocean class tugs – Ocean Wave, Ocean Wind, Ocean Sky and Ocean Sun  – worked together to tow the largest offshore oil production and drilling platform of its kind ever to be built for use in the U.S. Gulf of Mexico, the 120,000 ton TLP Olympus for 425-miles from Ingleside, Texas, to her final location in more than 3,000 feet of water. Later the quad towed, moored and made storm-safe the Jack/St. Malo topside at a depth of 7,000 feet and moved Delta House floating production platform and Chevron's TLP Bigfoot. Three of the tugs, Ocean Wave, Ocean Wind and Ocean Sun, also towed the 605-foot long, 110-foot wide Lucius spar for Anadarko Petroleum from Corpus Christi, Texas, to Keathley Canyon Block 875 some 300 miles offshore; and Ocean Wind towed the production deck of Saipem's Tubular Bells topside also in the Gulf of Mexico. 
    
Crowley's solutions group is a Project Management Organization (PMOrg) providing marine solutions as a prime contractor for the energy and resource extraction industries. This specialized team, which has its main Project Management Office (PMO) in Houston, Texas, provides turnkey marine solutions through the company's diverse capabilities, assets and world-class project management skills. The solutions group allows Crowley to provide greater value to customers with multifaceted marine and offshore construction-related projects. Additional information about this group can be found online at www.crowley.com/solutions. 
Additional information about parent company, Crowley – a marine solutions, energy and logistics services company founded in 1892 – can be found at www.crowley.com.
#     #     #