Crowley Celebrates Over Seven Million Man Hours without a Lost Time Injury in Valdez Operations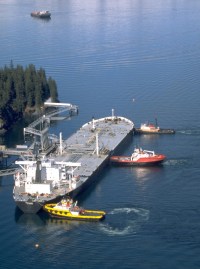 (VALDEZ, Alaska.; Feb. 3, 2016) ­– Crowley Maritime Corporation's tanker escort and docking services group in Valdez is celebrating over seven million man hours and more than six years since logging its last Lost Time Injury (LTI).  In addition to this remarkable number, the company announced that it had not had an OSHA recordable case in over two million man hours while performing tanker assist and escort work for Alyeska Pipeline Service Company.  In 2015, the company logged over one million man hours while safely escorting 236 tankers through Prince William Sound, transporting 185 million barrels of oil in one of the harshest environments in the world.
"We've partnered with Alyeska Pipeline Service Company for more than 25 years to provide the safest, most comprehensive spill prevention and response services available for tankers traveling through Prince William Sound," said Rocky Smith, Crowley's senior vice president and general manager, petroleum distribution and marine services.  "This achievement is a testament to the keen focus on safety our professional mariners and Valdez shore side support team displays.  They are relentless in their pursuit of zero harm to people, property and the environment."
In Valdez, Alaska, Crowley personnel and tugs help protect the environment through a contract with Alyeska Pipeline Service Company's Ship Escort/Response Vessel System (SERVS). As part of this commercial partnership the company provides tug escorts for tankers traveling through Prince William Sound to and from the Valdez Marine Terminal, assuring safe passage, even under the most extreme winter weather conditions. They also provide secure docking and undocking operations at the oil product loading terminals.
In 2015, Crowley continued its support of SERVS by planning and supervising classroom and field training exercises for the spring and fall fishing vessel training program.  This training involved over 400 boats and 1,700 attendees, who gained familiarity with the equipment, tactics, and resources needed to quickly and professionally respond to an oil spill incident in Prince William Sound. Crowley's nearshore response barge 500-2, and company-owned tugs visited the communities of Cordova, Whittier, Seward, Homer, Kodiak and Valdez in further support of the training.    
Additionally in 2015, Crowley tug Endurance provided transportation and accommodation for the Prince William Sound Traveling Health Fair – a community outreach program supported by Alyeska to inform local communities about oral hygiene, nutrition, physical fitness, depression/suicide awareness and emergency preparedness. The program is driven by numerous dedicated individuals including nine very enthusiastic coordinators and educators who joined Endurance and her crew for the eight-day initiative. 
 "For Crowley, this was another chance to be a part of something much bigger than just tankers, tugs and barges," remarked Endurance's crew. "For most of the hundreds of Crowley employees on the vessels and ashore in Alaska, this isn't just where we work, this is our home. Customer representatives, contractors, and shipmates are people we work with, but they are often also neighbors and friends. For our captain and crew, this latest adventure was another inspirational example of why we invest more than just our work ethic when we report to the job, this is also who we are."   
About Alyeska and SERVS
For over 38 years, Alyeska has operated the 800-mile Trans Alaska Pipeline System (TAPS), safely moving oil from Prudhoe Bay on the North Slope of Alaska south to the Port of Valdez, the northernmost ice-free port in the United States. Alyeska was created to construct, operate, and maintain TAPS for owner companies which today are BP Pipelines (Alaska), ConocoPhillips Transportation Alaska, ExxonMobil Pipeline Company and Unocal Pipeline Company. For more information, visit www.alyeska-pipe.com or follow Alyeska on Facebook (www.facebook.com/alyeskapipeline) or on Twitter (www.twitter.com/AlyeskaPipeline).
Alyeska Pipeline Service Company's Ship Escort/Response Vessel System (SERVS) is one of the largest oil spill prevention and response organization in the world, with a mission to prevent oil spills and to protect the environment by providing rapid and effective response services to the Valdez Marine Terminal and Alaska crude oil shippers.
Crowley in Alaska
Crowley, which has been serving Alaska for more than 60 years, currently operates 22 fuel terminals in western Alaska and along the rail belt, with more than 500 employees across the state, including over 90 Native Alaskans. The company continues to position itself as a leader in the Alaska fuel industry, providing transportation, distribution and sales of petroleum products to more than 280 communities across Alaska. Crowley also supports the energy industry on the North Slope with summer sealifts of large production modules and various marine transportation services and by providing tanker escort and docking services in Valdez Harbor and Prince William Sound for Alyeska. For more information about Crowley in Alaska, please visit www.crowleyalaska.com.