Crowley Awards Scholarship to Great Lakes Maritime Academy Cadet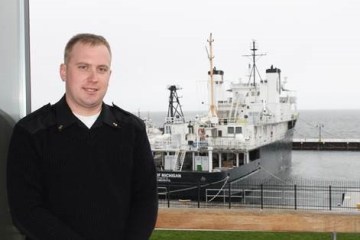 (JACKSONVILLE, Fla.; November 25, 2015) ­– Crowley Maritime Corporation recently awarded Great Lakes Maritime Academy (GLMA) Cadet Michael Atwell a Thomas B. Crowley, Sr. Memorial Scholarship based on his strong academic record, leadership ability and financial need.
Atwell, a senior at GLMA, is in the deck officer program and working to earn an unlimited third mate's license with first class pilotage. He recently received his USCG Masters 100T license and has captained several small passenger vessels in Chesapeake Bay, Va.  A graduate of Broadneck Sr. High School in Annapolis, Md., Atwell is currently serving aboard the Paul R. Tregurtha in the Great Lakes. After graduation, he plans to pursue a career in the towing industry in his hometown of Annapolis.
Since 1984, Crowley has provided more than $3 million dollars in scholarship funding for more than 1,000 students studying at maritime academies and other select institutions in the U.S., Puerto Rico and Central America. In 1994, Crowley Chairman and CEO, Tom Crowley Jr., established the Thomas B. Crowley Sr. Memorial Scholarship Program, in honor of his father, and has also donated more than $2 million to support other educational programs. Crowley Maritime has awarded the Thomas B. Crowley Sr. scholarship to students attending Great Lakes Maritime Academy since 2010.
To learn more about the Thomas B. Crowley Sr. Memorial Scholarship program, click here.
Jacksonville-based Crowley Holdings Inc., a holding company of the 123-year-old Crowley Maritime Corporation, is a privately held family and employee-owned company. The company provides project solutions, energy and logistics services in domestic and international markets by means of six operating lines of business: Puerto Rico/Caribbean Liner Services, Latin America Liner Services, Logistics Services, Petroleum Services, Marine Services and Technical Services. Offered within these operating lines of business are: liner container shipping, logistics, contract towing and transportation; ship assist and escort; energy support; salvage and emergency response through its 50 percent ownership in Ardent Global; vessel management; vessel construction and naval architecture through its Jensen Maritime subsidiary; government services, and petroleum and chemical transportation, distribution and sales. Additional information about Crowley, its subsidiaries and business units may be found at www.crowley.com.
#     #     #