Crowley and Gunderson Marine make $10,000 donation to the First Alaskans Institute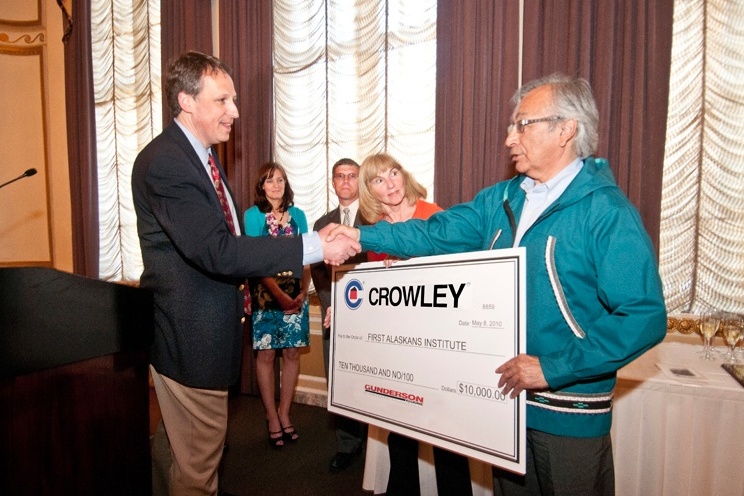 (Anchorage, Alaska; May 27, 2010)—Crowley Maritime Corporation and Gunderson Marine recently made a $10,000 joint donation to the First Alaskans Institute to further advance education and cultural enrichment for Alaska natives.
Crowley Vice President Craig Tornga presented Willie Hensley, a noted author, chairman of the Board of Trustees of the First Alaskans Foundation and former manager of Federal Government Relations for Alyeska Pipeline Service Company, along with First Alaskans Institute CEO Janie Leask, a Haida-Tsimshian and member of the Tsimshian Eagle Clan, with the check at a dinner commemorating the christening of Crowley's newest heavy-lift-series barge in Portland, Ore.
Gunderson, which built the barge, and Crowley, which owns the new vessel, decided that in lieu of gifts to each other for the successful completion of this project, they would instead donate the money to a deserving organization. Tornga said First Alaskans Institute was chosen because of their commitment to the native Alaskan community.
"Crowley and First Alaskans Institute share the common goal of advancing Alaska Natives with our support of education and providing jobs within the communities we do business," said Tornga. "We chose First Alaskans Institute, specifically, for the work they do to develop the capacities of Alaskan Natives in the communities where our employees work and live."
"First Alaskans Institute is grateful for the $10,000 contribution made by Crowley and Gunderson Marine," said Leask. "This generous contribution will help us publicize our leadership programs for young Alaska Natives. These programs provide participants with a grounding in their culture, the history of our State and its relationship to Alaska Native peoples, the history of the Alaska Native Claims Settlement Act, while also offering traditional management and leadership skills."
First Alaskans Institute helps Alaska Native people and their communities meet the social, economic and educational challenges of the future, while fostering positive relationships among all segments of our society. The Institute does this through community engagement, information and research, collaboration and leadership development. For more information, visit www.firstalaskans.org.
Since 1953, Crowley has provided various marine, petroleum distribution, and energy support services in Alaska—from the North Slope to Southcentral Alaska and both coastal and inland communities including those along the Kuskokwim and Yukon Rivers—and today has offices and operations throughout the state with more than 650 employees. The company has consistently provided unique solutions to Alaska's logistics and marine transportation challenges and played an important role in Alaska's business development and in protecting its environment.
With a storage capacity of more than 39 million gallons, Crowley is strongly positioned as a leader in the Alaska fuel industry, providing transportation, distribution and sales of petroleum products to more than 280 communities across Alaska. Crowley supports the energy industry on the North Slope with summer sealifts of large production modules and various marine transportation services, and in the winter supports oil field development with CATCO all-terrain vehicles. These heavy-lift overland transport units have large bag tires designed to work over the tundra without damaging the delicate Arctic ecosystem. At the southern terminus of the trans-Alaska oil pipeline, Crowley provides tanker escort and docking services in Valdez Harbor and Prince William Sound for Alyeska Pipeline Service Company's Ship Escort/Response Vessel System, utilizing some of the most technologically advanced and powerful tugboats in the world. Crowley also provides tanker assist and escort services at Tesoro Alaska Company's Nikiski refinery in Cook Inlet.
The Gunderson Marine facility, which includes the largest side-launch ways on the West Coast (up to 750 feet of capacity), is capable of producing large, ocean-going vessels. Since WWII, more than 250 ocean-going vessels have been built, including double hull, gas turbine-electric drive oil tankers and triple deck Ro/Ro barges. For more information, visit www.gbrx.com.
Jacksonville-based Crowley Holdings Inc. is the holding company for the 118-year-old Crowley Maritime Corporation. Additional information about Crowley, its subsidiaries and business units may be found on the Internet at www.crowley.com.
# # #