Video: Crowley Explains the Benefits of a New Pilot Program to Allow Select South American Cold-Treatment Produce through South Florida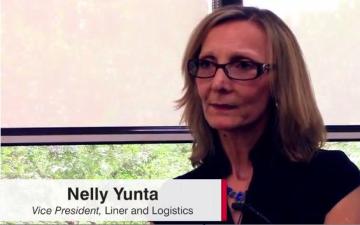 (Miami, Fla.; October 2, 2013) ­– In a short video, Crowley Maritime Corporation's Nelly Yunta, vice president of Miami-based company subsidiary Customized Brokers, explains the benefits of a new, six-month pilot program, which kicked off Oct. 1, 2013, that now allows for the clearance of cold-treatment perishables, such as blueberries and grapes from Peru and Uraguay, through South Fla. as an alternative to congested Northeast ports. Currently, these perishables are required to enter Northeastern ports for cold treatment and clearance, but then must be transported to southern states, such as Fla., for distribution in stores. To watch the video, click here: http://www.youtube.com/watch?v=Fx0c1ShVHag.
Those who can benefit from allowing these perishables to enter Fla. include shippers, who will see lower transportation costs and a longer shelf-life for their products; southern-based consumers, who will see lower grocery store prices on these items; and the Florida economy, which will see a boost of business in locations such as Port Miami and Port Everglades. Additionally, environmental benefits from reduced emissions related to the transportation of these perishables will be seen.
The new pilot program was spearheaded by the Florida Perishable Trades Coalition, a non-profit association developed to increase trade in perishable products through Florida's airports and seaports. Founding members include Crowley Maritime Corp., Customized Brokers, Seaboard Marine and Port Miami.
The following questions are addressed on the video:
1) What is the Florida Perishable Trade Coalition's new pilot program?
2) What perishables will be temporarily allowed to clear through Fla.?
3) What are some of the benefits of the pilot program?
4) Who are the members of the Florida Perishable Trade Coalition?
5) When does the pilot program begin?
Customized Brokers Inc., a Crowley Maritime Corp. subsidiary, has been a pioneer in the clearance of fresh fruit and produce since 1989. Its strong knowledge of compliance and excellent relationships with U.S. Customs, FDA and USDA allow for expedited client service. The C-TPAT certified company also provides a myriad of value added services for customers, including fumigation and transportation coordination. For more information about Customized Brokers please visit: www.customizedbrokers.net.
Jacksonville-based Crowley Holdings Inc., a holding company of the 121-year-old Crowley Maritime Corporation, is a privately held family and employee-owned company. The company provides project solutions, transportation and logistics services in domestic and international markets by means of six operating lines of business: Puerto Rico/Caribbean Liner Services, Latin America Liner Services, Logistics Services, Petroleum Services, Marine Services and Technical Services. Offered within these operating lines of business are: liner container shipping, logistics, contract towing and transportation; ship assist and escort; energy support; salvage and emergency response through its TITAN Salvage subsidiary; vessel management; vessel construction and naval architecture through its Jensen Maritime subsidiary; government services, and petroleum and chemical transportation, distribution and sales. Additional information about Crowley, its subsidiaries and business units may be found on the Internet at www.crowley.com.
#     #     #