University of Alaska Fairbanks Students Awarded $10,000 in Crowley Scholarships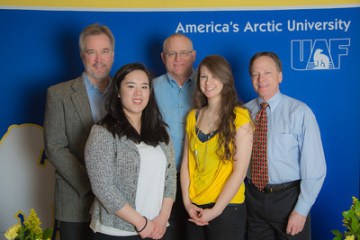 Back row, left to right: Crowley petroleum distribution's Randy Breaux, Alex Sweeney and Bob Cox
Front row, left to right: Scholarship recipients Jennifer Martelle and Kelsie Maslen (Caroline Hoover and Ralph Sinnok not pictured)
(ANCHORAGE, Alaska, May 11, 2012) – Crowley Maritime Corporation recently awarded Thomas B. Crowley Sr. Memorial Scholarships to University of Alaska Fairbanks (UAF) students Caroline Hoover, Jennifer Martelle, Kelsie Maslen and Ralph Sinnok. They each received a portion of a $10,000 scholarship fund that Crowley donated to UAF in December.
Crowley's Vice President of Petroleum Distribution Bob Cox, who presented Crowley's scholarship donation to School of Fisheries and Ocean Sciences Dean Mike Castellini, attended UAF's spring scholarship breakfast in Fairbanks where he had the opportunity to share in the celebration with student scholarship recipients. The students were chosen for their strong academic records and financial need.
Hoover, a native of Kasigluk, is working towards her Bachelor's degree in elementary education and is a member of three UAF student organizations, including the Native Alaskan Business Leaders (NABL), of which she is currently vice president of fundraising.
Martelle, a native of Barrow, is pursuing a Bachelor's degree in business administration and has made the Chancellor's list each semester of her college career. She recently graduated summa cum laude from the business administration Associate's degree program.
Kelsie Maslen, a native of Kotzebue, is enrolled in UAF's School of Fisheries and Ocean Sciences, where she is part of a marine and environmental research team, and is dedicated to finding methods of preserving a healthy and sustainable marine environment through her studies.
Sinnok, a native of Shishmaref, is a civil engineering undergraduate student who has worked at the NOAA Fairbanks Satellite Operations and recently interned at the NOAAA Satellite Operations Control Center in Suitland, Md., for nine weeks.
Crowley created this scholarship program to help young people primarily, but not exclusively, from rural Alaska communities to achieve their dreams. Preference is given to students native to Alaska, from Anchorage, Kenai, Palmer, Wasilla, Nenana, Fairbanks, Delta Junction, Glennallen, Valdez, Fort Yukon, Galena, St. Mary's, Iliamna, Bethel, Aniak, McGrath, Hooper Bay, St. Michael, Nome, Kotzebue and Prudhoe Bay. Crowley serves as the main petroleum distribution and sales company in these communities.
Since 1984, Crowley has provided more than half-a-million dollars in scholarship funding for more than 200 students studying at maritime academies and other select institutions in the U.S., Alaska, Puerto Rico and Central America. In 1994, Crowley Chairman, President and CEO, Tom Crowley Jr., established the Thomas B. Crowley Sr. Memorial Scholarship Program, in honor of his father, and has also donated more than $2 million over the years to support other educational programs.
To learn more about the Thomas B. Crowley Sr. Memorial Scholarship program, visit www.crowley.com/scholarships.
Crowley is strongly positioned as a leader in the Alaska fuel industry, providing transportation, distribution and sales of petroleum products to more than 280 communities across Alaska. Crowley supports the energy industry on the North Slope with summer sealifts of large production modules and various marine transportation services. At the southern terminus of the trans-Alaska oil pipeline, Crowley provides tanker escort and docking services in Valdez Harbor and Prince William Sound for Alyeska Pipeline Service Company's Ship Escort/Response Vessel System, utilizing some of the most technologically advanced and powerful tugboats in the world. Crowley also provides tanker assist and escort services at Tesoro Alaska Company's Nikiski refinery in Cook Inlet. To learn more about Crowley in Alaska, visit: www.crowleyalaska.com   
To learn more about Crowley Maritime Corporation, the 120-year-old, privately held company providing project solutions, transportation and logistics services around the world, please visit: www.crowley.com.
#     #     #