TITAN Salvage Opens New Facility in Cairns, Australia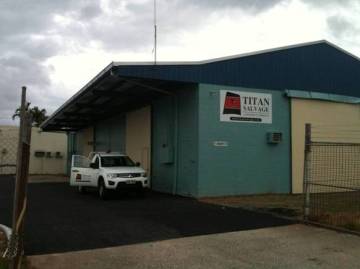 (Cairns, Australia, May 25, 2012) – Responding to changing market conditions and increased commercial vessel traffic in and around the Great Barrier Reef, TITAN Salvage has enhanced its marine salvage, wreck removal and emergency response capabilities in the Oceanic region with the establishment of an equipment depot in Cairns, Australia, and the introduction to the region of response equipment specialized for the completion of heavy salvage and wreck removal jobs for large scale casualties. 
The 20,000 square foot complex houses a long list of emergency response equipment including generators and pumps for dewatering, hydraulic power packs and pumps for fuel removal, diving equipment, floating line for maneuvering around the reefs, satellite communications equipment and TITAN hydraulic chain pullers, each with a 300 tonne pulling capacity.  
The facility, located at 15 Knight Street, Portsmith, Cairns, is manned by Operations Manager Eric Shelley and is reachable by calling +61-7-40354987. In addition to being a former commercial diver, Shelley brings years of experience with logistics, client relations and knowledge of specialized salvage equipment. 
"We feel Eric's well-rounded background will work well in Australia. I know Eric looks forward to working with the other marine businesses in the area," said TITAN Managing Director Rich Habib.
Over the last two years, TITAN has worked in northeast Australia alongside partner Ian Perrott of Perrott Salvage.
"Ian is an old hand on the Australian salvage scene and TITAN is proud to be associated with him," Habib stated. "Together Perrott Salvage and TITAN Salvage Australia with its new facility will provide even greater salvage response capabilities for around the Great Barrier Reef and in Australia in general."
TITAN is a proud member of the Marine Response Alliance (MRA), an association of emergency responders organized to provide ship owners trading in the U.S. with a full range of emergency services, including emergency towing, lightering and firefighting. TITAN is also a member of the American Salvage Association (ASA) and the International Salvage Union (ISU), with TITAN principals having served, or currently serving, as executive members and office holders.
TITAN, a wholly owned subsidiary of Crowley Maritime Corporation, is a worldwide marine salvage and wreck removal company based in Pompano Beach, Fla., that has performed over 350 salvage and wreck removal projects since 1980, including some of the most technically demanding projects ever undertaken. The company also has offices and equipment depots in the UK and Singapore. TITAN responds to vessel emergencies around the world and is able to mobilize a worldwide network of expert salvage professionals and specialized, portable equipment within hours of activation. TITAN is accessible 24 hours a day through the company's main dispatch telephone number, +1-954-545-4143. Additional information about TITAN may be found at www.titansalvage.com.
#  #  #