Jose "Pache" Ayala and Shiju Zacharia Presented with Crowley's Highest Honor, the Thomas Crowley Award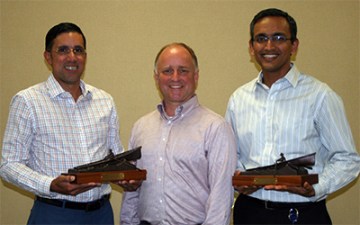 Crowley Maritime Corp.'s Jose "Pache" Ayala, vice president, Puerto Rico services, and Shiju Zacharia, director, technology, were presented with 2013 Thomas Crowley awards, the company's highest honor, at a ceremony yesterday at the company's Jacksonville, Fla., headquarters.
The exclusive employee recognition program was created in 1985 and only 58 of the company's more than 5,300 employees have received the award symbolized by a limited edition bronze sculpture, which depicts company founder Thomas Crowley ferrying goods to and from ships on San Francisco Bay in the early 1890s. The trophy serves not only as a tribute to the founder of the company, but also to those honorees who have aligned themselves closely with the company's values displaying outstanding performance, dedication, leadership and initiative.
Crowley's Chairman, President and CEO Tom Crowley Jr., the grandson of the company's founder, presented the awards yesterday before more than 200 employees and senior leaders who had gathered from around the world for the event. Included in the audience were nine past recipients of the coveted award.
Ayala was selected for the award because of his continued commitment, hard work, embrace of change and focus on the future success of the company. He was also credited for always working with a high degree of integrity, mutual trust and respect among employees, customers and service providers.
"When you think about someone who can take on any challenge and who has been so open to change and using the lessons that he's learned in life, you think of Pache," said an emotional Crowley. "When he first came to work for Crowley, he came wanting to learn. The challenges he took on and the changes he has gone though have just been amazing to watch. It's been an honor to work with him and even more of an honor to present this award to him."
"This is one of the most rewarding moments of my life," said Ayala. "I am happy and blessed. I just want to say that this award is not just for me, it's for the team that works with me in Puerto Rico and also for the teams that support us from here. So this is everybody's award. I thank you very much."
Zacharia was honored with the award for his demonstrated expertise in application development and adeptness at analyzing requirements, identifying improvement opportunities and crafting solutions that enhance competitiveness and increase revenue.
"Shiju has worked hand-in-hand with the business partners and the customer to build something that I don't think Crowley could do without," said Crowley. "He brings much to the table in both understanding the business and how we can become more effective in delivering technical projects that our customers need to get visibility and services they require and, most importantly, to grow the breadth of services that Crowley can provide. All of that is so critical and he delivers it with such elegance. It's a pleasure to make this award to him today."
"I am truly humbled and honored to receive this award," said Zacharia. "In a larger sense, however, this award is more appropriately deserved by my team which has a 'can do' attitude and leaders who have guided and provided the independence to execute. On behalf of my team and department, I am deeply grateful for this honor."
Ayala began working with Crowley in the late 80s as a Teamster union laborer in Crowley's San Juan terminal. Over the course of the next 18 years he rose within the union ranks into leadership positions and eventually became the head of the Teamsters in Puerto Rico. His accomplishments included starting a Management – Labor partnership, where he applied his understanding of Crowley's business together with his people and leadership skills to forge an effective working relationship with management.
In 2007, Ayala joined Crowley's administrative team, relocating to Jacksonville, where he assumed roles first in maintenance, followed by inland operations, before moving into the labor relations department in 2009. The following year he was promoted to general manager of Crowley's San Juan terminal operation and in 2012 promoted to vice president, Puerto Rico.
Zacharia joined Crowley in 2009 bringing more than a decade of technology experience developing, deploying, and integrating state-of-the-art solutions to support high-level business objectives for major enterprise customers. Before officially joining Crowley, he was a consultant for the company on the Beacon project. He also consulted at Blue Cross and Blue Shield of Florida, General Electric Transportation and General Electric Aircraft Engines.
He holds a bachelor's degree in mechanical engineering from VJTI, University of Mumbai and a Masters in modeling and simulation from the University of Central Florida. He is an IBM-certified Specialist for Rational Unified Process, PMI-certified Project Management Professional and GE-certified Six Sigma Green Belt.
Jacksonville-based Crowley Holdings Inc., a holding company of the 122-year-old Crowley Maritime Corporation, is a privately held family and employee-owned company. The company provides project solutions, transportation and logistics services in domestic and international markets by means of six operating lines of business: Puerto Rico/Caribbean Liner Services, Latin America Liner Services, Logistics Services, Petroleum Services, Marine Services and Technical Services. Offered within these operating lines of business are: liner container shipping, logistics, contract towing and transportation; ship assist and escort; energy support; salvage and emergency response through its TITAN Salvage subsidiary; vessel management; vessel construction and naval architecture through its Jensen Maritime subsidiary; government services, and petroleum and chemical transportation, distribution and sales. Additional information about Crowley, its subsidiaries and business units may be found on the Internet at www.crowley.com.
#     #     #