Jensen Maritime Expands Presence to U.S. Gulf with Establishment of Third Office in New Orleans
New Location Strategically Positions Jensen along U.S. Gulf, West and East Coasts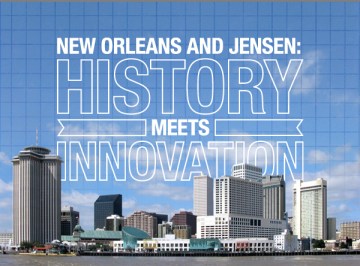 (SEATTLE; August 14, 2012) ­- Seattle-based Jensen Maritime Consultants, a Crowley Maritime Corporation company, announced today that it has expanded its presence to the U.S. Gulf with the establishment of a third office in New Orleans, La. This strategic new location places Jensen in close proximity to many important customers and shipyards in the U.S. Gulf, as well as to Crowley's Houston-based solutions group, a Project Management Organization (PMOrg). Solutions provides marine project management services as a prime contractor for the energy and resource extraction industries.
The company's full services – including new design, naval architecture, marine/mechanical engineering, ship structures, electrical engineering, production engineering and construction management – will each be available from this new location. These unique company capabilities are built upon a foundation of vessel design and engineering, construction and operations experience, due in part to Jensen's close working relationships with Crowley's marine operators. Jensen's staff includes naval architects, marine engineers, electrical engineers, maritime academy graduates and direct hires from shipyards around the U.S.  
Customers who will benefit from Jensen's presence in the U.S. Gulf include regional shipyards and local operators, as well as clients in the offshore oil and gas, energy, fishing, workboat and brown-water industries.
"We are thrilled to announce the opening of a new Jensen office in this highly strategic region," said Crowley's Todd Busch, senior vice president and general manager, technical services. "Not only will Jensen now be able to serve the U.S. Gulf with all of its traditional naval architecture and marine engineering services from a convenient location, but Jensen is also now in a position to take on even more of the region's large energy projects, such as offshore design projects and sealifts, alongside solutions. Serving these industries are areas that the company has and will continue to provide a great deal of expertise on."
The New Orleans office is now operating under the direction of General Manager Sergio Fifi, reporting to Jensen's Johan Sperling, vice president, in Seattle. Fifi joined Jensen in 2004 as naval architect and marine engineer with responsibilities for vessel refurbishment and new designs.  In 2010, he transitioned to Crowley as the manager of fleet engineering in Valdez, Alaska, where he was domiciled until recently. Prior to joining Jensen, Fifi worked for GE Fanuc Automation, N.A., in a technical leadership program, and earned a Masters in engineering from the University of Michigan, as well as a Bachelors of Science in marine engineering with a concentration in Mechanical Engineering from Massachusetts Maritime Academy.
The past year has been a time of incredible growth for Jensen. In 2011, the company celebrated its 50th anniversary with the opening of a new southern office in Jacksonville; added fully staffed, in-house production engineering, construction management and electrical engineering groups; and doubled the size of its staff. Jensen also formed a dedicated business development team and invested in project management training, which continues to aid the company as it executes complex projects alongside Crowley's solutions team. Today, Jensen is a full-service naval architecture and marine engineering provider – with services ranging from initial concept design through the final delivery stage.
"Jensen's explosive expansion is due to the careful joint planning of Jensen and our parent company Crowley, which has demonstrated sustained growth for 120 years," said Sperling. "This fully integrated office adds to Jensen's already strong presence on both the U.S. West and East Coasts. We look forward to serving our valued customers in the U.S. Gulf."
Jensen Maritime is now hiring qualified applicants for a variety of positions in the New Orleans office. Interested job seekers should visit www.jensenmaritime.com/careers for more information.
The company's new U.S. Gulf office address is as follows:
Jensen Maritime Consultants, Inc.
1515 Poydras Street, Suite 2030
New Orleans, LA 70112
About Jensen Maritime
Seattle-based Jensen Maritime Consultants, Inc., is a naval architecture and marine engineering firm owned by Crowley Maritime Corporation. The company offers a diverse range of consulting, design and engineering services developed from more than 50 years of experience working around the world. Jensen is a recognized leader in the design of all types of vessels – particularly workboats, fishing boats and fireboats – and has built a favorable reputation on a long history of successful designs and conversions with close attention to engineering basics. The company's services include detail and conceptual design and engineering, lofting, regulatory and shipyard liaison as well as on-site consulting services and on-location assistance anywhere in the world. Additional information about Jensen may be found on the Internet at www.jensenmaritime.com.
#     #     #