Goldberg and Otero Awarded 2009 Thomas Crowley Trophies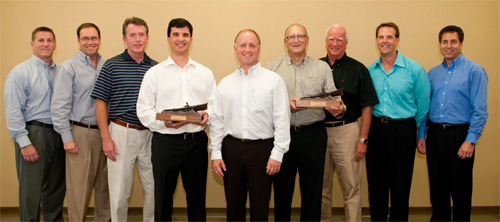 (Jacksonville, Fla.; Oct. 1, 2010) – Captain Vic Goldberg, vice president of marine operations for Crowley Maritime Corporation's petroleum transportation team, and Tony Otero, vice president of finance and planning for the Company's shipping and logistics operations, were awarded 2009 Thomas Crowley trophies, the company's highest honor, at ceremonies yesterday at the company's headquarters in Jacksonville, Fla.
The exclusive employee recognition program was created in 1985; only 52 of the company's more than 4,300 employees have been awarded the limited-edition bronze sculpture, which depicts a young Thomas Crowley as he ferried goods to and from ships on San Francisco Bay in the early 1890s. The trophy serves not only as a tribute to the founder of the company, but also to those honorees who have aligned themselves closely with the company's values and displayed outstanding performance along with dedication, leadership, initiative and productivity.
Tom Crowley, Jr., chairman, president and CEO, presented the awards during ceremonies yesterday attended by more than 50 local employees. Also included in the group were many previous Thomas Crowley Trophy recipients, as shown left to right with Crowley: Bob Weist, vice president, sales; Robert Clapp, vice president, customer care; Lee Egland, director, labor relations; Otero; Crowley; Goldberg; Cal Sweep, director, facilities development; Cole Cosgrove, vice president of safety, security, quality and enviromental; and Todd Busch, senior vice president and general manager of technical services.
"Both men are very worthy recipients of this special recognition," said Crowley. "They are very focused on the goals, objectives and core values of the company, and have contributed to our ongoing success."
"Vic has embraced the safety culture at Crowley, implementing many safety initiatives that are currently used throughout the corporation," said Crowley. "Some of the initiatives that he has championed include annual seminars for senior officers, office visits for senior officers and vessel visits for administrative shore side personnel. He also serves on our safety leadership team. Vic takes personal interest in all of our seagoing personnel, often sending personal notes of congratulations and recognition where warranted and often sending welcoming notes to them when they join a vessel for the first time."
"I'm honored to be recognized by my fellow employees," Goldberg said. "To me the award is especially poignant as it depicts Tom Crowley rowing out to visit ships on the San Francisco Bay–the same Bay where I began my career in the Merchant Marine."
Crowley said of Otero, "Tony provides unmatched financial and business planning expertise to the liner and logistics groups. His leadership has been instrumental in providing direction to the finance teams in Central America to improve processes and identify common systems and procedures to implement across all countries. He has played a key role in identifying new business opportunities and in the final integration of newly acquired logistics companies. He's an inspiring leader and gives 100 percent each and every day."
"For me, the award is a reflection of Crowley's values and the extraordinary team that lives those values every day," Otero said. "I am incredibly humbled to be recognized by that team."
Goldberg joined Crowley in 2002 as vice president of ship management in Weehawken, N.J., and was promoted in 2005 to vice president of marine operations. He relocated to Jacksonville in 2006, and today is responsible for the safe and reliable operation of Crowley's marine petroleum assets including 7-product tankers and 14-articulated tug barges. Prior to joining the company, Goldberg worked in a number of capacities, primarily with petroleum shipping companies – moving from deck officer to ship captain on vessels at sea to managerial positions on shore. A retired U.S. Navy Reserve captain, Goldberg retains an Unlimited Master's License (any ocean, any tonnage – 8th Issue), and is an ISO certified auditor. He is a graduate of the U.S. Merchant Marine Academy at Kings Point, is a recipient of the Meritorious Alumni Award and is a past president of the academy's Port of New York Alumni Association.
Otero started his career as a senior accountant at Crowley in 1998 after working several years for the accounting firm, Deloitte & Touche. He was promoted to manager, accounting, in 2004 and to director, finance, for the logistics business unit in 2006. The following year he also assumed the financial responsibilities for the Puerto Rico Caribbean liner business unit as well as the Latin America liner group including all accounting activities in foreign countries. In 2010, Otero was promoted to vice president finance and planning for the three liner/logistics business units. Otero earned his bacholar's degree in accounting and his master's degree in accounting from the University of Florida, and he is a certified public accountant (CPA).
Jacksonville-based Crowley Holdings Inc., a holding company of the 118-year-old Crowley Maritime Corporation, is a privately held family and employee-owned company. The company provides diversified transportation and logistics services in domestic and international markets by means of six operating lines of business: Puerto Rico/Caribbean Liner Services, Latin America Liner Services, Logistics Services, Petroleum Services, Marine Services and Technical Services. Offered within these operating lines of business are the following services: liner container shipping, logistics, contract towing and transportation; ship assist and escort; energy support; salvage and emergency response through its TITAN Salvage subsidiary; vessel management; vessel construction and naval architecture through its Jensen Maritime subsidiary; government services, and petroleum and chemical transportation, distribution and sales. Additional information about Crowley, its subsidiaries and business units may be found on the Internet at www.crowley.com.
# # #