The Logistics of Humanitarian Aid in the Midst of the Ebola Crisis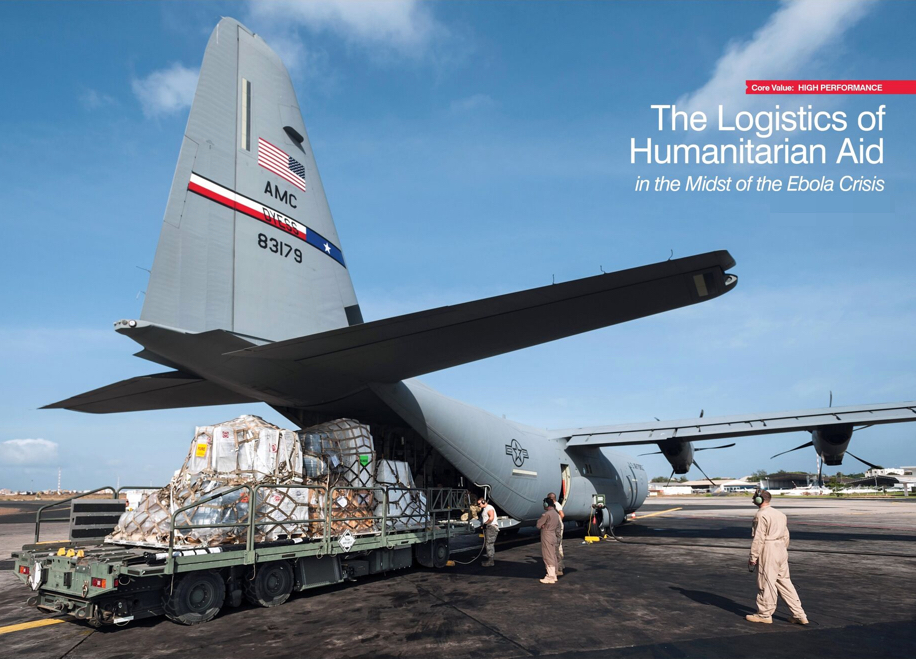 During the peak of the Ebola crisis in West Africa, Crowley was called into action, supplying on-site logistics support and shipping services in support of the U.S. military's Operation United Assistance in Liberia. 
On-the-Ground Logistics Support
"When I first arrived in Liberia, there were over 1,000 cases of Ebola and the numbers were rising. There were bodies on the side of the road and people were scared. There was unrest outside of treatment centers because there weren't enough beds," remembered Crowley's Bleu Hilburn, director, logistics. "The country needed help and needed it fast." 
The Ebola virus outbreak that started in West Africa last summer caused an international panic. President Barack Obama's ambassador to Nigeria, Jeffrey Hawkins, warned of an "apocalyptic urban outbreak" and the World Health Organization declared an emergency. The Centers for Disease Control and Prevention (CDC) projected upwards of 550,000 Ebola cases in countries such as Liberia, Guinea and Sierra Leone, predicting the number would rise considerably higher, to pandemic levels, if the disease spread further. Europe, Asia and the United States were at risk. 
Acting swiftly, Obama announced in early September the plan to send 3,000 troops to Liberia as part of Operation United Assistance (OUA), a U.S. Agency for International Development (USAID) mission designed to combat the disease in the region. The fact that Liberia claimed nearly 40 percent of the lives lost across West Africa made the country a priority. The initial plan included the construction of 27 Ebola treatment units (ETUs), each with 100 beds; medical personnel; personal protective equipment (PPE); and other critical supplies. Coordinating the logistics behind the effort was the U.S. Government's Defense Logistics Agency (DLA), under the direction of then-Director Navy Vice Adm. Mark Harnitchek.  
"We had to have a way to both source the material and get the cargo there," said Harnitchek. "What made it challenging was that it was Africa and there are not a lot of resources there. But Crowley offered DLA a West Africa network solution that we were just delighted to use. It was an entire logistics solution, from end to end, and the response was immediate." 
Crowley's logistics solutions in the region were made possible due to the company's recent joint venture with IbisTek, LLC, which was kick-started last year to provide a comprehensive package of project logistics, energy support services and emergency response capabilities to a variety of customers in Ghana, West Africa. Tapping this regional resource and partnering with the in-country representative and local logistics integrator Richard Tolbert, of BAM International, allowed Crowley to move fast. 
Within a week of the DLA contract, Crowley had personnel on site in Liberia, led by Hilburn, with additional support provided by Wally Gonzalez, manager, logistics, and Chris Goss, manager, Africa logistics. They immediately provided DLA with the innovative and cost-effective solution to charter the container ship Vega, a fast and safe transportation option that provided the cargo carrying capacity for more than 100 C17 Globemaster military transport aircraft in a single run from Germany to Crowley's staging area in Dakar, Senegal, and ultimately to their final destination in Buchanan, Liberia.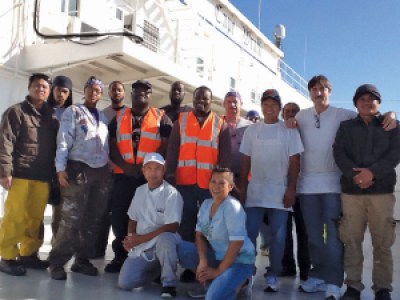 "With the Vega, we were able to expedite shipments by some 12 weeks," explained Hilburn. "We moved supplies quicker and for millions of dollars less than air. This capability is very unique to Crowley due to our in-house ship management expertise and worldwide relationships with vessel owners." 
In fact, the Vega, which was made available within days of the contract award, was the first commercial cargo vessel ever to be chartered for DLA.  "Loading [the Vega] with supplies in Germany was just a good business decision that made sense and saved money," said Air Force Col. Robert Hoff, in DLA's Loglines magazine. Vega's inaugural run arrived in Liberia in October with 680 20-foot containers of much-needed supplies, including meals, bottled water, PPE, generators, lumber, fuel tanks and rough terrain cargo handlers.  
For each vessel that called the region in support of the effort, Crowley's locally hired stevedores were at the ready to unload the ship and place the cargo into awaiting warehouses, which were also secured by the company in coordination with BAM and Tolbert. "We hired more than 500 local workers – including stevedores, warehousemen and drivers – and they did a wonderful job of adhering to Crowley's safety standards. There was not one single Lost Time Incident or case of Ebola during the operation, which is something we're very proud of," said Hilburn. 
In total, Crowley established eight warehouses in support of OUA – five in Liberia, plus an additional container yard, and three in Senegal, some 700 miles to the north – for the distribution of humanitarian aid and construction supplies. "The [U.S. military] congratulated us on our warehouse facilities. They were immaculate. They were spot-on, they were secure, they were safe, clean, well-managed," described Tolbert. "You want to do things efficiently, but you also want to do it on time and safely. Those were things we were able to achieve. The [military was] very, very pleased with what we provided." 
But transporting the cargo and construction equipment to the remote villages proved to be another challenge. Knowing no barriers, the team managed to secure trucks that moved more than 4,000 loads of life-saving supplies across the country's poor road networks, which were little more than bumpy, washed-out dirt paths leading to remote towns. Mayor Sarah Z. Mendoabor, of Tappita, a city district located some 200 miles west of Monrovia, told the U.S. Army's Captain Eric Hudson that her town of 7,000 residents was "elated" when their ETU opened in December.  
Before the ETUs arrived, she told Hudson, "Everyone would stay inside and avoid contact. People were out of work, but now things are getting better…We have always loved America and for them to come in and help out at a time like [that] reinforced that."  
"[Crowley is] a game-changer in terms of humanitarian assistance and disaster relief," said Harnitchek. "I witnessed a lot of innovation, passion for victory, delight in the details and good, old common sense during Crowley's response to the Haiti earthquake in 2010, again during Hurricane Sandy in 2012, and now in West Africa with Ebola. [The company is] simply in a class by itself when it comes to humanitarian assistance and disaster relief." 
With Crowley's support, the U.S. Government built a total of 17 of the 27 ETUs, allowing remote villages to test a sick patient for Ebola within 20 minutes, a process that previously took more than a day, risking the health of everyone around the patient. The on-site ETUs also eliminated the need for sick patients to travel long distances to Monrovia for care, further reducing exposure to others. "You don't read a lot about Ebola in Liberia anymore … people entered those ETUs with Ebola and left as survivors," said Harnitchek.  "For me, it was exceptional in the sense that Crowley was providing a real service to humanity," said Tolbert. "If we had not put this thing under control in Liberia, who knows where else it would have gone in the rest of the world." 
"Crowley's ability to respond to a requirement of that magnitude with very little time is a testament to the company's global reach and commitment to deliver," said Hilburn. "The feeling of despair was replaced by optimism. There really isn't another company that could offer this kind of support as quickly and safely as we did. The project was tailor made for us – and it was the right thing to do." 
Ebola-Aid Delivered by Sea 
In addition to the on-the-ground logistical support Crowley provided in support of OUA, one of the company's managed ships, Cape Wrath, was deployed from Jacksonville, Fla., to West Africa in December to deliver humanitarian aid and Ebola relief supplies. This Ready Reserve Fleet military vessel, owned by the Military Administration (MARAD) and operated and crewed by Crowley, delivered more than 700 pieces of equipment, including water purification trucks, communications equipment, sewage transporters, refrigeration units and control vehicles. Some of the machinery carried was used to build the final ETUs in Liberia.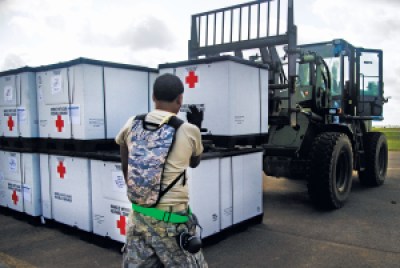 Crowley's Captain Fred Walley led the crew on board for the job, an undertaking he felt well prepared for. 
"This [was] about my 40th activation and 30th in-command on various types of missions. As such, unique operations Crew of the Crowley-managed Cape Wrath like [Operation] United Assistance just falls right into my area of expertise," he said. "However, I was fortunate, honored and delighted to be selected for the mission." Walley added that much of the logistical work that would have typically been done pier-side had to be done on board the ship to reduce the risk of the mariners being exposed to disease upon arrival. "We went above and beyond transporting the items," he explained.  "It required the reconfiguration of cargo, making sure that the right pieces were accessible when we arrived in Liberia. We had to quickly adapt, develop new plans to accommodate the new requirements. In the end our efforts were successful." 
Walley's team also took extreme measures to remain well, undergoing constant monitoring of their temperatures and health. It took the vessel around six weeks to deliver the cargo and return to the U.S. "When they all [came] home after this extended deployment, they [did] so safely and healthily, having accomplished their goal of supporting the international effort to stop the spread of Ebola. With their sacrifice, they have given a gift of hope to the people of West Africa and support for a mission that will keep on giving as we continue working to eliminate the threat of Ebola," wrote U.S. Department of Transportation (DOT)'s Todd Solomon, digital media director, on the DOT blog, Fastlane.  
As a result of their extraordinary support, Rear Adm. T.K. Shannon, commander of the U.S. Military Sealift Command (MSC), thanked Cape Wrath's mariners for their efforts during a visit to the ship. 
A Job Well Done 
Liberia has been designated Ebola-free, thanks to the extraordinary efforts put into place by the U.S. Government and support providers like Crowley. At press time, all but 100 servicemen and women remained in Liberia, with the majority of the force having been replaced by around 10,000 trained "civilian responders," who have a mission of continuing the fight against Ebola in the country. Enriching lives through innovative solutions done right' … is Crowley's purpose, and this mission and the services we provided are very much in line with that thinking," said Frank Larkin, Crowley's senior vice president and general manager, logistics. "When you consider the seriousness of the situation and the potential impact on humanity, I believe we served a higher purpose in regard to this logistics effort." And though the toll of Ebola was great, Hilburn and his team rest easy knowing that they indeed made a difference. "I was so grateful for having the opportunity to go," Hilburn said in closing. "It feels good when you have a tangible impact. It's not just good business. It's a humane purpose. We went there with the purpose of going to help those in need." 
SAFEGUARDING EMPLOYEES AGAINST EBOLA
Because of the high risks associated with traveling to West Africa, Crowley took extreme precautions to safeguard its West Africa-based employees, as well as its larger population. A comprehensive safety action plan, put together by the company's pandemic team, mandated a 21-day quarantine period, the time frame required to monitor for symptoms of the virus, for any employee returning from Ebola-impacted areas. Crowley also provided pandemic kits, which included appropriate PPE, first aid and sanitation supplies and measures to reduce other risks, such as insect-borne disease. Informational packets were sent home to the families of traveling employees, describing the risks and symptoms of Ebola.
"We were told to wear long sleeves, carry hand sanitizer and have no physical contact," explained Hilburn. "Crowley's travel team actually geo-plotted my every move and required that I 'check in' when I arrived at my destinations. We used only local drivers so the risk of getting lost was reduced. I never felt uncomfortable, even on the docks with the stevedores, because our temperatures were constantly being taken. I also knew that I could access quality clinics in the event that I did become ill. I never had any fear that I would catch Ebola."
These extraordinary measures were put into place so that no one, including employees in areas outside of West Africa, would be put at risk.
GOING ABOVE AND BEYOND: FEEDING LIBERIAN ORPHANS
When Ebola spread across West Africa, those who had the means to flee the region did so without hesitation. Included in this group were many of the Non-Governmental Organizations (NGO), missionaries and volunteers, who before the epidemic, freely gave their time and energy to worthwhile causes across Liberia. After their departure, Liberian orphans were left without resources or support.
"The orphans of Liberia relied on NGOs for rice donations," explained Crowley's Hilburn. "When the volunteers pulled out, they were literally starving. We had to help." The Crowley team in Liberia, alongside Tolbert, took action, visiting several orphanages that were caring for children and making donations. "Twenty U.S. dollars supplies about three weeks' worth of rice in Liberia," Hilburn said. "We supplied enough rice for about six months for one of the orphanages in most need."
SAVING URGENT AT-RISK EBOLA MEDICINE WITH COLD STORAGE
In September, DLA was busy unloading pallets of medical supplies from military planes arriving at Roberts International Airport in Liberia. Around   2:00 p.m. one hot Sunday that month, Navy Cmdr. Harold W. "Tracer" Valentine noticed a pallet of white boxes marked with the American Red Cross logo, sitting unattended on the tarmac in the blazing sun.  "I asked, 'Those aren't cold packs for meds, are they? Surely not,'" Valentine said. "Of course [when we] ripped off the packing [list, we] almost swallowed our tongues as we read the list of controlled medicinals, and they were going to expire at 6:00 p.m."
With the expiration quickly approaching, Valentine turned to Crowley's Tolbert. Their first step was to move the pallet into an air-conditioned tent while they sourced cold-storage. "Firestone [Natural Rubber Company] had a major estate right by the airport. One of the biggest rubber estates in the world. So, I called them and I asked them, 'Where do you guys do your medical supplies?" recounted Tolbert.  "He said, 'we store it in the supermarket's grocery cold store, but you probably have to go see the general manager of the Firestone estate.' So Colonel Valentine and I drove to [Firestone President Edmundo Garcia's] house on Sunday afternoon and explained the emergency situation."
"In an instant, we saw the true concern and dedication he had for his own employees and their families as he agreed to do anything he could to help us find a location in time," Valentine said of Garcia. "He immediately called the owner of the grocery store on the Firestone plantation, who without hesitation agreed to let us store the meds." The group then drove to the grocery store to ensure the refrigerator was big enough to hold the medicine. The store owner, who had already closed for the day, let them in and showed them a 20-foot refrigerated tractor-trailer that had been converted into a walk-in cooler. "He said he could make space available," said Tolbert. "By 4:00 p.m., the pallet was in cold storage at the right temperature."
The cold packs, which contained IV solutions and critical medicines, stayed at the grocery store until mid-October, when they were delivered to a Monrovia medical unit.
Source: Richard Tolbert and "DLA Team in Liberia Saves Medicine Pallets, Gets them to Cold Storage," by Sara Moore, DLA