CrowleyFresh Hits the Motherload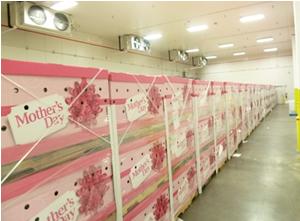 Miami Cold Storage Warehouse to Handle Nearly 100,000 Boxes of Flowers for Mother's Day   
(MIAMI; May 9, 2013) – CrowleyFresh, Miami's newest cold storage warehouse and perishables handling operation, is buzzing with activity this week as the company helps local Sunshine Flowers prepare for Mother's Day by storing tens of thousands of boxes of fresh flowers, which will be delivered to supermarkets just in time for the holiday rush.
At the start of the week, there were about 34,600 boxes of flowers being handled and stored in CrowleyFresh's humidity and temperature-controlled coolers. Flower shipments have continued to arrive throughout the week, and nearly 100,000 boxes of flowers are expected to rotate through the 400,000-cubic-foot warehouse by Mother's Day on May 12.
"CrowleyFresh is an ideal quick-turn cold storage facility for seasonal perishables in South Florida," said Eduardo Campos, director, logistics operations. "We are prepared to rotate a great deal of flowers, along with other perishables, in and out of the facility within the next few days to help our floral customers prepare for Mother's Day."
Refrigerated trucks utilizing insulated pallets are taking the flowers from CrowleyFresh to supermarkets on an as-needed basis so they are available for customers at their peak of freshness.
CrowleyFresh is a joint venture of Crowley Maritime Corporation's logistics unit and subsidiary Customized Brokers, a leading customs brokerage company specializing in quickly clearing perishables through Customs along with other cold chain services. The team works 24/7 to ensure product quality and excellent service.
CrowleyFresh is located at 11401 NW 100th Road, Medley, FL 33178. Customers may contact the CrowleyFresh team by calling 305-463-4800 or 305-720-5127 (after hours).
Jacksonville-based Crowley Holdings Inc., a holding company of the 121-year-old Crowley Maritime Corporation, is a privately held family and employee-owned company. The company provides project solutions, transportation and logistics services in domestic and international markets by means of six operating lines of business: Puerto Rico/Caribbean Liner Services, Latin America Liner Services, Logistics Services, Petroleum Services, Marine Services and Technical Services. Offered within these operating lines of business are: liner container shipping, logistics, contract towing and transportation; ship assist and escort; energy support; salvage and emergency response through its TITAN Salvage subsidiary; vessel management; vessel construction and naval architecture through its Jensen Maritime subsidiary; government services, and petroleum and chemical transportation, distribution and sales. Additional information about Crowley, its subsidiaries and business units may be found on the Internet at www.crowley.com.