Crowley Transforms Refrigerated Container Fleet With 355 PrimeLINE® Units from Carrier Transicold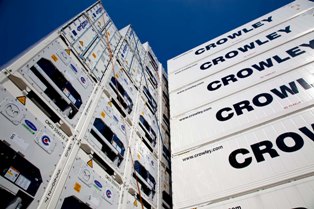 (Jacksonville, Fla.; October 26, 2010) – When Crowley Maritime Corporation's liner services group takes delivery of 355 new 40-foot high-cube refrigerated containers later this year, it will mark an important milestone on the path to world-class environmental stewardship: conversion of nearly a quarter of its refrigerated fleet to Carrier Transicold PrimeLINE® units, the industry's most energy-efficient container refrigeration units.
Carrier Transicold is a part of Carrier Corp., a unit of United Technologies Corp. (NYSE:UTX) Carrier Corp. is the world's leader in high technology heating, air-conditioning and refrigeration solutions, improving the world around us through engineered innovation and environmental stewardship.
"The PrimeLINE unit offers improved efficiencies and reduced power consumption, which reduces our emissions and impact on the environment," said John Azzo, Crowley's director of strategic procurement. "We've placed considerable focus on implementing environmentally sound technologies as part of our overall initiatives to provide customers with the highest quality equipment and ocean cargo transportation services between the United States, Central America and the Caribbean."
The latest 40-foot high-cube refrigerated containers are also Crowley's first to use sustainable polyurethane technology foam, a highly efficient insulator with substantially lower global warming potential than conventional insulation.
"As a result of the way the container is designed and insulated, combined with the PrimeLINE unit from Carrier, we anticipate long-term efficiencies, even as the units age," Azzo added.
A leading ocean cargo carrier within its service region, Crowley dedicates most of its refrigerated containers to perishable produce trade, although Azzo said the PrimeLINE unit's high performance at the lowest temperatures will also serve in the delivery of frozen foods such as ice cream. With the recent order for 355 PrimeLINE units, Crowley will have a total of 755 of the industry-leading digital scroll units in its growing fleet of 3,250 refrigerated containers.
"We are pleased to help Crowley achieve another milestone in the transition of its refrigerated fleet to more environmentally sustainable equipment," said Chiou Fun Sin, Carrier vice president, Global Container Refrigeration. "The PrimeLINE unit was designed especially for shipping lines such as Crowley that care deeply about the impact their operations have on the world."
The PrimeLINE unit uses digital scroll compressor technology and was developed to help shipping lines conserve fuel and reduce emissions related to shipboard power generation. It is the industry's most efficient container refrigeration unit and has the highest deep-frozen capacity of any unit using non-ozone-depleting R-134a, the refrigerant with the lowest global warming potential of all contemporary container refrigerants.
Crowley acquired its first PrimeLINE units in 2009 following extensive field-testing in 2008.
About Crowley Maritime Corporation
Jacksonville-based Crowley Holdings Inc., a holding company of the 118-year-old Crowley Maritime Corporation, is a privately held family and employee-owned company. The company provides diversified transportation and logistics services in domestic and international markets by means of six operating lines of business: Puerto Rico/Caribbean Liner Services, Latin America Liner Services, Logistics Services, Petroleum Services, Marine Services and Technical Services. Offered within these operating lines of business are the following services: liner container shipping, logistics, contract towing and transportation; ship assist and escort; energy support; salvage and emergency response through its TITAN Salvage subsidiary; vessel management; vessel construction and naval architecture through its Jensen Maritime subsidiary; government services, and petroleum and chemical transportation, distribution and sales. Additional information about Crowley, its subsidiaries and business units may be found on the Internet at www.crowley.com.
About Carrier Transicold
Carrier Transicold helps improve transport and shipping temperature control with a complete line of equipment for refrigerated trucks, trailers and containers. Carrier Transicold is a unit of Carrier Corp., the world's leader in high technology heating, air-conditioning and refrigeration solutions. Carrier experts provide sustainable solutions, integrating energy efficient products, building controls, and energy services for residential, commercial, retail, transport and foodservice customers. Founded by the inventor of modern air conditioning, Carrier improves the world around us through engineered innovation and environmental stewardship. Carrier is a unit of United Technologies Corp., a leading provider to the aerospace and building systems industries worldwide. Visit www.carrier.com for more information.
# # #