Crowley to Tow the USS Iowa from San Francisco to Los Angeles Tomorrow, Sat., May 26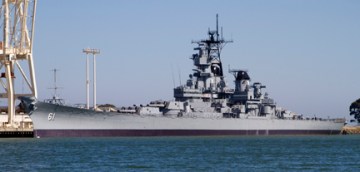 Adding to a rich history of successful ocean towing projects spanning over nearly a half a century, Crowley is set to embark on a four-day tow of the retired military vessel USS Iowa from San Francisco to Los Angeles this Saturday, May 26, pending favorable weather conditions.
The ship had originally been scheduled to leave the Port of Richmond on Sunday, May 20, but the departure was temporarily postponed due to an approaching weather system that exceeded the approved tow plan.
It will be possible to follow the movements of the ship on the Pacific Battleship Center website. A webcam will be mounted on an antenna above the bow to provide live streaming video of the view from the USS Iowa as she crosses the bay and heads out to sea. Visit http://new.livestream.com/accounts/725962/events/898014 to view the video.
Crowley's 7,200-HP tugboat Warrior will connect to the former U.S. Navy battleship in a series of towlines and chains, and guide it from its departing point of Port Richmond, across the San Francisco Bay and under the Golden Gate Bridge, to its final destination in the Port of Los Angeles.  During the journey, the vessel will be flanked by a parade of ships in honor of the USS Iowa, including the SS Jeremiah O'Brien and President Franklin Roosevelt's presidential yacht, among a host of other private vessels.
The USS Iowa, which is now owned and operated by the non-profit Pacific Battleship Center, is more than 14 stories high, 887 feet long and weighs more than 45,000 tons. It was fully operational through the 80s, World War II and the Korean War, and will be converted into an interactive museum that will highlight the vessel and its crew's contribution during those critical moments in American history, once it reaches its permanent home at Berth 87.
"Crowley has had the opportunity to provide towing services for many of America's most historically significant ships," said Andrew Gauthier, port captain, Crowley marine services. "It is an honor for our team and company to have the privilege of caring for the USS Iowa on her journey to her new home."
In the past, Crowley has successfully towed several other historic military ships and aircraft carriers, including the USS Missouri from Washington to Pearl Harbor in 1998, the USS New Jersey from Washington to Philadelphia via the Panama Canal in 1999, and theUSS Oriskany from South America to Vallejo, Calif. 
For decades, Crowley's ocean towing and barge transportation team has positioned itself as a leader and expert in moving the large and unusual. The team guarantees unmatched expertise and specialized equipment to provide safe and reliable marine transportation and logistics solutions for project cargo offshore construction and module component movements worldwide.
Photo: The USS Iowa docked at Terminal 3 in the Port of Richmond, Calif. (Credit Jeremy Bonelle, Pacific Battleship Center)