Crowley-Sponsored Student-Built Race Car from Puerto Rico Competes in Annual Formula SAE Michigan Competition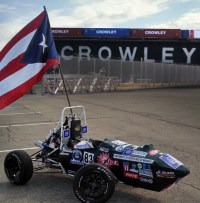 Engineering students from the University of Puerto Rico's Mayaguez campus recently traveled to Brooklyn, Mich. for the annual Formula SAE (Society of Automotive Engineers) competition, a four-day event that challenges teams of university undergraduate and graduate students from around the world to design, fabricate and race small, formula-style automobiles.
Crowley, as a sponsor of the school's Colegio Racing Engineering group, shipped the team's car, RUM RUNNER, from San Juan to the U.S. mainland aboard the Jacksonville, the company's 730-foot-long Roll-on/Roll-off (RO/RO) barge.
"With its adjustable air dampers, highly flexible and lightweight body structure and sophisticated, on-board electronics, the RUM RUNNER is a truly remarkable feat of engineering," said Crowley vice president Charlie Dominguez. "We were happy to support the university's Formula SAE team and honored to transport their impressive vehicle to the U.S. mainland on time for their competition in Michigan."
The partially assembled RUM RUNNER racecar was loaded onto a small trailer in Puerto Rico and shipped to Crowley's port terminal in Jacksonville, Fla., and was then trucked over 1,000 miles north to Michigan International Speedway by Gallery Shipping, a Crowley customer. There, students reassembled the car and presented their finished product to the judging panel.
For the first time in school history, Colegio Racing Engineering's entry passed the vehicle safety and compliance inspection on its first try. After a successful first day, however, the students experienced engine problems on day two of the competition.
While the business, cost and design presentations went well, the group could not compete in the race portion of the event. Nevertheless, team morale continued to soar. Out of 126 teams, Colegio Race Engineer finished the competition in the top 40, a significant milestone for the first-year team from Puerto Rico.
"This would not have been possible without the help of our sponsors," said team captain Jose Perez Betancourt. "We thank you dearly for your support and commitment to future engineers."
Crowley has proudly served the shipping needs of Puerto Rico since 1954. Originally operating as TMT Trailer Ferry, Crowley has literally served as a lifeline to the island, delivering groceries, department store merchandise, building materials, automobiles and more. The company has also helped bolster the Puerto Rican export economy by transporting food, pharmaceuticals, rum and other consumer goods to the U.S. mainland. The company employs almost 200 people in Puerto Rico with an annual payroll of over $18.5 million.
Founded in 1892, Jacksonville-based Crowley is a privately held family and employee-owned company. The company provides project solutions, transportation and logistics services in domestic and international markets by means of six operating lines of business: Puerto Rico/Caribbean Liner Services, Latin America Liner Services, Logistics Services, Petroleum Services, Marine Services and Technical Services. Offered within these operating lines of business are: liner container shipping, logistics, contract towing and transportation; ship assist and escort; energy support; salvage and emergency response through its TITAN Salvage subsidiary; vessel management; vessel construction and naval architecture through its Jensen Maritime subsidiary; government services, and petroleum and chemical transportation, distribution and sales. Additional information about Crowley, its subsidiaries and business units may be found on the Internet at www.crowley.com.