Crowley Opens New, Larger Line Haul Trucking Hub in Palmer, Alaska
Crowley Opens New, Larger Line Haul Trucking Hub in Palmer, Alaska
Facility Increases Crowley's Fleet Safety, Reliability and Efficiency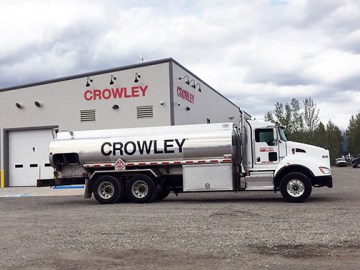 (PALMER, Alaska; June 5, 2017) – Crowley Fuels announces a new trucking fleet maintenance facility that the company recently constructed in Palmer, Alaska. The larger, more modern facility is now the operations hub for Crowley's statewide fuel sales and distribution business and will provide the maintenance and support of both local and line haul equipment – including around 20 trucks, 27 line haul power units and 50 tank trailers. The state-of-the-art site increases Crowley's fleet safety, reliability and efficiency due to the improved maintenance capabilities and collaborative work space it provides.
The new facility features a welding bay and three, 140-foot maintenance bays to accommodate three full, A-train tractor and trailer combinations. It also has the state's only automated truck wash, an office and storage space, and locker areas, allowing it to serve as "home base" for drivers who need to prepare for long hauls or undergo training.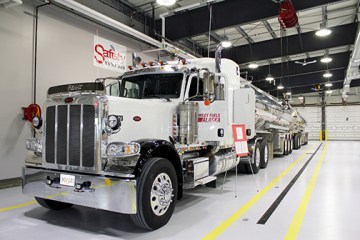 "The grand opening of this new facility is the latest in a series of upgrades Crowley Fuels has made to our Alaska fuel sales and distribution business since 2011," explained Crowley's Laura Yellig, vice president. "We have grown our terminal and line haul business to flex and respond to needs across the state, and this new shop reflects the commitment Crowley has made to safe and reliable fuel distribution in the region."
During the past six years, Crowley has made significant investments in new equipment – including new Peterbilt sleeper cabs, day cabs, local delivery trucks, and trailers – to support the changing and challenging fuel distribution needs of the state safely and reliably. The company has also worked hard to incorporate advanced safety equipment and industry best practices into its fleet and program, improve communication and compliance, and collect feedback to improve operations. These improvements are some of the key reasons Crowley was recently honored with its fourth  "Alaska Safe Truck Fleet of the Year" award by the Alaska Trucking Association and ConocoPhilips. 
# # #