Crowley Maritime Acquires SeaFreight Agencies – Deal Expands Company's Liner and Logistics Footprint in Caribbean Basin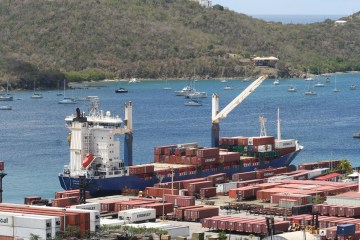 (JACKSONVILLE, Fla.; Nov. 2, 2015) ­– Crowley Maritime Corporation's liner services and logistics groups completed a purchase sale agreement today to acquire Miami-based SeaFreight Line, SeaFreight Agencies, and SeaPack, liner and logistics companies that serve the Caribbean and parts of Central and South America.
"This acquisition represents a great opportunity for Crowley to grow its footprint and capabilities in the Caribbean Basin," said Steve Collar, Crowley senior vice president and general manager, international liner services. "SeaFreight offers about a 50-50 mix of markets that Crowley is currently in, as well as markets in which Crowley doesn't currently participate. Bringing the company into the Crowley fold will allow us to better utilize assets in our current markets and to grow into new markets."
"Like Crowley, SeaFreight is a privately-held company with a high-integrity, high-performance culture," Collar continued. "We look forward to working together with SeaFreight's customers and employees in a deliberate and thoughtful manner to set our path for future growth and success. SeaFreight's strong business model fits perfectly with Crowley's strategic growth plans."
SeaFreight President Roland Malins-Smith said, "Many of us recognize that our industry is undergoing fundamental change which emphasizes the importance of scale and the wisdom of consolidation. In executing our agreement with Crowley, SeaFreight has chosen to work with a like-minded group which shares our commitment to service excellence, integrity and focus on the wider Caribbean. We believe that this move is in the best interest of our customers and our employees."
The newly combined services will provide its customers comprehensive ocean freight and logistics services throughout the Caribbean Basin. Nineteen islands in the eastern and western Caribbean, Central America, and the South America countries of Guyana and Suriname will benefit from continuing focus on service and an extensive network of connectivity allowing customers to dependably get their products to the markets they serve.
Jacksonville-based Crowley Holdings Inc., a holding company of the 124-year-old Crowley Maritime Corporation, is a privately-held family- and employee-owned company. The company provides marine solutions, energy and logistics services in domestic and international markets through several business lines including: Puerto Rico, Caribbean and Central America Liner Services; Logistics Services, Petroleum Services, Marine Services and Technical Services. Also offered within these business segments are: offshore services, such as contract towing and transportation; ship assist and tanker escort; marine project design, engineering and management; salvage and emergency response through its 50 percent ownership of Ardent; domestic and international vessel management and crewing; vessel construction and naval architecture through its Jensen Maritime subsidiary; government services, and petroleum and chemical transportation, distribution and sales. Additional information about Crowley, its subsidiaries and business units may be found on the Internet at https://www.crowley.com.