Crowley Leads the Way in Building and Operating Double-Hull Petroleum Barges for Coastwise and River Transportation in Alaska
Christens Two New Petroleum Tank Barges Saturday, Adding to Environmentally Friendly Fleet in Western Alaska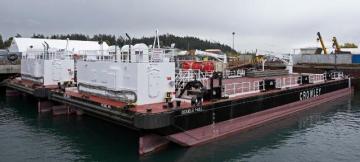 (SEATTLE, May 10, 2011) ­– Preparing to take environmental protection of Western Alaska waters to a whole new level, Crowley Maritime Corporation christened two new double-hulled petroleum tank barges, the 165-1 and 165-2, Saturday morning during a small ceremony at Dakota Creek Industries in Anacortes, Wash. The vessels, which are the first double-hulled, environmentally friendly barges of their kind to operate in Western Alaska waters, will join Crowley's 180-1, a double-hull barge that has serviced Alaska since 2005.
The hull was rigorously designed for use in Western Alaska, with the highest priority given for the safety of the personnel and the environment. Crowley is the only company bringing the safer double-hull vessels to Alaska without any regulatory requirement, because as Crowley Senior Vice President and General Manager Rocky Smith said, "It's just the right thing to do."
"The delivery and deployment of these barges gives Crowley the opportunity to better serve the Alaska market with the enhanced design features that are built into these vessels," said Bob Cox, Crowley's vice president of petroleum distribution. "This exemplifies our commitment to moving petroleum and petroleum products efficiently and safely."
During the christening, vessel sponsors Janis Ivanoff, president of Norton Sound Economic Development Corporation, and Debra Shontz, director, Barrow operations for Arctic Slope Regional Corporation, performed the time-honored tradition of christening the vessels. Twenty guests, including friends and employees from Crowley and its Jensen Maritime subsidiary attended the event. A celebratory lunch reception followed in the nearby Majestic Inn and Spa.
"This event was an opportunity for us to celebrate these two amazing vessels and the company's continued commitment to safe petroleum delivery in these waterways," Cox. "This special day gave us the chance to also thank our customers, Dakota Creek and the architects and employees who have each helped to make these barges a reality."
The 165-1 and 165-2 will depart this week for their homeport of Nome, Alaska. The double-hull barges will be used for shallow-draft operations and beach landings for the delivery of fuel and cargo to the remote communities of Western Alaska.
The vessels' concept design was developed by Crowley's vessel management services team, which worked closely with Crowley's Alaska operations. Dakota Creek built the barges, and Crowley's Jensen Maritime provided the engineering support to the shipyard for the final detailed design.
Since 1953, Crowley has provided various marine, petroleum distribution, and energy support services in Alaska – from the North Slope to Southcentral Alaska and both coastal and inland communities including those along the Kuskokwim and Yukon Rivers – and today has offices and operations throughout the state with more than 650 employees. The company has consistently provided unique solutions to Alaska's logistics and marine transportation challenges and played an important role in Alaska's business development and in protecting its environment.
With a storage capacity of more than 39 million gallons, Crowley is strongly positioned as a leader in the Alaska fuel industry, providing transportation, distribution and sales of petroleum products to more than 280 communities across Alaska. Crowley supports the energy industry on the North Slope with summer sealifts of large production modules and various marine transportation services, and in the winter supports oil field development with CATCO® all-terrain vehicles. These heavy-lift overland transport units have large bag tires designed to work over the tundra without damaging the delicate Arctic ecosystem. At the southern terminus of the trans-Alaska oil pipeline, Crowley provides tanker escort and docking services in Valdez Harbor and Prince William Sound for Alyeska Pipeline Service Company's Ship Escort/Response Vessel System, utilizing some of the most technologically advanced and powerful tugboats in the world. Crowley also provides tanker assist and escort services at Tesoro Alaska Company's Nikiski refinery in Cook Inlet. More about Crowley: www.crowleyalaska.com
# # #