Crowley Helps Alaskan Teen Pursue Love of Flight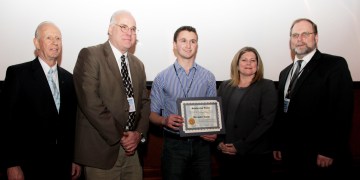 (Anchorage, Alaska; February 14, 2013) ­– Less than a month shy of his 18th birthday, Alexander Agosti is a little closer to his dream of becoming a professional pilot thanks to Crowley Maritime Corporation's Alaska petroleum distribution group, which sponsored the Alaska Air Carriers Association (AACA) 2013 Forrest Jones Memorial Scholarship. Agosti earned the scholarship for his outstanding academic record and passion for aviation.
Crowley's Vice President of Highway Petroleum Sales Laura Yellig, and Senior Account Executive of Aviation Don King, presented Agosti, a Kenai Central High graduate, with $3,000 toward his education at University of Alaska Anchorage during a special ceremony held at this week's AACA 2013 Convention in Anchorage.
Agosti, whose fascination with planes began when he was five after he flew in his uncle's aircraft for the first time, enrolled in his first pilot ground school courses nearly two years ago, and attained his private pilot's license on his 17th birthday, a rare feat in aviation that was covered by a local newspaper. He was also a member of the nonprofit official auxiliary unit of the United States Air Force's Civil Air Patrol (CAP), and is also a member of the Kenai Experimental Aircraft Association. He plans to become a commercial pilot for his home state once he graduates from college.
"I fully anticipate growing and transforming myself into a skilled pilot," said Agosti in his scholarship application. "I have the desire to learn more and going to college will allow me to do that."
In addition to Agosti, Crowley has helped more than 275 students from rural Alaska, the U.S., Caribbean and Latin America with Thomas B. Crowley Sr. Memorial Scholarships. Current Chairman, President and CEO Tom Crowley established the program in honor of his father. And since 1984, the company has provided more than half-a-million dollars in scholarship funding and support to other education programs.
Crowley's Alaska petroleum distribution team has been an associate of member of the AACP for more than 20 years, and this is the first time it has sponsored the association's long-standing scholarship.
"Pursuing a career in aviation is expensive, requires a lot of training and it can be difficult for a student to pursue that path without some financial help," said King, who was on the board of directors for the AACP in the 90s. "It is important for us at Crowley to do whatever we can do to support these students and the aviation industry in Alaska, which is a crucial part of the state's transportation infrastructure."
For more than 50 years, Crowley has actively served the Alaskan aviation community as a supplier, transporter and buyer of aviation and jet fuel to airports, operations, airlines and general aviation. The company is strongly positioned as a leader in the Alaska fuel industry, providing transportation, distribution and sales of petroleum products to more than 280 communities across Alaska.
Crowley supports the energy industry on the North Slope with summer sealifts of large production modules and various marine transportation services. At the southern terminus of the trans-Alaska oil pipeline, Crowley provides tanker escort and docking services in Valdez Harbor and Prince William Sound for Alyeska Pipeline Service Company's Ship Escort/Response Vessel System, utilizing some of the most technologically advanced and powerful tugboats in the world. Crowley also provides tanker assist and escort services at Tesoro Alaska Company's Nikiski refinery in Cook Inlet. To learn more about Crowley in Alaska, visit: www.crowleyalaska.com   
To learn more about Crowley Maritime Corporation, the 121-year-old, privately held company providing project solutions, transportation and logistics services around the world, please visit: www.crowley.com.
To learn more about the Thomas B. Crowley Sr. Memorial Scholarship program, visit www.crowley.com/scholarships.
#     #     #
Pictured, from left to right: Robert Lewis, Regional Administrator for the Federal Aviation Administration's Alaskan Region; King, Agosti, Yellig, and Mike Stedman, President of the Alaska Air Carriers Association
Photo by: Rob Stapleton Jr.