Crowley Celebrates Puerto Rico's Best and Brightest for more than a Quarter Century – University of Puerto Rico Student named the 26th Thomas B. Crowley Memorial Scholarship Recipient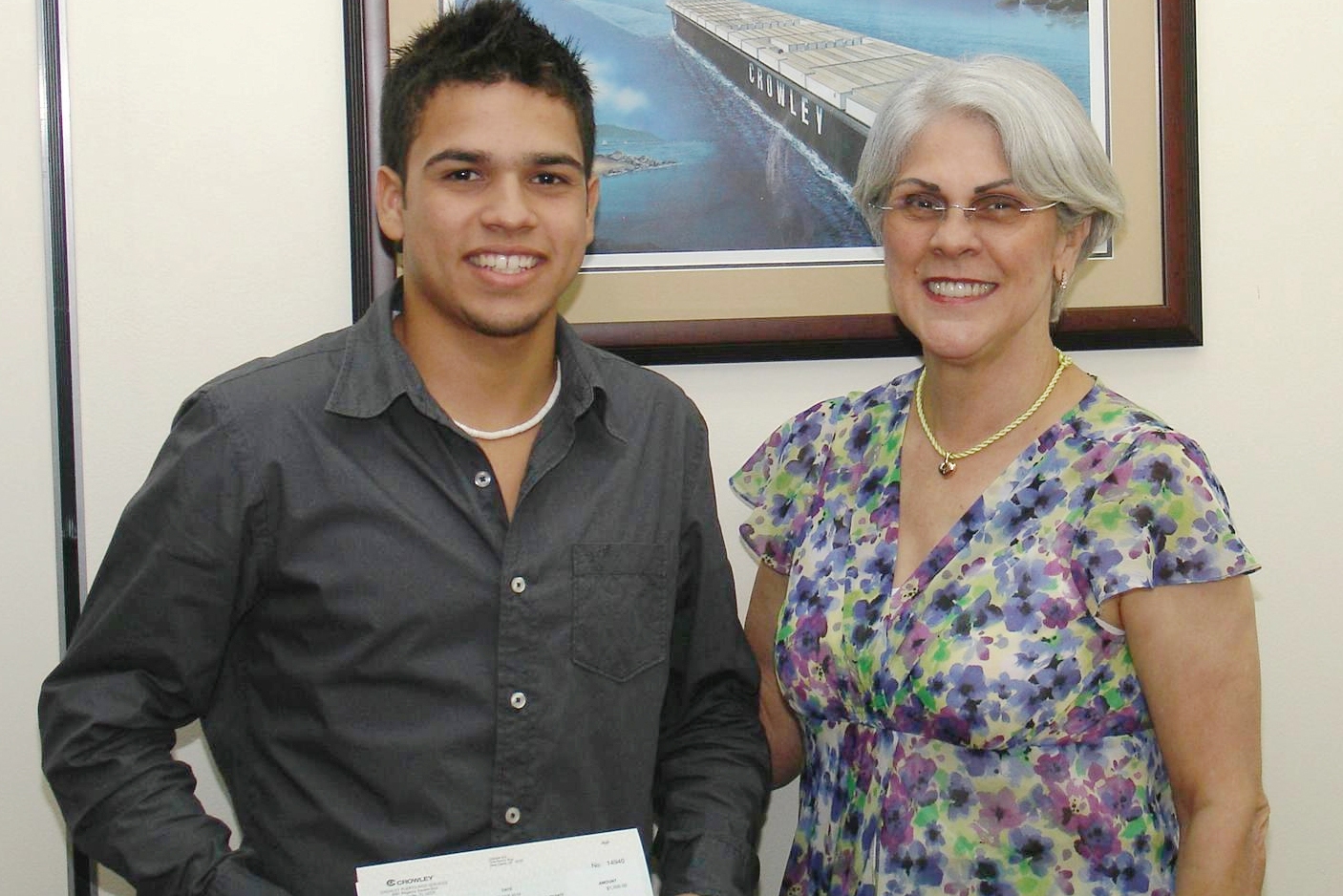 (Jacksonville, Fla.; Nov. 12, 2010) – Crowley's commitment to support exemplary students continued this month, as the company awarded the Thomas B. Crowley Sr. Memorial Scholarship to University of Puerto Rico student Jan C. Nieves Rolón of Las Piedras, Puerto Rico. He is the 26th student in Puerto Rico to be awarded a Crowley scholarship.
Nieves Rolón, who boasts a perfect 4.0 grade point average in high school, has enrolled as an accounting major at the university's Humacao, Puerto Rico campus. Rita Gonzalez, director of human resources at Crowley's Puerto Rico office, presented Nieves with the scholarship check.
"We are proud of Jan's accomplishments and have faith the future holds a great deal of promise for this outstanding and accomplished young man," Gonzalez said.
Nieves Rolón was awarded the scholarship not only for his academic excellence, but also for his dedication to community service and the wide scope of his extracurricular activities. He believes true satisfaction and personal growth are not defined in the possession of material goods, so he has devoted much of his time to helping the disadvantaged, not only by providing material goods but also sharing the intangible needs of life – companionship, words of faith and providing hope for the future.
The student's list of volunteer activities is long and varied. He has been a counselor at a Baptist church camp for children from special-needs communities, a fundraiser and awareness educator for the Muscular Dystrophy Association, a fundraiser for disadvantaged children's chemotherapy, a participant in the Susan G. Komen Race for the Cure, a housekeeper at a youth center known by JUCUM (Youth With a Mission), a math tutor to high school students, a participant in stage plays the proceeds of which were donated to CESAD ( Center that provides meals, and other needs s for Homeless) and a participant in various radio programs oriented towards different youth subjects.
Outside of his community service, Nieves Rolón brings a multitude of talents to his well-rounded approach to life. He is an avid soccer player, and he also draws, composes poetry and essays and recently joined the university choir.
"I deeply appreciate Crowley for awarding me this scholarship to allow me to begin my university studies," said Nieves Rolón. "I recognize and praise Crowley's efforts to help Puerto Rican youth reach their professional goals. I thank the company for sharing with others what by grace they have received."
Crowley scholarships are part of Crowley's lengthy and ongoing commitment to education. Over the years, Crowley Chairman, President and CEO, Tom Crowley Jr., has directed the company to present scholarship dollars to deserving students at the maritime academies and other select institutions in the United States, Caribbean and Central America in the name of his father Thomas B. Crowley Sr., who guided the company to extraordinary heights before passing away in 1994.
Since 1984, Crowley has provided more than half-a-million dollars in scholarship funding for more than 200 students studying at maritime academies and other select institutions. In 2006, the program expanded to Central America and to date has provided financial assistance to more approximately 20 students in that region.
The Puerto Rico Scholarship Program was established in 1984. One scholarship is awarded in the fall of each year.
Crowley Puerto Rico Services Inc. and its predecessor company have been serving the Puerto Rico market since 1954, longer than any other carrier in the trade. The company, with some 200 Puerto Rico employees, is the number one shipping line between the U.S. and Puerto Rico, transporting more goods to and from the island than and other line, and has the most weekly sailings between the island commonwealth and the U.S. mainland.
Jacksonville-based Crowley Holdings Inc., a holding company of the 118-year-old Crowley Maritime Corporation, is a privately held family and employee-owned company. The company provides marine solutions, transportation and logistics services in domestic and international markets by means of six operating lines of business: Puerto Rico/Caribbean Liner Services, Latin America Liner Services, Logistics Services, Petroleum Services, Marine Services and Technical Services. Offered within these operating lines of business are: liner container and breakbulk shipping; logistics; contract towing and transportation; harbor ship assist and tanker escort; energy support; salvage and emergency response through its TITAN Salvage subsidiary; vessel management; vessel construction and naval architecture through its Jensen Maritime subsidiary; government services, and petroleum and chemical transportation, distribution and sales. Additional information about Crowley, its subsidiaries and business units may be found on the Internet at www.crowley.com.
# # #