Crowley Awards Scholarships to Four Cal Maritime Students at the 2014 Connie Awards Dinner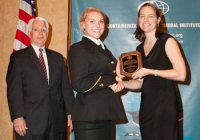 Crowley Maritime Corporation last week presented four California Maritime Academy (Cal Maritime) students with Thomas B. Crowley Sr. Memorial scholarships during Containerization and Intermodal Institute's Connie Awards dinner in Long Beach, Calif. Crowley's Victoria Ellis, training specialist, presented the scholarships to the recipients, each of whom were selected for their strong academic records, leadership and financial needs.
Recipient Andrew Bahnsen, a senior studying marine engineering technology at Cal Maritime, is originally from Battle Ground, Wash., and sailed with Crowley as a cadet last summer. He said that the Thomas B. Crowley Sr. Memorial Scholarship alleviates some of his financial stress and will help him focus more on his upcoming U.S. Coast Guard exam. 
Bonnie Claire Muchnick, a recipient from Oakland, Calif., is a junior studying marine transportation and hopes to sail with Crowley as a cadet. After graduation, she plans to go out to sea and eventually become a tug operator. Muchnick said that she is honored to receive the scholarship, especially because her busy course load makes it difficult to find time for a job. 
Andrew Leonard, from Glendale, Ariz., is also a junior studying marine transportation. This past summer, he spent three months working aboard Crowley's articulated tug-barge (ATB)Integrityon a route from Texas to South Carolina. He is looking forward to pursuing a career at sea after he graduates next year.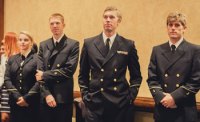 Ryan Cazneaux, a senior from Mount Shasta, Calif., is also studying marine transportation. He sailed aboard a Roll-on/Roll-off (RO/RO) vessel managed Crowley in Northern Europe for a summer and plans to move to the U.S. East Coast to work on ship assist tugs after graduation. Cazneaux said that the Crowley scholarship helps alleviate some of the financial burden on his family. 
Since 1984, Crowley has provided more than $3 million dollars in scholarship funding for more than 1,000 students studying at maritime academies and other select institutions in the U.S., Puerto Rico and Central America. In 1994, Crowley Chairman and CEO, Tom Crowley Jr., established the Thomas B. Crowley Sr. Memorial Scholarship Program, in honor of his father, and has also donated more than $2 million to support other educational programs.
To learn more about the Thomas B. Crowley Sr. Memorial Scholarship program, visit www.crowley.com/scholarships.
Jacksonville-based Crowley Holdings Inc., a holding company of the 122-year-old Crowley Maritime Corporation, is a privately held family and employee-owned company. The company provides project solutions, energy and logistics services in domestic and international markets by means of six operating lines of business: Puerto Rico/Caribbean Liner Services, Latin America Liner Services, Logistics Services, Petroleum Services, Marine Services and Technical Services. Offered within these operating lines of business are: liner container shipping, logistics, contract towing and transportation; ship assist and escort; energy support; salvage and emergency response through its TITAN Salvage subsidiary; vessel management; vessel construction and naval architecture through its Jensen Maritime subsidiary; government services, and petroleum and chemical transportation, distribution and sales. Additional information about Crowley, its subsidiaries and business units may be found on the Internet at www.crowley.com. 
Photo: Crowley's Victoria Ellis presents the scholarship award to Bonnie Muchnick at the Connie Awards dinner in Long Beach, Calif.