Crowley Awarded San Pedro Bay Ports Clean Air Action Plan Air Quality Award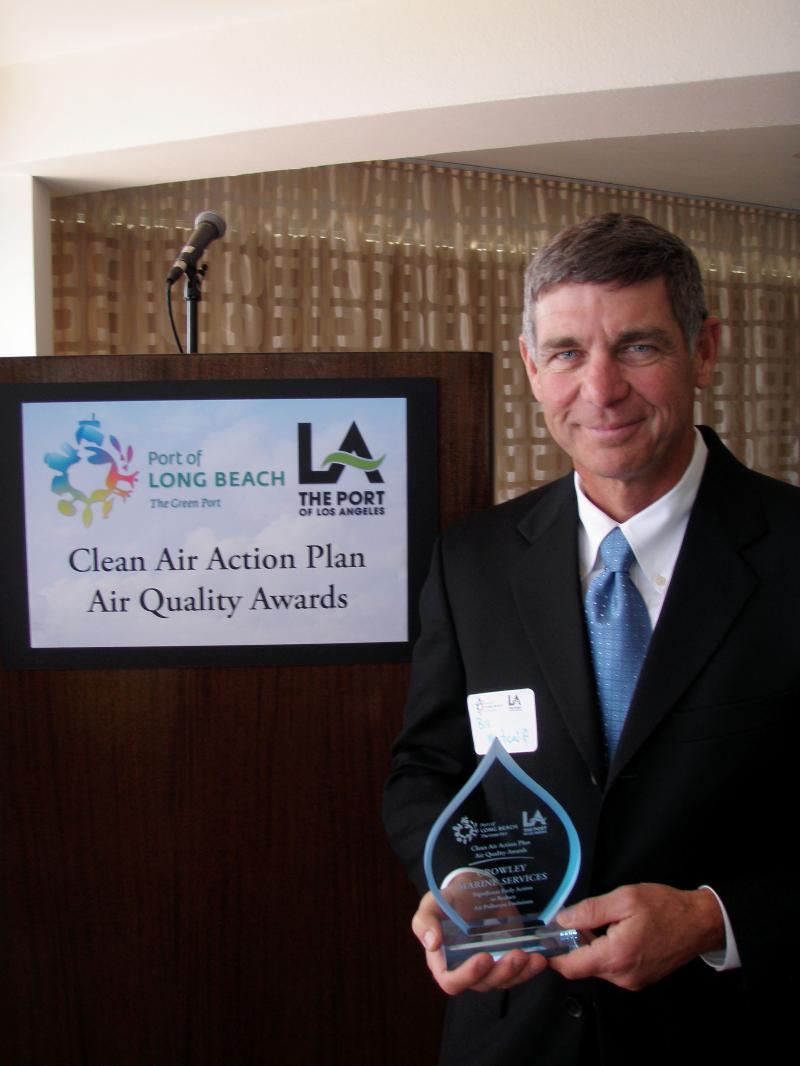 (Long Beach, Calif.; August 5, 2010) — Crowley Maritime Corporation's efforts to significantly reduce carbon emissions at the Port of Los Angeles and Port of Long Beach were recognized Thursday, July 29 during the third-annual San Pedro Bay Ports Clean Air Action Plan Air Quality luncheon at the Maya Hotel in Long Beach. The Clean Air Award recognizes companies who make great strides to reduce pollutant emissions at both ports.
Committee members from the Port of Long Beach, Port of Los Angeles, as well as representatives from several governmental agencies, including the South Coast Air Quality Management District, California Air Resources Board and the U.S. Environmental Protection Agency (EPA Region 9) reviewed all nominations, before choosing Crowley for its "Significant Early Action to Reduce Emissions Award." Crowley's Bill Metcalf, director of engineering, accepted the award on the company's behalf.
In the awards letter sent to Crowley by Christopher Patton, acting deputy director of environmental management at the Port of Los Angeles, and Richard Cameron, director of environmental planning at the Port of Long Beach, the company was congratulated for their "significant early action to reduce air pollutant emissions", specifically for the company's proactive initiative to conduct an extensive engine re-powering of its Harbor Class tugs that provide ship assist and tanker escort services in the Ports of Los Angeles and Long Beach.
"Crowley is committed to environmental stewardship in all the communities it serves. Over the past several years, the company has been involved in several emissions and energy-saving initiatives in this region, including the installation of shore-side power and four tug engine repowers," said Metcalf. "Those initiatives will reduce carbon dioxide emissions by more than 486,180 pounds, particulate matter emissions by 3.24-tons and mono-nitrogen oxides by 109.52-tons this year alone."
The Crowley tugs Admiral, Leader, Scout and Master were reintroduced to the fleet earlier this year following the installation of Tier II compliant engines. The project was partially funded by the Port of Los Angeles Air Quality Mitigation Incentive Program. All vessel operators in the area are required to upgrade their engines to be Tier II emissions compliant by 2013.
In another environmental initiative, Crowley tugboats in the Port of Los Angeles and Port of Long Beach last year began using newly installed shore-side electrical power when not on the job to cut fuel consumption and reduce carbon dioxide emissions. Previously, the tugs tied up at the dock needed to run their generators to provide electrical power. This environmentally friendly initiative, also known as cold ironing, is also available at other Crowley facilities in Seattle, Jacksonville, Fla., Pennsauken, N.J., and Puerto Rico.
To learn more about the San Pedro Bay Ports Clean Air Action Plan, visit www.cleanairactionplan.org.
Jacksonville-based Crowley Holdings Inc., a holding company of the 118-year-old Crowley Maritime Corporation, is a privately held family and employee-owned company. The company provides diversified transportation and logistics services in domestic and international markets by means of six operating lines of business: Puerto Rico/Caribbean Liner Services, Latin America Liner Services, Logistics Services, Petroleum Services, Marine Services and Technical Services. Offered within these operating lines of business are the following services: liner container shipping, logistics, contract towing and transportation; ship assist and escort; energy support; salvage and emergency response through its TITAN Salvage subsidiary; vessel management; vessel construction and naval architecture through its Jensen Maritime subsidiary; government services, and petroleum and chemical transportation, distribution and sales. Additional information about Crowley, its subsidiaries and business units may be found on the Internet at www.crowley.com.
# # #