Crowley, AVTEC Win Major Grant to Help Alaska Students Develop Maritime Careers
Crowley Maritime Corp. assisted the Alaska Vocational Technical Center (AVTEC) to win a three-year grant that will help students develop skills to successfully establish careers in the maritime industry.
AVTEC, with the help of Crowley's marine services group in Valdez, Alaska, serving as lead industry partner, won a Carl Perkins Post-Secondary Grant from the Alaska Department of Education & Early Development's Career & Technical Education Office. AVTEC, known as Alaska's Institution of Technology, will receive a grant of $250,000 annually, renewable up to three years.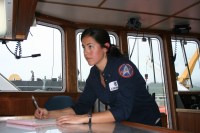 "Crowley is proud to again partner with AVTEC to provide opportunities for Alaskans in maritime careers. Our long history in Alaska's communities makes us uniquely qualified to support the development of job opportunities for students seeking sustainable careers," said Crowley's Rod Jones, general manager of Crowley's marine services group in Valdez.
The company has funded scholarships to Alaskans attending AVTEC maritime training, as well as supported job training and employment of Alaska Natives. AVTEC will use the grant to enhance its AVTEC Secondary Training Academy (ASTA), helping students earn the credentials necessary for licenses to work on maritime vessels. Crowley will continue to support AVTEC's Young Mariner Program, which provides scholarships, work experience and career development information.
Crowley is a leader in the Alaska fuel industry, providing transportation, distribution and sales of petroleum products to more than 280 communities across Alaska. Crowley also supports the energy industry on the North Slope with summer sealifts of large production modules and various marine transportation services. For over 35 years, Crowley has provided tanker escort and docking services in Valdez Harbor and Prince William Sound for Alyeska Pipeline Service Company's Ship Escort/Response Vessel System, utilizing some of the most technologically advanced and powerful tugboats in the world. To learn more about Crowley in Alaska, visit www.crowleyalaska.com.
To learn more about Crowley Maritime Corporation, the 124-year-old, privately held company providing marine solutions, energy and logistics services around the world, please visit www.crowley.com.