Crowley Announces More Organizational Changes: Nelly Yunta and Pete Noyer Assume New VP Roles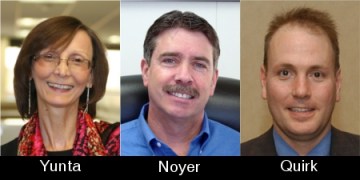 (JACKSONVILLE, Fla., Dec. 20, 2012) ­–  Crowley Maritime Corporation announced today additional organizational realignments within its shipping and logistics team effective Jan. 1, including the appointment of Nelly Yunta to vice president of sales, marketing and customer care, and the promotion of Pete Noyer to vice president of national accounts reporting to Yunta.
 
 Yunta, who most recently held the role of vice president of Customized Brokers, Crowley's Miami-based customs brokerage subsidiary, will relocate from Miami to Jacksonville, Fla., for the position, but will continue to oversee Customized Brokers' operations in her new position. She will report to Frank Larkin, who was also recently promoted to the position of senior vice president and general manager for Crowley's logistics division. Yunta is now responsible for the domestic sales and marketing efforts of Crowley's worldwide shipping and logistics services, as well as those of Customized Brokers. Additionally, she will oversee the shipping and logistics customer care team.
 
 "Nelly has a wealth of trade knowledge and leadership skills, as well as an ability to foster strong relationships with customers and partners," said Larkin. "We're confident that she will continue to take our sales and customer care teams to greater heights, which will benefit our clients significantly."
 
 Noyer, will leave his post as vice president of business development for shipping and logistics to assume his new role, which was previously held by Charlie Dominguez. Dominguez will transition into a sales consulting role in the new year after 29 years of full-time service to Crowley. Noyer will remain in Jacksonville with the mission of growing and maintaining the company's top 300 commercial shipping and logistics accounts in Latin America, the Caribbean and Puerto Rico.
 
 As a result of these changes, Tim Quirk, most recently director of pricing, will assume Noyer's business development role, with responsibility for handling Crowley's Northeast, Midwest and inside sales accounts. Additionally, he will work to continually find revenue opportunities for Crowley's shipping and logistics teams in those regions.
 
 "Nelly, Pete and Tim have decades of combined expertise in logistics, shipping and customs brokerage services, which make them great assets to our team and even better partners to our customers," said Larkin. "They are extremely capable and the perfect fit for the new roles they will assume."
 
 Yunta joined Crowley in 1988 as a senior coordinator in the Miami traffic department, and has been promoted several times since, including assuming the roles of traffic, manager of freight services, regional sales manager and general manager of the company's Dominican Republic and Haiti liner services business. In 2009, she was appointed general manager for Customized Brokers and was promoted to vice president in 2011. She was awarded the 2003 Thomas Crowley Award, Crowley's most prestigious honor. Yunta has a degree in business administration from the University of Buenos Aires in Argentina.
 
 Noyer joined Crowley 29 years ago as a senior account executive and has held positions of increased responsibility since that time including director, national accounts; district/regional marketing manager; and regional sales manager, special commodities. Prior to joining Crowley, Noyer received a bachelor's degree in general management and dual minors in marketing and finance from Purdue University.
 
 Quirk joined Crowley in 2002 as a senior account executive in the Puerto Rico/Caribbean group. He has nearly 20 years of experience in marketing and sales for the liner services industry including several years spent at Navieras de Puerto Rico, Inc. and NYK Line. He has a bachelor's degree in marketing from Quinnipiac College in Conn.
 
 The realignment news come two days after Crowley announced more changes in the shipping and logistics lines, with Tony Otero's appointment to vice president of Caribbean services.
Jacksonville-based Crowley Holdings Inc., a holding company of the 120-year-old Crowley Maritime Corporation, is a privately held family and employee-owned company. The company provides project solutions, transportation and logistics services in domestic and international markets by means of six operating lines of business: Puerto Rico/Caribbean Liner Services, Latin America Liner Services, Logistics Services, Petroleum Services, Marine Services and Technical Services. Offered within these operating lines of business are: liner container shipping, logistics, contract towing and transportation; ship assist and escort; energy support; salvage and emergency response through its TITAN Salvage subsidiary; vessel management; vessel construction and naval architecture through its Jensen Maritime subsidiary; government services, and petroleum and chemical transportation, distribution and sales. Additional information about Crowley, its subsidiaries and business units may be found on the Internet at www.crowley.com.
#     #     #