Crowley and TITAN Salvage Complete Diverse, Widespread Hurricane Sandy Relief Projects
Equipment Demobilized, Crowley-Managed S.S. Wright Honored by MARAD for Support
(PENNSAUKEN, N.J.; February 5, 2013) – Crowley Maritime Corp. and subsidiary TITAN Salvage, based in Pompano, Fla., recently completed companywide, comprehensive emergency response efforts in support of the relief organizations working in the areas hardest hit by Hurricane Sandy. The storm devastated the U.S. Northeastern coast in late October 2012.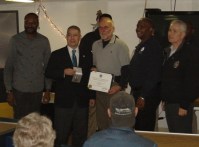 MARAD recognized the Crowley-managed S.S. Wright crew with Merchant Marine Medals for Outstanding Achievement. Shown: Crowley's Captain Fred Wally accepting the award.
The combined response efforts provided by Crowley and TITAN were extensive. Shortly after the storm, the S.S. Wright, a Crowley-managed, Maritime Administration (MARAD) Ready Reserve Force ship, along with fellow MARAD vessel Kennedy, relocated to Staten Island, NY, in support of the Federal Emergency Management Agency (FEMA) to provide cost-effective berthing and meals for more than 900 FEMA personnel and Red Cross relief workers, among others, daily. After being stationed in New York for more than a month, the S.S. Wright provided more than 4,000 overnight accommodations and over 15,000 meals. In honor of the S.S. Wright and Kennedy crewmembers' excellent efforts, MARAD recently recognized them with Merchant Marine Medals for Outstanding Achievement.
Additionally, the Kennedy was a viable resource for this FEMA mission in part because Crowley's technical services team outfitted the vessel with additional accommodation and galley space several years ago.
Crowley's logistics team coordinated the land transportation of oversized pumps, generators and associated equipment.
The Crowley logistics team also tapped its capabilities by coordinating the land transportation of oversized pumps, generators and associated equipment in support of the Defense Logistics Agency (DLA) and the Army Corps of Engineers. Crowley's liner shipping services team, based in Pennsauken, NJ, provided additional support services by supplying necessary transportation equipment and truck drivers. The fleet of heavy haul trucks – nearly 150 in total from all over the U.S. and Canada – delivered the out-of-gauge equipment to Lakehurst, NJ, where the Crowley logistics team then arranged for the cargo to be unloaded quickly using heavy-lift cranes and transported to their final destinations throughout the tri-state area via cost-effective shuttles. In a single day up to 30 trucks made deliveries.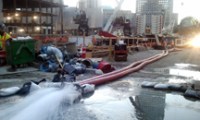 TITAN and Marine Pollution Control mobilized high-capacity pumping systems at the site of the World Trade Center memorial and museum in NYC.
Simultaneously, TITAN and OPA 90 Marine Response Alliance partner, Marine Pollution Control, the largest and most experienced U.S. provider of emergency lightering services worked alongside TITAN personnel to mobilize their high-capacity pumping systems for industrial pumping services. The equipment was deployed at the site of the World Trade Center memorial and museum in New York City. Thanks to the team's fast and effective work, water was removed quickly, allowing tourism to commence prior to the Thanksgiving holiday rush, a critical time for the city's economy.
TITAN was similarly engaged in several additional wreck removal and emergency response projects in some of the hardest-hit areas along the Northeastern coast.
Crowley's Bleu Hilburn, director, logistics, in front of the stricken tanker John B. Caddell.
The next project was done in response to the 1,100 DWT tanker John B. Caddell, which washed ashore on Staten Island, N.Y., during the hurricane's storm surge. The job, which included oily water and HAZMAT removal, securing hull breaches, ballasting, and installing anchor points was completed in only five days in partnership with Sea Wolf Marine, a N.J.-based marine towing company.
TITAN was soon after hired by the N.Y. Port Authority to remove the stricken barge New York from the Port of Newark, where it became stranded. TITAN successfully removed the vessel and refloated it in only three days using the company's roller bags.
Next, TITAN, along with partner Inland Salvage – a Louisiana-based salvage response and wreck removal service provider – was hired once again by the N.Y. Port Authority to remove containers, which were either washed ashore or were submerged near Governor's Island, a 172-acre island in the heart of New York Harbor. To complete the job, TITAN and Inland Salvage mobilized a crane barge and dive team.
TITAN and Inland Salvage also joined forces to remove 11 barges that washed ashore in South Amboy, following the storm surge. Nine of the barges were successfully refloated using TITAN's roller bags and the remaining two were delivered to a recycling facility for scrapping. The project was completed in only 19 days.
Finally, TITAN and Inland Salvage worked together to remove the N.Y. Waterways ferry boat U.S. Senator Frank R. Lautenberg from where it was washed ashore onto the greens of Liberty National Golf Course, which is positioned alongside the Hudson River in Jersey City, N.J. Once again deploying TITAN's roller bags, the teams were able to successfully ease the ferry back into the water in less than five days.
"The comprehensive services we are providing in support of those responding to Hurricane Sandy have been tremendous," said Tom Crowley, company chairman, president and CEO. "Similar to our response efforts following the 2010 earthquake in Haiti, we leveraged our companywide talents, personnel and assets to deliver a top-notch suite of response capabilities that have greatly benefited this stricken area. The entire operation continues to be executed safely and quickly, which is helping to restore the communities along the Northeast coast."
Jacksonville-based Crowley Holdings Inc., a holding company of the 121-year-old Crowley Maritime Corporation, is a privately held family and employee-owned company. The company provides project solutions, transportation and logistics services in domestic and international markets by means of six operating lines of business: Puerto Rico/Caribbean Liner Services, Latin America Liner Services, Logistics Services, Petroleum Services, Marine Services and Technical Services. Offered within these operating lines of business are: liner container shipping, logistics, contract towing and transportation; ship assist and escort; energy support; salvage and emergency response through its TITAN Salvage subsidiary; vessel management; vessel construction and naval architecture through its Jensen Maritime subsidiary; government services, and petroleum and chemical transportation, distribution and sales. Additional information about Crowley, its subsidiaries and business units may be found on the Internet at www.crowley.com.
TITAN, a wholly owned subsidiary of Crowley Maritime Corporation, is a worldwide emergency response, marine salvage and wreck removal company based in Pompano Beach, Fla., that has performed more than 400 salvage and wreck removal projects since 1980, including some of the most technically demanding projects ever undertaken. The company also has offices and equipment depots in the UK, Australia and Singapore. TITAN responds to vessel emergencies around the world and is able to mobilize a worldwide network of expert salvage professionals and specialized, portable equipment within hours of activation. TITAN is accessible 24 hours a day through the company's main dispatch telephone number, +1-954-545-4143. Additional information about TITAN may be found at www.titansalvage.com.
# # #