Crowley and Jensen Maritime Honored with Two Significant Boat Awards at International Workboat Show
Jensen Nominated for Five Innovative Vessel Designs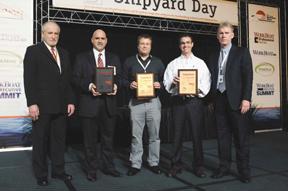 (NEW ORLEANS; December 13, 2012) – Together Crowley Maritime Corp. and subsidiary Jensen Maritime, the company's Seattle-based naval architecture and marine engineering firm, were honored with two of the top 10 Significant Boat awards during the seventh-annual International Workboat Show recently held in New Orleans.
The first award was for the design of two Crowley-owned ocean class tugboats, the Ocean Wind and Ocean Wave. The second was for Jensen-designed Murden, a hopper dredge vessel developed for the U.S. Army Corps of Engineers.
When the chosen vessels were announced, Crowley's John Ara, vice president, solutions; Jensen Maritime's Johan Sperling, vice president, and Bollinger Shipyards' Chris Bollinger, executive vice president, took to the stage to represent the state-of-the-art ocean class boats. The ocean class tugboats were designed by Jensen and are the first of four to be constructed by Bollinger Shipyards, in Amelia, La.
"Not only is it an honor to be recognized by Workboat once again, but this nomination is especially poignant because it validates the fact that our ocean class vessels are being recognized for the contributions they are making in terms of design and support to the industry," said Ara. "They were developed to be the workhorses of our tugboat fleet and to provide unlimited value for our customers in the upstream energy government industries who have need for long-range, high-capacity, ocean towing or salvage and emergency response support."
Both Crowley and Jensen have been honored at past Workboat shows, most recently when Crowley was recognized for its environmental initiatives, receiving second place for the 2009 Environmental Management Plan award, and when Jensen received two Significant Boats of 2008 awards.
Jensen was also nominated for the designs of several other vessels, including a series of 100' by 40' ASD tugboats; a 54' fast response fireboat; and a workboat, the Joey D.
The Ocean Wave and Ocean Wind are setting the industry standard for high-bollard pull vessels. Classed as Dynamic Positioning 1 (DP1) tugboats, they are twin-screw vessels equipped with controllable pitch propellers (CPP) in nozzles, high lift rudders and more than 149 MT bollard pull. They have an overall length of 146 ft., beam of 46 ft., hull depth of 25 ft. and design draft of 21 ft. The second two tugs of the class, Ocean Sky and Ocean Sun, will be classed as DP2 and will be 10 feet longer.
The new tugs are ideally suited to work with Crowley's new 455-series heavy lift deck barges, which measure 400 feet by 105 feet and offer increased stability for loads up to 4,200 pounds per square foot. Additionally, the tugs will be outfitted for, and capable of, rig moves; platform and Floating Production, Storage and Offloading (FPSO) unit tows; emergency response and firefighting. These ocean class vessels will also have the capability to support salvage and rescue towing opportunities.
The Murden, built by Conrad shipyards, of Morgan City, La., is a 156' by 35' by 10' 9" shallow-draft hopper dredge vessel designed to work for the U.S. Corps of Engineers in the shallow harbors of the U.S. Atlantic Coast.
About Crowley Maritime
Jacksonville-based Crowley Holdings Inc., a holding company of the 120-year-old Crowley Maritime Corporation, is a privately held family and employee-owned company. The company provides project solutions, transportation and logistics services in domestic and international markets by means of six operating lines of business: Puerto Rico/Caribbean Liner Services, Latin America Liner Services, Logistics Services, Petroleum Services, Marine Services and Technical Services. Offered within these operating lines of business are: liner container shipping, logistics, contract towing and transportation; ship assist and escort; energy support; salvage and emergency response through its TITAN Salvage subsidiary; vessel management; vessel construction and naval architecture through its Jensen Maritime subsidiary; government services, and petroleum and chemical transportation, distribution and sales. Additional information about Crowley, its subsidiaries and business units may be found on the Internet at www.crowley.com.
About Jensen Maritime
Seattle-based Jensen Maritime Consultants, Inc., is a naval architecture and marine engineering firm owned by Crowley Maritime Corporation. The company offers a diverse range of consulting, design and engineering services developed from more than 50 years of experience working around the world. Jensen is a recognized leader in the design of all types of vessels – particularly workboats, fishing boats and fireboats – and has built a favorable reputation on a long history of successful designs and conversions with close attention to engineering basics. The company's services include detail and conceptual design and engineering, lofting, regulatory and shipyard liaison as well as on-site consulting services and on-location assistance anywhere in the world. Additional information about Jensen can be found on the Internet at www.jensenmaritime.com.
Photo caption, left to right: Bruce Buls, technical editor, WorkBoat; John Ara, vice president, Crowley; Johan Sperling, vice president, Jensen Maritime; Chris Bollinger, executive vice president, Bollinger; and David Krapf, editor in chief, WorkBoat
#     #     #