Crowley Adds 537 New Refrigerated Containers to its Fleet Just in Time for Peak Refrigerated Cargo Season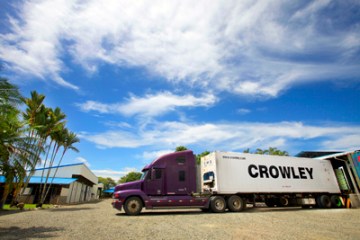 (Jacksonville, Fla.; December 11, 2013) ­– Crowley Maritime Corporation's liner services group has added 537 new refrigerated (reefer) cargo containers to top off its already industry-leading fleet of equipment in an accentuated effort to best serve the growing needs of its produce customers in Central America, Puerto Rico and the Caribbean. All of the units received are 40-foot high cubes built to Crowley's personalized standards. This recent acquisition will expand the fleet by 200 units in anticipation of market growth and will replace another 337 aging units. 
"The acquisition of these containers is part of our continued commitment to maintain the best conditioned equipment for our customers in time for peak demand," said Steve Collar, senior vice president and general manager, Latin America liner services. "We have a staff of experts that continuously evaluates our fleet and its ability to meet customer needs. If we see there is room for improvement, we make investments to ensure we have the right equipment available at the right time."
The 40-foot reefer containers were received in Santo Tomas, Guatemala, directly from the manufacturing facility in a perfectly timed manner to accommodate the country's heavy northbound reefer season, which is currently underway and will continue through May 2014.  These reefers will also be distributed throughout the rest of Crowley's regional service lanes, as needed.  The new containers are equipped with Carrier's high efficiency PrimeLINE® refrigeration units, incorporating several changes to help boost efficiency and reliability even further. 
Since 2003, Crowley has invested over a quarter of a billion dollars in new cargo equipment for its liner services fleet.  Today, the company operates more than 44,000 pieces of owned and leased intermodal equipment, including more than 19,700 chassis, 19,300 dry containers and more than 3,650 refrigerated containers – all of which come in a variety of sizes and are strategically located throughout the United States, Central America and the Caribbean.
Jacksonville-based Crowley Holdings Inc., a holding company of the 121-year-old Crowley Maritime Corporation, is a privately held family and employee-owned company. The company provides project solutions, transportation and logistics services in domestic and international markets by means of six operating lines of business: Puerto Rico/Caribbean Liner Services, Latin America Liner Services, Logistics Services, Petroleum Services, Marine Services and Technical Services. Offered within these operating lines of business are: liner container shipping, logistics, contract towing and transportation; ship assist and escort; energy support; salvage and emergency response through its TITAN Salvage subsidiary; vessel management; vessel construction and naval architecture through its Jensen Maritime subsidiary; government services, and petroleum and chemical transportation, distribution and sales. Additional information about Crowley, its subsidiaries and business units may be found on the Internet at www.crowley.com.