Auction to Ride on Crowley's Hunter During Seattle Maritime Festival's Tugboat Races Raises More than $1,000 for Ryther Child Center
The Hunter Takes Home Fifteenth First-Place Win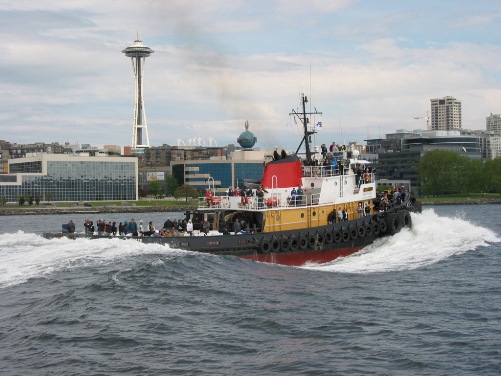 (Jacksonville, Fla., May 20, 2011) ­- Crowley's tugboat Hunter – the fastest tugboat on the West Coast – won the Seattle Maritime Festival tugboat races again this past Saturday, giving it its fifteenth first-place victory. This year's race, however, was unique because Crowley auctioned off a ride for four aboard Hunter during the race in support of Ryther Child Center (Ryther), a recognized leader in behavioral health services for Washington state children and their families. The ride sold in an eBay auction for $505; Crowley will match the funds raised for a total gift of $1,010.
As part of Crowley's company-wide efforts to give back to the communities in which it works, the Seattle office has chosen to support Ryther through fundraisers and volunteerism this year.
"Our employees selected Ryther as the focus of this year's philanthropic efforts because it is a meaningful organization that impacts so many local children and families," said Crowley's Chris Peterson, vice president, marine services. "While the race was a lot of fun and we are excited to have done well in the race, the real winners are the great people who work at Ryther. We are pleased to support their efforts and thank the bidders for their participation."
During the races, which were held in Seattle, Washington's Elliott Bay, across the Downtown Seattle Harbor, Hunter competed in the Class A Unlimited Race. It raced against three other tugs – two of which were Crowley's. Each tugboat finished the 1.9 nautical miles in less than eight minutes.
Ryther is a recognized leader in behavioral health services for Washington state children and their families facing complex challenges. Founded in 1885, Ryther is one of the region's most enduring nonprofit organizations serving vulnerable children and their families. As a thought-leader in our field, we evolved from the traditional orphanage model in the 1930s and refocused our mission to treat troubled children using innovative and proven therapeutic techniques. Today, we serve children and adolescents referred by parents, physicians, state agencies, courts, schools and other providers working with children. We have expanded our services to include programs and solutions for families with children who have challenges stemming from trauma, mental illness, substance abuse, autism spectrum disorders, or adjustment issues with school, peers or parents.
Jacksonville-based Crowley Holdings Inc., a holding company of the 119-year-old Crowley Maritime Corporation, is a privately held family and employee-owned company. The company provides diversified transportation and logistics services in domestic and international markets by means of six operating lines of business: Puerto Rico/Caribbean Liner Services, Latin America Liner Services, Logistics Services, Petroleum Services, Marine Services and Technical Services. Offered within these operating lines of business are the following services: liner container shipping, logistics, contract towing and transportation; ship assist and escort; energy support; salvage and emergency response through its TITAN Salvage subsidiary; vessel management; vessel construction and naval architecture through its Jensen Maritime subsidiary; government services, and petroleum and chemical transportation, distribution and sales. Additional information about Crowley, its subsidiaries and business units may be found on the Internet at www.crowley.com.
# # #