Crowley Tugs Deliver Tubular Bells Topside to the Deep Waters of U.S. Gulf of Mexico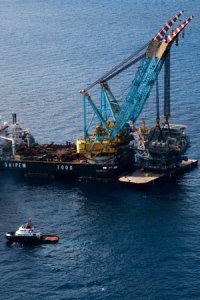 On the heels of the recent successful delivery of offshore production facility Jack/St. Malo, Crowley has once again shown support for the domestic petroleum industry by providing ocean towing services for the Tubular Bells topside in the Gulf of Mexico for Saipem, a large, international contractor for the oil and gas industry.
This recent tow not only marks another successful job for Crowley, but further substantiates their essentiality to the industry. Crowley has participated in each of the major installations that have taken place in the U.S. Gulf in 2013 and year to date, 2014.
"We are proud of the consistent use of not only our new ocean class tugs but also our faithful fleet of heavy lift barges and invader class tugs," said Mike Rampolla, general manager, Crowley's solutions group. "As we've continued to flex the usage of our varied fleet and become more familiar with the advanced capabilities of our ocean class tugs in particular we, along with our customers, have gained an important level of comfort with their performance that keeps them in high demand job after job."
In the case of Tubular Bells, Crowley's ocean class tug, Ocean Wind towed the production deck, while invader class tug Pilot, towing barge Marmack 303, preceded with delivery of the construction deck. In both cases, the vessels took delivery of their cargo at the sea buoy – Cat Island Pass for Ocean Wind and Eugene Island for Pilot – before transiting the mammoth structures to Mississippi Canyon Block 725, roughly 135 miles southeast of New Orleans, in the deep waters of the U.S. Gulf.
"The Ocean Wind was particularly suited for the Tubular Bells deck section tow out and lift due to its Dynamic Positioning (DP) capabilities, which are outstanding for station holding," said Ocean Wind Captain Ward Davis. "The Ocean Wind was able to position and hold the barge alongside the SAIPEM 7000 semi-submersible crane and pipelaying vessel with light tension on the tow wire while they prepared for, and made the lift of the deck section."
Likewise Pilot Captain Steve Berschger praised the new ocean class equipment saying, "The ocean class boats with their DP capability eliminate the need for manual maneuvering which could sometimes go on for hours while being exposed to the elements. We are all very excited with the DP training we have received and are especially pleased with the way the ocean class vessels are performing. The invaders have also served us well and continue to do so, but Crowley knew it was time to upgrade the fleet and the ocean class vessels are a perfect fit for heavy-lift tow and maneuvering requirements."
Both captains also spoke highly of the training and work ethic of their crews in performing this job. In addition to Captain Berschger, Pilot crew members included Chief Mate Ray Adams Jr; Second Mate Pat McLaughlin; Trainee Second Mate Steven Tonn; Chief Engineer Gary McNab; AB Preston Harper; AB Edward Rynn; and Cook David Zasadni. The Ocean Wind crew consisted of Captain Davis; Captain Steven White; Chief Mate Scott Ellis; Second Mate Cecil Wilson; Chief Engineer David Fenton; Assistant Engineers Towanda Brown and James Murray; ABs Jonathan Solomon, Brooke English and Iker Urruchi; OS/Cook Stephen Goletz; and Third Mate Adam Beba.
Crowley's ocean class tugs are modern ocean towing twin-screw vessels with controllable pitch propellers (CPP) in nozzles, high-lift rudders and more than 147 MT bollard pull. The first two ocean class vessels, the Ocean Wave and Ocean Wind, are classed as Dynamic Positioning 1 (DP1) tugboats and are twin-screw, tugs with an overall length of 146 ft., beam of 46 ft., hull depth of 25 ft. and design draft of 21 ft. The second two tugs of the class, Ocean Sky and Ocean Sun, are classed as DP2 and are 10 feet longer. All four vessels are capable of rig moves, platform and Floating Production, Storage and Offloading (FPSO) unit tows, emergency response, salvage support and firefighting.
Tubular Bells is slated to begin production in 2014 and should peak in the range of 40,000 to 50,000 barrels of oil a day (BOPD) with total estimated recoverable resources for Tubular Bells at more than 120 MMbbl of oil equivalent. Hess serves as the operator of the field and owns a 57.14 percent working interest. Chevron owns the remaining 42.86 percent interest.
Crowley's solutions group encompasses ocean towing, along with several of the company's other essential business functions – project management for the energy and resource extraction industries; marine salvage, wreck removal and emergency response; heavy lift barge transportation; commercial ship management; marine engineering, naval architecture and construction management; remote fuel management; project concept study development; and government services. With main offices, equipment depots and vessel homeports in Jacksonville, Fla.; Houston; Lake Charles, Lou.; Seattle; and New Orleans; supplemented by those the company has internationally, Crowley is positioned to respond to variety of maritime projects around the globe quickly, efficiently and, most importantly, safely. To learn more about Crowley's solutions group, please visit: www.crowley.com/solutions.