Zero Spills, Zero Incidents Nets Crowley Safety and Environmental Award from Tesoro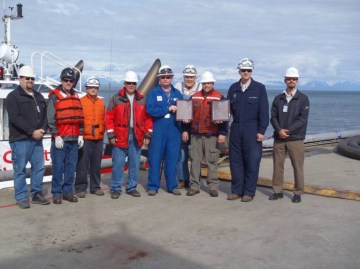 (Anchorage, Alaska; June 17, 2011) ­– Zero spills and zero incidents is good news for Crowley, its customers and the citizens who rely on responsible companies to keep Alaska's waterways clean.
In an informal presentation, Captain Jack Jensen, marine superintendent for Tesoro in Nikiski, presented crewmembers of Crowley's tug Vigilant with a third consecutive annual award recognizing their commitment to safety and the environment by concluding 2010 with zero spills and incidents.
The Vigilant is on long-term charter to Tesoro and is stationed in Cook Inlet, Alaska, where it provides ship assist and escort services for Tesoro operated tankers moving in and out of the Tesoro Refinery dock (KPL) in Nikiski, Alaska. Without regulatory requirement mandating it, Tesoro chose to station a tug in Cook Inlet year-round to provide a higher level of safety for their fleet carrying petroleum cargo.
"We are grateful for the recognition and remain committed to protecting Alaska's environment and communities," said Bruce Harland, Crowley's vice president of contract services in Alaska. "It's reassuring to know that we have a strong advocate of environmental stewardship in Tesoro. Our crewmembers continue to work tirelessly to ensure not only the safety of customers' assets but also the environment. Tesoro's proactive attitude in stationing a Crowley tug in Cook Inlet year-round shows a commitment on their part to protect Alaska's pristine waterways."
Additionally, Tim Plummer, vice president of Tesoro Maritime Company, presented similar awards to Crowley harbor services personal at Crowley's Seattle office. Crowley previously had received the same honor in 2008 and 2009.
Through the partnership with Tesoro, the Vigilant also provides assists for ships and barges carrying Tesoro product and for other third party entities needing an extra measure of safety and security in the heavy ice conditions that plague Cook Inlet during winter.
Tesoro Corporation, headquartered in San Antonio, Texas, is a Fortune 150 and a Global 500 company with approximately 5,500 employees. As a leading independent refiner and marketer of petroleum products, Tesoro, through its subsidiaries, operates seven refineries primarily in the western United States with a combined crude oil capacity of approximately 660,000 barrels per day (bpd). For more information visit, www.tsocorp.com.
Since 1953, Crowley has provided various marine, petroleum distribution, and energy support services in Alaska – from the North Slope to Southcentral Alaska and both coastal and inland communities including those along the Kuskokwim and Yukon Rivers – and today has offices and operations throughout the state with more than 650 employees. The company has consistently provided unique solutions to Alaska's logistics and marine transportation challenges and played an important role in Alaska's business development and in protecting its environment.
At the southern terminus of the trans-Alaska oil pipeline, Crowley provides tanker escort and docking services in the Prince William Sound for Alyeska Pipeline Service Company's Ship Escort/Response Vessel System, utilizing some of the most technologically advanced and powerful tugboats in the world. With a storage capacity of more than 39 million gallons, Crowley is strongly positioned as a leader in the Alaska fuel industry, providing transportation, distribution and sales of petroleum products to more than 280 communities across Alaska. Crowley supports the energy industry on the North Slope with summer sealifts of large production modules and various marine transportation services, and in the winter supports oil field development with CATCO® all-terrain vehicles. These heavy-lift overland transport units have large bag tires designed to work over the tundra without damaging the delicate Arctic ecosystem. Crowley also provides tanker assist and escort services at Tesoro Alaska Company's Nikiski refinery in Cook Inlet.
More about Crowley: www.crowleyalaska.com
Caption: Tom Nesbit, General Steamship; John Weber, chief engineer,Vigilant; Shawn Brown, Tesoro; Mike Wiley, second mate, Vigilant; Jack Jensen, Tesoro; Steve Orr, marine superintendent, Crowley; Joel Berglund, captain, Vigilant; Steve Hansen, Tesoro; Kelly Reichart, General Steamship