Toyota Recognizes Crowley with Logistics Excellence Award for 12th Consecutive Year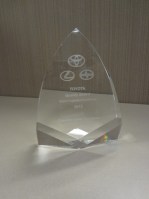 (JACKSONVILLE, Fla.; May 15, 2014) ­– Toyota Logistics Services (TLS) recently awarded Crowley Maritime Corporation's liner and logistics groups with its 2013 Logistics Excellence Award for quality. The award came as a result of the company's continuous efforts to safely and efficiently transport Toyota vehicles to Puerto Rico from the U.S. East Coast. It was the 12th consecutive year Crowley has received such recognition from Toyota. Crowley, the primary carrier for Toyota since the company began exporting vehicles to Puerto Rico in 1992, moved approximately 20,000 vehicles to Puerto Rico for the company in 2013.
Jorge Estevez, vice president of sales and marketing, accepted the award on Crowley's behalf during the annual TLS partners meeting, a gathering at which Toyota recognized its ocean, rail and motor providers for extraordinary service over the past year.
"Crowley continuously strives to be an essential partner for Toyota to help ensure their continued success," said Estevez. "The award recognizes our ability to deliver their export vehicles in better condition than any other carrier, as well as our focus on continuous process improvement in order to accomplish this."
Toyota (NYSE:TM) established operations in North America in 1957 and currently operates 14 manufacturing plants, including one under construction. There are more than 1,800 Toyota, Lexus and Scion dealerships in North America which sold more than 2 million vehicles in 2010. Toyota directly employs more than 35,000 in North America and its investment here is currently valued at more than $23 billion, including sales and manufacturing operations, research and development, financial services and design. Toyota's annual purchasing of parts, materials, goods and services from North American suppliers totals nearly $25 billion. Toyota currently produces 12 vehicles in North America, including the Avalon, Camry, Corolla, Highlander, Matrix, RAV4, Sequoia, Sienna, Tacoma, Tundra, Venza and the Lexus RX 350. For more information about Toyota, visit http://www.toyota.com/.