Tom Crowley Receives Prestigious Vincent T. Hirsch Maritime Award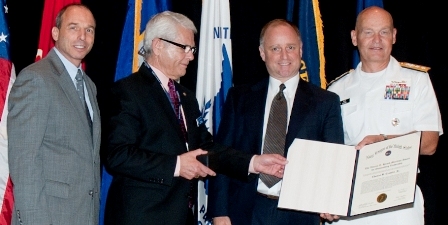 (JACKSONVILLE, Fla.; Oct. 28, 2009)–Tom Crowley, Jr., Chairman, President and CEO of Crowley Maritime Corporation, was awarded the Vincent T. Hirsch Maritime Award for outstanding leadership from the U.S. Navy League Friday. Rear Admiral Mark H. Buzby, USN Commander, Military Sealift Command, presented the award at the Sea Services Award luncheon during the League's 2010 National Convention, which was held in downtown Jacksonville.
The award read in part: "He has provided exceptional service as an active participant of joint industry and Department of Defense groups working to provide strategic sealift for the United States in times of national need. During the 2010 Haiti relief efforts, Crowley Maritime worked closely with the U.S. Transportation Command to reopen cargo operations in the devastated port facilities, allowing humanitarian relief into the earthquake-ravaged country while successfully completing the largest post-disaster (cargo) lightering operation ever. The U.S. Merchant Marine and maritime industry will be forever grateful for his contributions to the maritime strength of the nation."
The Vincent T. Hirsch Maritime Award is named for a patron of the Merchant Marine and past National President of the Navy League. This award is presented to an individual in private or public life whose efforts and/or achievements have contributed substantially to an increased public awareness of the vital role of a privately owned U.S.-flag merchant fleet, both to the United States defense establishment and to the nation's economic well-being.
Caption, left to right: James Caponiti, assistant administrator, Maritime Administration; and Daniel B. Branch, Jr., Navy League national president; Crowley; and Buzby.
About Crowley
Jacksonville-based Crowley Holdings Inc., a holding company of the 118-year-old Crowley Maritime Corporation, is a privately held family and employee-owned company that provides marine solutions, transportation and logistics services in domestic and international markets by means of six operating lines of business: Puerto Rico/Caribbean Liner Services, Latin America Liner Services, Logistics Services, Petroleum Services, Marine Services and Technical Services. Offered within these operating lines of business are the following services: liner container shipping, logistics, contract towing and transportation; ship assist and escort; energy support; salvage and emergency response through its TITAN Salvage subsidiary; vessel management; vessel construction and naval architecture through its Jensen Maritime subsidiary; government services, and petroleum and chemical transportation, distribution and sales. Additional information about Crowley, its subsidiaries and business units may be found on the Internet at www.crowley.com.
# # #